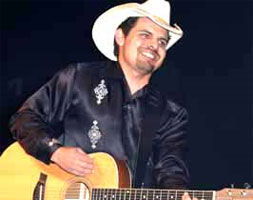 Chanteur Country US né Ricardo Treviño Jr., le 15 Mai 1971 à Austin (Texas).

During the mid-'90s, Rick Trevino emerged as one of the first popular Hispanic singers in country music since the mid-'70s, when Freddy Fender and Johnny Rodriguez were having hits. Beginning with "She Can't Say I Didn't Cry" in 1994, Trevino racked up several hits over the next few years with his Garth Brooks-inspired blend of new country and album rock.
Trevino was born into a musical family -- his father was a member of a local Tejano group. Both of his parents fostered his musical interests, and as a child, he listened to a variety of music, including Tejano, country, classical pianist Van Cliburn, and mainstream pop/rockers like Elton John and Billy Joel. Soon, he was taking classical piano lessons and studying the clarinet. After graduating from high school, he was offered a baseball scholarship to Memphis State University, but he declined the offer to study music.
In 1993, he released his first album, the Spanish-language Dos Mundos. It was accompanied by a single release of "Just Enough Rope," which was released in English, Spanish, and a bilingual version; it was the first traditional country single to be released in both Spanish and English. The English version was a moderate hit, reaching number 44. In 1994, Trevino released an eponymous album, which featured English versions of most of the songs from Dos Mundos, plus a few new cuts. Rick Trevino became a hit, producing the Top 40 "Honky Tonk Crowd" and the Top Ten singles "She Can't Say I Didn't Cry" and "Doctor Time."
Trevino's second album, Looking for the Light, was released in 1995; it was accompanied by a Spanish version. Like its predecessor, Looking for the Light was a hit, albeit not as big as the debut -- it only spawned one Top 40 hit, the number six "Bobbie Ann Mason." Learning as You Go, Trevino's third album, was released in 1996; Changing in Your Eyes followed two years later, and Mi Son was released in spring 2001.
https://en.wikipedia.org/wiki/Rick_Trevino
Talents : Vocals, Guitar, Piano
Style musical : Traditional Country, Contemporary Country, Tex-Mex, Tejano, Mexican Traditions
Years in activity :
| | | | | | | | | | | | |
| --- | --- | --- | --- | --- | --- | --- | --- | --- | --- | --- | --- |
| 1910 | 20 | 30 | 40 | 50 | 60 | 70 | 80 | 90 | 2000 | 10 | 20 |
DISCOGRAPHY
Singles & EP
09/1993
SP COLUMBIA 38-77159 (US)
.
Just Enough Rope / A Quarter At A Time
09/1993
CD COLUMBIA CSK 77159 (US) (promo)
.
Just Enough Rope
09/1993
CD COLUMBIA CSK 5405 (US) (promo)
.
Just Enough Rope (special extended Play dance mix)
02/1994
SP COLUMBIA 38-77373 (US)
.
Honky Tonky Crowd / Un Momento Alla (For A Moment There)
02/1994
CD COLUMBIA CSK 77373 (US)
.
Honky Tonk Crowd
02/1994
CD COLUMBIA CSK 77373 (US) (promo)
Honky Tonky Crowd / Honky Tonky Crowd (club mix)
05/1994
SP COLUMBIA 38-77535 (US)
.
She Can't Say I Didn't Cry / She Just Left Me Lounge
05/1994
CD COLUMBIA CSK 77535 (US) (promo)
She Can't Say I Didn't Cry
10/1994
SP COLUMBIA 38-77708 (US)
.
Doctor Time / What I'll Know Then
10/1994
CD COLUMBIA CSK 77708 (US) (promo)
.
Doctor Time
02/1995
SP COLUMBIA 38-77820 (US)
.
Looking For The Light / Life Can Turn On A Dime
02/1995
CD COLUMBIA CSK 77820 (US) (promo)
.

Band One (album version) / Band Two (radio edit)

1995
CD COLUMBIA CSK 77900 (US) (promo)
.

Save This One For Me

05/1995
SP COLUMBIA 38-77903 (US)
.
Bobbie Ann Mason / San Antonio Rose To You
05/1995
CD COLUMBIA CSK 77903 (US) (promo)
.
Bobbie Ann Mason
1995
SP COLUMBIA 38-77971 (US)
.

The Fastest Horse In A One Horse Town (Billy Ray CYRUS) / Cadillac Ranch (Rick TREVINO)

1995
CD COLUMBIA

CSK 7148 (US) (promo)

Save This Dance For Me - ID / Save This One For Me (dance mix) / Save This One For Me (beat mix) / ID / Bobbie Ann Mason (extended edit) / ID / I Want A Girl In A Pickup Truck (dance mix) / I Want A Girl In A Pickup Truck (beat mix) / ID / Full Deck Of Cards (extended edit) / ID / ID / ID / ID / ID

05/1996
SP COLUMBIA 38-78329 (US)
.
Learning As You Go / I'm Here For You
05/1996
CD COLUMBIA CSK 78329 (US) (promo)
.
Learning As You Go
11/1996
SP COLUMBIA 38-78331 (US)
.
Running Out Of Reasons To Run / See Rock City
11/1996
CD COLUMBIA CSK 78331 (US) (promo)
.
Running Out Of Reasons To Run
1996
CD COLUMBIA CSK 78489 (US) (promo)
.

I Only Get This Way With You

1996
CD COLUMBIA CSK 78490 (US) (promo)
.

Mary's Just A Plain Jane

1997
CD COLUMBIA

CSK 09724 (US) (promo)

Doctor Time / She Can't Say I Didn't Cry / Bobbie Ann Mason / Looking For The Light / Se Escapan Mis Razones (Running Out Of Reasons)

08/1998
CD COLUMBIA 38K 78895 (US)
Only Lonely Me / You Were, You Are, You'll Always Be
08/1998
CD SONY 53560 (US)
.
Only Lonely Me
09/2003
CD WARNER BROS. 7-16641 (US)
.
In My Dreams

[radio edit] /

In My Dreams

[album version]
| | |
| --- | --- |
| | |
Albums
09/1993
CD SONY CD 81105 (US)
DOS MUNDOS - Salte De Espalda / No Perdi La Razón / Tal Como Ayer / Bastante Cordon / Un Momento Alla / Change For A Quarter Moon / Podria Volar / Si Quieres Conmigo / A Quarter At A Time / Si Tú Ves A Un Hombre Llorar
02/1994
CD COLUMBIA CK 53560 (US)
RICK TREVINO - Honky Tonk Crowd / Doctor Time / She Can't Say I Didn't Cry / Walk Out Backwards / Life Can Turn On A Dime / Just Enough Rope / She Just Left Me Lounge / What I'll Know Then / It Only Hurts When I Laugh / Un Momento Alla / Just Enough Rope

[bilingual]

03/1995
CD COLUMBIA CK-66771 (US)
LOOKING FOR THE LIGHT - Full Deck Of Cards / Looking For The Light / Family Reunion / You Are To Me / She Used To Say That To Me / Poor, Broke, Mixed Up Mess Of A Heart / I Want A Girl In A Pick-Up Truck / Save This One For Me / The Pain / Bobbie Ann Mason / San Antonio Rose To You
03/1995
CD SONY DISCOS CDZ 81522 (US)
UN RAYO DE LUZ - Perdi La Partida / Un Rayo De Luz / Tu Para Mi / Eso Me Dijo / Corazon Soñador / Me La Guardan Para Mi / Alivia El Dolor / Tu Eres Mi Verdad / Ella No Podra Decir Que No Me Vio Llorar / Un Rayo De Luz
06/1996
CD COLUMBIA CK 67452 (US)
LEARNING AS YOU GO - Learning As You Go / Running Out Of Reasons To Run / I Only Get This Way With You / See Rock City / Oh Jenny / Serious Love / I Wish He Wouldn't Treat HerThat Way / Anytime / Mary's Just A Plain Jane / I'm Here For You
09/1996
CD SONY DISCOS 82024 (US)
MI VIDA ERES TU - Mi Vida Eres Tu (I Only Get This Way With You)

[bilingual] /

Estoy Tan Solo / Se Escapan Mis Razones (Running Out Of Reasons) / Oh Jenny / Serio Amor / Mi Vida Eres Tu (I Only Get This Way With You) / Me Duele Que La Trate Tan Bien

[I Wish He Wouldn't Treat Her That Way] /

Vico Por Ti (I'm Here For You) / Donde Vas / Serio Amor

[dance version] /

I Only Get This Way With You
08/1997
CD SONY DISCOS

CD-82420 2-469891

(US)
THE BEST OF RICK TREVINO - Bastante Cordon / Un Rayo De Luz

[bilingual version] /

Se Escapan Mis Razones (Running Out Of Reasons) / Si Quieres Conmigo / Salte De Espalda / She Can't Say I Didn't Cry / Corazon Soñador / Me Duele Que La Trate Tan Bien

[I Wish He Wouldn't Treat Her That Way] /

Serio Amor (Serious Love) / Mi Vida Eres Tu (I Only Get This Way With You)

[bilingual version] /

I Only Get This Way With You
01/1999
CD SONY DISCOS 82987 (US)
EL CORAZON DE RICK TREVINO - Un Rayo De Luz

[spanish version] /

Bastante Cordon / She Can't Say I Didn't Cry / Corazon Soñador / Si Quieres Conmigo / Me Duele Que La Trate Tan Bien

[I Wish He Wouldn't Treat Her That Way] /

Mi Vida Eres Tu (I Only Get This Way With You)

[spanish version] /

Se Escapan Mis Razones (Running Out Of Reasons) / Un Momento Alla / Vico Por Ti (I'm Here For You) / Estoy Tan Solo (Learning As You Go) / Alivia El Dolor
09/1999
CD COLUMBIA CK 63732 (US)
SUPER HITS - Just Enough Rope / She Can't Say I Didn't Cry / Honky Tonk Crowd / Looking For The Light / Doctor Time / Learning As You Go / Bobbie Ann Mason / I Only Get This Way With You / Running Out Of Reasons To Run / You Were, You Are, You'll Always Be
01/2001
CD VANGUARD 79592-2 (US)
MI SON - El Gustito / El Tiray Jala / Vuelvo Al Sur / Mi Son / La Hiedra (with Ruben

Ramos

)/ Ojos / Vanidad (

w

ith Martha

Gonzalez

) / Cupido / Échale Tierra Y Tápalo / Long Goodbye
02/2001
CD SONY DISCOS 84236 (US)
MANO A MANO - Rick TREVINO & Jay PEREZ - She Can't Say I Didn't Cry / You Wouldn't Be Gone / Bastante Cordon / On This Side Of The Door / I Only Get This Way With You / Nobody Told My Heart / Me Duele Que La Trate Tan Bien

[I Wish He Wouldn't Treat Her That Way] /

Steel Rain / A Quarter At A Time / Don't Break Your Heart
09/2003
CD WARNER BROS. 48484-2 (US)
IN MY DREAMS - . Overnight Success / In My Dreams / She'll Never Know / Downside Of Love / Beautiful Day / Olivia / Are We Almost There / Heartaches / So Over / Have You Ever Really Loved A Woman
07/2007
CD NORTE 711842 (US)
NUESTRA TRADICION - Un Rayo De Luz / Corazón Soñador / Perdí La Partida / She Can't Say I Didn't Cry / Bastante Cordón / Se Escapan Mis Razones / Me Duele Que La Trate Tan Bien

[I Wish He Wouldn't Treat Her That Way] /

Mi Vida Eres Tú

[I Only Get This Way With You] /

Si Quieres Conmigo / Vivo Por Ti

[I'm Here For You] /

Tú Eres Mi Verdad / Change For A Quarter Moon / Tú Para Mí / Eso Mi Dijo / Me La Guardan Para Mí
03/2011
CD WARNER BROS. 526194 (US)
IN MY DREAMS / WHOLE TOWN BLUE - Overnight Success / In My Dreams / She'll Never Know / Downside Of Love / Beautiful Day / Olivia / Are We Almost There / Heartaches / So Over / Have You Ever Really Loved A Woman / Better In Texas / Separate Ways / Whole Town Blue / Fool For Lesser Things / Cousin Paul / Loving You Makes Me A Better Man / Because Of You / Autumn Rose / Remember The Alimony / Matter Much
© Rocky Productions 20/08/2019