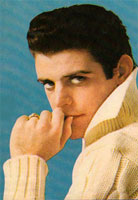 Chanteur Rock 'n' Roll US né en 1938 à Addicks (Texas), Jesse Lee Turner nous a laissé plusieurs singles de premier plan, enregistrés pour Carlton (58), Fraternity (59), Imperial (60), Top Rank (60), Jaro (60) et GNP Records (62). Il est le cousin de Floyd Robinson. Jesse Lee Turner serait devenu un évangéliste et vivrait toujours au Texas.

Jesse Lee Turner was born in 1938 in Addicks, Texas and grew up in the tiny town of Boling, a place so small you can't even find it with computer mapping software. The mysterious black-haired singer fit the image of the times; he had the allure and looks that the media wanted in a teen star. Turner changed labels often during his career. He first recorded for Fraternity Records, but "Teenage Misery" failed to get noticed. Then he dealt with Carlton Records, where he scored his only hit, "The Little Space Girl" b/w "Shake Baby, Shake," which rose to number 20 on the pop chart early in 1959. Its successor, "Thinkin'," stiffed, and he left Carlton for Top Rank Records, where he waxed "Do I Worry," a good record that suffered from abysmal promotion. Sudden Records, his next home, released the self-written "The Elopers," but it bombed.
He also recorded two stiffs, silly ones at that, for GNP Records, including another Turner composition, "Ballad of Billy Sol Estes." A writer of sorts, Turner has 15 songs registered with BMI, his biggest title being "Little Space Girl," a song that compilers would like to include on various compilation CDs but nobody knows who holds the rights. It seems that a short time after Carlton Records went out of business, their records disappeared. The song's only known appearance is on an old 33 1/3 entitled One Dozen Goodies, although there is an original 45 of "Little Space Girl" available on various auction sites. As for the whereabouts of Jesse Lee Turner, he reportedly became an evangelist and still lives in Texas.
Talents : Vocal, Guitar
Style musical : Rock 'n' Roll, Pop/Rock
Years in activity :
| | | | | | | | | | |
| --- | --- | --- | --- | --- | --- | --- | --- | --- | --- |
| 1910 | 20 | 30 | 40 | 50 | 60 | 70 | 80 | 90 | 2000 |
DISCOGRAPHY
Singles
| | | | |
| --- | --- | --- | --- |
| 12/1958 | SP CARLTON 496 (US) | . | Shake, Baby, Shake / The Little Space Girl |
| 04/1959 | SP CARLTON 509 (US) | | |
| 09/1959 | SP FRATERNITY F-855 (US) | | That's My Girl / Teen-Age Misery |
| 01/1960 | SP IMPERIAL X5635 (US) | . | Early In The Morning / Slippin' Around |
| 02/1960 | SP IMPERIAL 5649 (US) | . | I'm The Little Space Girl's Father / Valley Of Lost Soldiers |
| 08/1960 | SP TOP RANK INTERNATIONAL RA-2064 (US) | . | Do I Worry (Yes I Do) / All Right Be That Way |
| 09/1960 | SP JARO J-77034 (US) | . | JESSE & The Road Runners - Sentimental (instr.) / Happy Go Lucky Medley (instr.) |
| 1961 | SP SUDDEN S105 (US) | . | |
| 08/1962 | SP GNP - CRESCENDO 184x (US) | . | All You Gotta Do (Is Ask Me To) / / The Voice Changing Song |
| 09/1962 | SP GNP - CRESCENDO 188x (US) | . | Shotgun Boogie / Ballad Of Billie Sol Estes |
| 06/1964 | SP DEVILLE 117 (US) | . | Tag Along / Since You Went Away |
| 1974 | SP THE MUSIC MAN SO 13704 (US) | . | Floyd Robinson & Jesse Lee Turner - Dream / In The Pines |
| 08/1975 | SP MCA MCA-40463 (US) | . | Jesse Lee TURNER & Floyd ROBINSON - Love Is Blind / Just A Little Girl |
| 2013 | SP BEAR FAMILY BLE 002 (GER) (limited edition) | | Put Me Down (Jesse Lee TURNER) / Boppin' Blue Jeans (LEONARD BROTHERS) |
| ???? | SP LOST NITE L.N. 217 (B) (bootleg) | | Lady Of Spain (Shaky Stevens (Ray Stevens)) / Shake, Baby, Shake (Shaky Stevens (Jesse Lee Turner)) |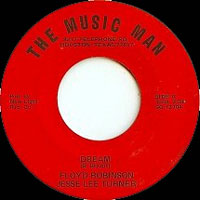 Unissued Track
| | | |
| --- | --- | --- |
| 1957 | SUN unissued - (Bear Family CD 16210 (#28) / Charly CD 8137 (#10) / Club LP 012 (#7) / Fed CD 10 (#5) / Jesse Lee Turner CD 8011 (#7) / Redita [2nd series] LP 125 (#9) / Star-Club CD 5060102 (#20)) | Put Me Down |
Need Information
| | | |
| --- | --- | --- |
| 19?? | Need info - (Jesse Lee Turner CD 8011 (#11)) | The Art Of Makin' Love |
| 19?? | Need info - (Jesse Lee Turner CD 8011 (#9)) | Boys & Girls |
| 19?? | Need info - (Jesse Lee Turner CD 8011 (#13)) | Little Old Love Maker |
| 19?? | Need info - (Jesse Lee Turner CD 8011 (#6)) | Makin' Love |
| 19?? | Need info - (Jesse Lee Turner CD 8011 (#8)) | The Man In The Moon |
| 19?? | Need info - (Jesse Lee Turner CD 8011 (#12)) | Mother Nature |
| 19?? | Need info - (Jesse Lee Turner CD 8011 (#10)) | One More Time |
| 19?? | Need info - (Collectables CD 5563 (#3)) | Shake, Baby, Shake [alt. vers.] |
| 19?? | Need info - (Jesse Lee Turner CD 8011 (#21)) | Tattle Tale |
Albums
1981
LP 12" Turner 8011 (EUR)

Shake Baby Shake - Shake Baby Shake / Shotgun Boogie / That's My Girl / Teenage Misery / The Elopers / All Right Be That Way / Baby Please Don't Tease / Together / The Voice Changing Song / Thinkin' / Ballad Of Billie Sol Estes / Do I Worry / All You Gotta Do

1994
CD JESSE LEE TURNER 8011 (NL)

Shake Baby Shake -

Shake, Baby, Shake / Baby Please Don't Tease / Shotgun Boogie / That's My Girl / Together / Makin' Love / Put Me Down / The Man In The Moon / Boys & Girls / One More Time / The Art Of Makin' Love / Mother Nature / Little Old Love Maker / I'm The Little Space Girl's Father / The Voice Changing Song / All Right, Be That Way / Tonight You Belong To Me (Floyd ROBINSON) / Teen-Age Misery / The Elopers / Thinkin' / Tattle Tale / 12 String Boogie (Floyd ROBINSON)
© Rocky Productions 16/09/2019