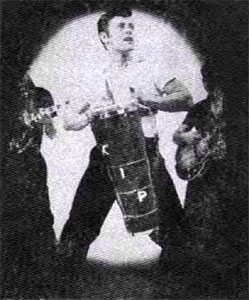 Chanteur Rock 'n' Roll US né Elwood Westerton Smith le 31 Mai 1929 à Chicago (Illinois). Kip Tyler est mort le 23 Septembre 1996 à Los Angeles (Californie).

Lead singer of Sleepwalkers during his time at Union High School and later teamed up with rival musicians from Fairfax High School to form the early version of Kip Tyler and the Flips. In early, 1957, Kip caught the attention of arranger Joesph Gershenson who hired him to work on a project connected to the movie "Rock, Pretty Baby". Stemming from the success of movie, Tyler took on the name of Jimmy Daley (the main character of the movie who he provided a voice over for) and formed the band Jimmy Daley And The Ding-A-Lings. He recorded his first album at Decca records. Songs such as "Red Lips and Green Eyes", "Hole in the Wall" and " Bongo Rock" were produced at Decca Records. Unfortunately for Tyler, the sequeal to "Rock, Pretty Baby", "Summer Love" was a flop and so was the career of his surname, Jimmy Daley.
In late 1957, he formed a new group, Kip Tyler And The Flips, responsible for the hits Jungle Hop, Let's Monkey Around and She's My Witch. When the band split in 1959, Tyler attempted a solo career, but with limited success. In 1964 he recorded for the label Gyro Disk, and his success briefly peaked after recording a number of songs. Tyler's last single was made in 1965.
Talents : Vocals, Bongo
Style musical : Rock 'n' Roll
Years in activity :
| | | | | | | | | | | |
| --- | --- | --- | --- | --- | --- | --- | --- | --- | --- | --- |
| 1910 | 20 | 30 | 40 | 50 | 60 | 70 | 80 | 90 | 2000 | 10 |
DISCOGRAPHY
Singles & EP
11/1955
SP LIBERTY 55007 (US)
.

Johnny Tyler - One Way Heart / Heads Up

06/1957
SP DECCA 9-30358 (US)
.
Jimmy DALEY & The DING-A-LINGS / Vocal by Kip

Tyler

& The

Ding-A-Lings

- Red Lips And Green Eyes / How's About A Little Kiss?
12/1957
SP DECCA 9-30532 (US)
.
Jimmy DALEY & The DING-A-LINGS / Vocal by Kip

Tyler

& The

Ding-A-Lings

- Hole In The Wall / Bongo Rock
09/1957
SP STARLA S-2 (US)
.
Kip

Tyler

& The

Flips

- Let's Monkey Around / Vagabond Mama
01/1958
SP CHALLENGE 1014 (US)
.
Kip

Tyler -

She Got Eyes / Shadow Street
04/1958
SP CHALLENGE 59008 (US)
.
Kip

Tyler

& The

Flips

- Jungle Hop / Ooh Yeah Baby
11/1958
SP EBB 154 (US)
.
Kip

Tyler -

She's My Witch / Rumble Rock
1958
EP DECCA ED 2578 (US)
JIMMY DALEY & THE DING-A-LINGS - SUMMER LOVE - Beatin' On The Bongos (Jimmy DALEY & The

Ding-A-Lings

/ with vocal by Molly

Bee

) /

Summer Love (Jimmy DALEY & The

Ding-A-Lings

/ with vocal by Kip

Tyler) /

Sad Sax (Jimmy DALEY & The

Ding-A-Lings) /

Sox Hop (Jimmy DALEY & The

Ding-A-Lings) /

Love Is Something (Jimmy DALEY & The

Ding-A-Lings

/ with vocal by Molly

Bee

) /

Boppin' At The Bash (Jimmy DALEY & The

Ding-A-Lings)

01/1959
SP EBB 156 (US)
.
Kip

Tyler -

Oh Linda / Hali-Lou
01/1960
SP IMPERIAL 5641 (US)
.
Kip

Tyler -

Rocket 'Round The Universe / The Goblin Trot
06/1962
SP TAR-GET T-1001 (US)
.

Do This Do That (Barbara JOY) / Twistin' & Stompin' (instr.) (The Kipsters)

1962
SP TORCHLITE 501 (US)
.

Kipper

& The

Exciters

- Drum Twist Pt.1 / Drum Twist Pt.2
1962 ?
SP TORCH 501 (US)
.

Kipper

& The

Exciters

- Drum Twist Pt.1 / Drum Twist Pt.2
08/1963
SP GYRO-DISC 711 (US)
Kip

Tyler

& The

White Fronts

- Toledo / Eternity
08/1964
SP GYRO-DISC 710 (US)
That Bell Of Freedom (Kip TYLER) / On The Flip Side (instr.) (Kip

Tyler

& The

Breakouts

)
10/1964
SP GYRO-DISC 710 (US)
Kip

Tyler

- That Bell Of Freedom / The Girl From Ipanema
1965
SP GYRO-DISC 712 (US)
.
Kip

Tyler

- The King Of Love / Snowlight
198?
SP WAVY GRAVY LC-101 (US)
.
Jungle Hop (Kip

Tyler

& The

Flips

) / + Ronnie COOK & the GAYLADS
Unissued Tracks
| | | |
| --- | --- | --- |
| 1957 | CHALLENGE unissued - (Bear Family LP 15233 (#17) / Hydra CD 27121 (#12)) | Hello Mr. Dee-Jay |
| 1957 | CHALLENGE unissued - (Bear Family LP 15233 (#13) / Hollowbody CD 12001 (#5) / Hydra CD 27121 (#11) / Not Now Music CD 122 (#44)) | Nothin' But Tough |
| 1957 | CHALLENGE unissued - (Bear Family LP 15233 (#12) / Hollowbody CD 12003 (#6) / Hydra CD 27121 (#10) / RPM Retro CD 837 (#27)) | Wail Man Wail! |
| 1957 | CHALLENGE unissued - (Hydra CD 27121 (#9)) | Wail Man Wail! (instr.) |
| 1958 | CHALLENGE unissued - (Hydra CD 27121 (#27)) | Ooh Yeah Baby (instr.) |
| 1960 | IMPERIAL unissued | Permanent Arch |
| 1960 | IMPERIAL unissued | Sixteen |
| 1960 | IMPERIAL unissued | Snuggle Bunny |
Album
| | | | |
| --- | --- | --- | --- |
| 2004 | CD Hydra BCK27121 (GER) | | Ooh Yeah Baby...!!! - RED HOT ROCK AND ROLL - OUT OF HOLLYWOOD - Jimmy DALEY : Red Lips And Green Eyes / Bongo Rock / How's About A Little Kiss / Hole In The Wall / Kip TYLER : Let's Monkey Around / Vagabond Mama / Jimmy DALEY : Summer Love / Beatin' On The Bongos / Kip TYLER : Wail Man Wail! (instr.) / Wail Man Wail! / Nothin' But Tough / Hello Mr. Dee-Jay / Shadow Street / She Got Eyes / Introduction by Johnny OTIS / Kip TYLER : Jungle Hop / Ooh Yeah Baby / Rumble Rock / She's My Witch / Oh Linda / Hali Lou / That Bell Of Freedom / On The Flip Side (instr.) / The Girl From Ipanema / Toledo / Eternity (A Surfer's Lament) / Ooh Yeah Baby (instr.) |
© Rocky Productions 22/10/2019