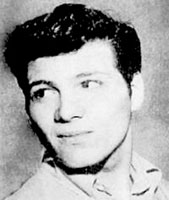 Chanteur et producteur US né Nikolas Konstantinos Venetoulis le 3 Décembre 1936. Nick Venet fut responsable chez Capitol des signatures de groupes comme "The Lettermen", "The Beach Boys" et de Glen Campbell. Il est décédé le 2 Janvier 1998.

As an A&R man and frequent producer for Capitol rock, pop, and folk acts in the 1960s, Nick Venet (sometimes spelled Nik Venet) held an important position in the music industry during rock's most volatile decade. Venet's productions were not characterized by an identifiably distinct or idiosyncratic sound, and he has sometimes been cast by histories as an establishment figure lagging slightly behind the innovations of the period. He produced several important acts while at Capitol, though, including significant records by the Beach Boys, the first releases by Linda Ronstadt (as a member of the Stone Poneys), and some rather cultish and underground artists, such as Fred Neil.
Venet had done some work at the Los Angeles jazz label World Pacific before being taken on by Capitol, where he was one of the few members of the artistic staff with a feel for what the expanding youth segment of the pop market might want. He had some pop success with the Lettermen, but his first notable contribution to rock was his role in the early career of the Beach Boys. The group had already done some recordings for a local independent label, and had a regional hit (and small national one) with "Surfin'," when Venet heard some Beach Boys demos in 1962. He quickly signed them, and was listed as producer on their first two albums, Surfin' Safari and Surfin' U.S.A, which included their early hits "Surfin' Safari," "409," "Surfin' U.S.A.," and "Shut Down."
Historians and those on the scene at the time have subsequently claimed that Brian Wilson was in fact primarily responsible for the Beach Boys' production right from the start, and that Venet's function was more accurately described as that of executive producer. One could also reason that it wouldn't take a genius to detect the potential of a group with as much obvious songwriting and vocal talent as the Beach Boys. Still, Venet's contribution shouldn't be underestimated. He signed them to one of the biggest labels in the world at a time when they were almost unknown, and if he indeed was only an executive producer of sorts, he knew enough to get out of the way and let Brian Wilson handle things instead of mucking it up. Wilson himself officially assumed the producer's duties with the Beach Boys' third album, Surfer Girl, in 1963.
Incidentally, noted producer Shel Talmy (the Kinks, the Who) credits Venet with helping him get a job with Decca in England in the early '60s. The American-born Talmy, then a recording engineer in Los Angeles, was vacationing in Europe and visited Dick Rowe of Decca. He played him acetates of discs Venet had been involved with, by the Beach Boys and Lou Rawls, and (with Venet's knowledge) claimed the work as his own. An impressed Decca hired Talmy, and by the time they figured out the ruse, Talmy had already produced hits, and everyone was happy to let the situation lie.
Venet kept a foot in the water of the surf/hot rod scene as a producer for the Hondells, who had the most commercial success with hot rod songs than anyone save the Beach Boys and Jan & Dean. Still, much of his work with Capitol was of a pop rather than rock nature, including records by the Lettermen, Glen Campbell, the Four Preps, and Bobby Darin. Capitol did not record much notable American rock during the period (of course they had the Beach Boys and American rights to the Beatles, so they weren't too badly off), and they found themselves in danger of falling behind the times. Venet seemed to be on the way to working with the Mamas & the Papas when they first arrived in California, but they ended up going with Lou Adler and Dunhill instead.
Slightly afterwards, however, Venet did prove his merits as a producer of noteworthy folk-rock, both with cult singer/songwriter Fred Neil and the Stone Poneys, Linda Ronstadt's first group. Judging from these discs, Venet was skilled at helping craft recordings with spacious and rich sounds in which acoustic instruments were at the fore, but still able to blend harmoniously with some electric guitars and rhythm section. He should certainly be credited with having gotten anything out of Neil, a notoriously mercurial singer/songwriter who would not record at all after the early '70s. The production on the discs by Neil and the Stone Poneys foreshadow the subdued folk-pop-rock sound that would be typical of California-recorded singer/songwriter albums of the '70s.
Venet also produced some notable efforts by artists who made Neil seem like a star in comparison -- folk singer Karen Dalton and Bay Area psychedelic band Mad River, whose debut LP is one of the most eccentric California rock albums of the '60s. Like many of the producers of his generation, he became much less active after the '60s, although he did work on some albums by John Stewart, the singer/songwriter who was formerly in the Kingston Trio.
https://en.wikipedia.org/wiki/Nick_Venet
Talents : Vocals, Producer
Style musical : Rock 'n' Roll
Years in activity :
| | | | | | | | | | | | |
| --- | --- | --- | --- | --- | --- | --- | --- | --- | --- | --- | --- |
| 1910 | 20 | 30 | 40 | 50 | 60 | 70 | 80 | 90 | 2000 | 10 | 20 |
DISCOGRAPHY
Singles & EP
| | | | |
| --- | --- | --- | --- |
| 1957 | EP RCA VICTOR EPA-4100 (US) | | Oh Baby / Kinda Slow / Readin' Writin' n' 'Rithmetic / Stop (What You're Doin' To Me) |
| 05/1958 | SP IMPERIAL X5522 (US) | . | Love In Be Bop Time / Honey Baby |
| 1960 | SP Enith International T-5 (US) | . | My Dream / Lost And Found |
| 04/1966 | SP DECCA 31939 (US) | . | The Nick Venet Orchestra - A: Main Theme From "Out Of Sight" / Camp Sight |
Album
| | | | |
| --- | --- | --- | --- |
| 1963 | LP 12" MGM E-4222 (mono) / SE-4222 (stereo) (US) | | Theme From "Mr. Novak" And Other High School Themes - Mr. Novak (Part I) / Skiing Holiday / Talkin' Surf / First Dance / B.M.O.C. / Assembly Stomp / Mr. Novak (Part 2) / Class Ring / Detention Class Blues / Back Strap / Senior Shuffle / Summer Memories |
© Rocky Productions 3/12/2019