| | |
| --- | --- |
| | |
| | |

Groupe Rock 'n' Roll US originaire de Philadelphie (Pennsylvanie) formé en 1947.

Chances are, unless you're a pop music historian, or over the age of 50, or come from the Philadelphia area (or, more likely, all three), you've never heard of the Virtues. But long before the Ventures ever got together and long before the members of the Shadows had even thought of playing skiffle music or picking up musical instruments -- and, come to think of it, even before Bill Haley & His Comets (or his "Saddlemen"), and before the term rock & roll jumped from a slang expression within music to being a musical reference -- the Virtues were there, doing a brand of instrumental music that could easily have been taken for rock & roll, at least some of the time. It had all of the elements: a beat, electric guitars, and young guys playing it who were trying to do something besides rehash country and pop tunes the old way.
Philadelphia-born Frank Virtue (born Jan 21, 1927) grew up listening to the big bands of the 1930s and early '40s, including Benny Goodman, Artie Shaw, Harry James, Duke Ellington, and Woody Herman. He took violin lessons as a boy and switched to guitar at 15 and to the double bass at 17, crossing paths professionally with such future renowned figures as Mario Lanza and studying the instrument on a classical level with a member of the Philadelphia Orchestra. He studied arranging while attending Temple University, and when he enlisted in the United States Navy in 1945, was assigned to the Regular Navy Dance Band, stationed in Bainbridge, MD, later becoming the band's leader. One of those whose paths he crossed during his stint in the Navy was Arthur "Guitar Boogie" Smith, a guitarist and country musician who was about six years older than Virtue.
Alas, his time in the service was short, despite its promising beginnings -- Virtue received a hardship discharge in 1946 because his father had undergone cancer surgery and he was left as the principal supporter of his family. He still wanted to try something with music, however. Virtue recognized that the economics of the time no longer allowed most of the big bands to sustain themselves (apart from a few exceptions like Duke Ellington, whose high-name recognition allowed him to get a good share of the best work that there was to be had and whose steady stream of royalties as a composer made it possible for him to "deficit finance" the band in the lean times); he also knew that small groups didn't have this problem, only the difficulty of generating a distinctive sound. Amplifiers took care of the latter, while Virtue took his lead from acts like the Nat King Cole Trio and also, just as likely, some of the more musically adept R&B outfits of the time; he put together what was known as the Virtuoso Trio, with himself on bass and guitar, Ralph Frederico on piano, and Steve Rossi on guitar.
They prospered over the next decade, playing small clubs and then bigger clubs and getting featured on the radio and on television once that medium was established, so that by the mid-'50s the group was making a good living working the area around Philadelphia and points north as far as Canada. They were well-known within the city and fixtures on local television and radio, and played as the backup band to singers such as Patti Page, Rosemary Clooney, Dick Haymes, and June Christy, and also worked with jazz figures like Charlie Ventura. In the meantime, a revolution had swept across the music world that, oddly enough, also had a big part of its start in and around Philadelphia, in the guise of rock & roll; an act out of Chester, PA, called Bill Haley & His Comets had spearheaded the revolution, and Frank Virtue and his band were swept along with it, finding that they could delight teenage audiences with their virtuosity and spirited playing just about as well as any of the younger rock & roll acts coming up around them.
In 1958, the group recorded a new arrangement of Smith's "Guitar Boogie," entitled "Guitar Boogie Shuffle," with new accents and a beat that took it out of country boogie and Western swing and moved it into rock & roll. With Virtue playing lead on a Gibson L5 -- with a delightful call-and-response middle section and a tape echo and shuffle drum part embellishing the piece -- "Guitar Boogie Shuffle" became one of the most popular and influential instrumentals of its era, reaching number five on the Billboard charts in the spring of 1959. It also topped out sheet-music sales as aspiring guitarists all over the country and later around the world decided to learn the piece (want to bet that George Harrison, Eric Clapton, Jeff Beck, Jimmy Page, Hank Marvin, Bruce Welch, Keith Richards, Bert Weedon, and Big Jim Sullivan all had at least a passing acquaintance with the single, and sometimes more than that?).
The single's release (on the Hunt label) also marked a change of name for the group, to the Virtues, in an effort to widen their appeal. Though they saw little revenue from the single as a result of the record-company business practices of the era, the group -- which had expended to a quintet (Virtue on bass, John Renner on saxophone, Jimmy Bruno on guitar, Joe Vespe on drums, and Dave Kaplin doing some vocals) -- gained so many gigs from the record that they made out well. Strangely enough, the Virtues resembled Bill Haley's Comets in many key respects: They were five white guys who were a lot older than most rock & roll bands of the period, engaged in nearly as many comic antics as musical flourishes, and their informal persona contrasted with their musical formality. None of their later singles -- including "Flippin'," "Boogie Woogie," and "Vaya Con Dios" -- ever sold remotely as well, even after they were picked up by ABC-Paramount, but "Guitar Boogie Shuffle" easily sold in the millions worldwide. Virtue decided to disband the group in 1962 and turned to full-time producing. In 1993, Collectables Records released Guitar in Orbit, a collection of 22 instrumentals by the Virtues.
http://www.dvrbs.com/swing/OldShowbiz-FrankVirtue.htm
https://en.wikipedia.org/wiki/The_Virtues
Style musical : Rock 'n' Roll
Years in activity :
| | | | | | | | | | | | |
| --- | --- | --- | --- | --- | --- | --- | --- | --- | --- | --- | --- |
| 1910 | 20 | 30 | 40 | 50 | 60 | 70 | 80 | 90 | 2000 | 10 | 20 |
DISCOGRAPHY
Singles & EP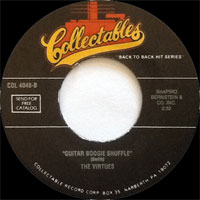 Albums
1960
LP 12" Wynne WLPS 711 (US)

Guitar Boogie Shuffle - Frank VIRTUE & The VIRTUES - Anna / Highland Guitar / Toodle-Loo Kangaroo / Plunkin', Plankin'-Boogie / Constantly / Cotton Candy / Marching Guitars / Third Man Theme Cha-Cha-Cha / White Buck Shoes / Guitars In-The-Round / Rollin' And A' Rockin' / Taboo

1960
LP 12" STRAND SLS 1061 (US)

Guitar Boogie Shuffle -

Frank

VIRTUE & T

he

VIRTUES -

Anna / Highland Guitar / Toodle-Loo Kangaroo / Plunkin', Plankin'-Boogie / Constantly / Cotton Candy / Marching Guitars / Third Man Theme Cha-Cha-Cha / White Buck Shoes / Guitars In-The-Round / Rollin' And A' Rockin' / Taboo
196?
LP 12" Elegante ‎EL 2011 (CAN)
GUITARE DE DANSE - Goldfinger / Love Potion Number Nine / Pluckin' Plankin' Boogie / Glad All Over / Cotton Candy / Wheels / Anna / Limbo Rock / Peter Gunn / Slow Shuffle
196?
LP 12" Elegante ‎EL 2012 (CAN)
LES PLUS GRAND SUCCES DE GUITARE - Les VIRTUES avec Frank VIRTUE - A Hard Day's Night / Guitars In The Round / You Really Got Me / Taboo / Fats / Walk Don't Run / Apache / Never On Sunday / Guitar Boogie Shuffle / Come September
196?
LP 12" Trans-World TW-3021 (CAN)

Still More Guitar Hits - Goldfinger / Love Potion Number Nine / Pluckin' Plankin' Boogie / Glad All Over / Cotton Candy / A Hard Days Night / Guitars In The Round / You Really Got Me / Taboo / White Buck Shoes

1973 ?
LP 12" VIRTUE V-101173 (US)

Solid Gold - Guitar Boogie Shuffle / Caravan / Night Train / Begin The Beguine / Honky Tonk / Guitar In Orbit / Guitar Twist / C Jam / St. Louis Blues / Love You / Steel Guitar Rag / Shufflin' Along

1980
LP 12" President PRX 16 (UK)

Guitar Boogie Shuffle -

Frank

VIRTUE & T

he

VIRTUES -

Guitar Boogie Shuffle / Mambo Rock / Jimmy's Shuffle / Rollin' And Rockin' / Ooh Ya Gotta / Let's Have A Party / My Constant Love / Toodle-Oo Kangeroo / Hop Skip Jump Mambo / Go Joe Go / I Think You're Lying / I Ain't Gonna Do It No More / Good Bye Mambo
12/1993
CD COLLECTABLES 536 (US)

Guitar in Orbit - Guitar Boogie Shuffle / Honky Tonk / Vaya Con Dios / Guitar In Orbit / Guitar Twist / Caravan / Virtues Stroll / Shimmy Shimmy Guitar / Woodchopper's Ball / Guitar On Fire / Poinciana / Night Train / Begin The Beguine / Dream World / Anna / Love You / Anniversary Song / Cotton Candy / Third Man Theme / Bye Bye Blues / Limehouse Blues / Sweet Georgia Brown

1995 ?
CD HYDRA

CDBCK27104 (GER)

HOP, SKIP AND JUMP -

Frank

VIRTUE & T

he

VIRTUES -

Rollin' And Rockin' / Straighten Up And Flyright / Rattle My Bones / Guitar Boogie Shuffle / My Blue Heaven / I Think You're Lying / Let's Have A Party / Hop Skip Jump Mambo / Corrine Corrina / Boppin' The Blues / Stranded In The Jungle / Flippin' In / I Ain't Gonna Do It No More / Mambo Rock / Rip It Up / My Constant Love / I Made A Mistake / Oo Ya Gotta / Lover Boy / Go Joe Go / Can't We Be Sweethearts / Fever / Rose Of San Antone / Hallelujah I Love Her So / Charleston Twist / Mountaneet Teen Break / Toodle Oo Kangaroo / Roll Over Beethoven / I'm Going Home / Good Bye Mambo
© Rocky Productions 8/10/2017