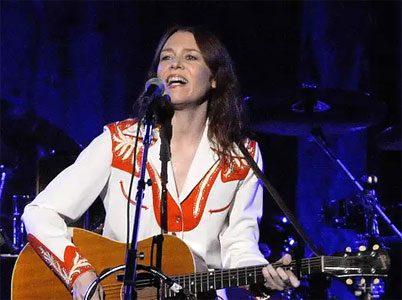 Chanteuse Country/Folk US née Gillian Howard Welch le 2 Octobre 1967 à New York. Élevée à Los Angeles par ses parents adoptifs, Gillian Welch étudie la photographie à l'Université de Californie et découvre la musique bluegrass, notamment Bill Monroe et The Stanley Brothers. Elle étudie ensuite la composition au Berklee College of Music de Boston, où elle rencontre David Rawlings. Après l'obtention de son diplôme en 1992, Welch part s'installer avec Rawlings à Nashville. Celui-ci participe à l'élaboration de ses albums, d'abord en tant que musicien, puis producteur ; au sujet de leur collaboration elle déclare : « We're a two-piece band called Gillian Welch ». (Nous fonctionnons comme un duo dont le nom serait Gillian Welch).
Gillian Welch continue de composer et commence à se faire connaitre à l'échelon local, en 1993 elle remporte la première édition du « Chris Austin Songwriting Contest », concours organisé à Nashville dans le cadre du festival bluegrass Merlefest et ouvert aux jeunes compositeurs. Elle signe un contrat avec la société d'édition Almo/Irving Music Publishing puis avec le label Almo Sounds, lancé en 1995 par Herb Alpert et distribué par Geffen Records. Welch et Rawlings font la connaissance du musicien et producteur T-Bone Burnett après avoir joué en première partie d'un concert de Peter Rowan à Nashville. Burnett produit Revival, le premier album du duo, auquel participent également le guitariste James Burton et le batteur Jim Keltner. Le disque est édité par le label Almo Sounds en 1996, et est nommé aux Grammy Awards dans la catégorie « Best Contemporary Folk Album » (Meilleur album folk contemporain) en 1997. L'album Time (The Revelator), paru en 2001, est également nommé dans la même catégorie en 2002.
En 2000, les titres Didn't Leave Nobody But the Baby qu'elle interprète avec Emmylou Harris et Alison Krauss, et I'll Fly Away chanté en duo avec Krauss, apparaissent sur la bande originale du film O'Brother, réalisé par les frères Joel et Ethan Coen. Welch est également créditée en tant que productrice associée (Associate Music Producer). La bande originale est nommée « Album of the Year » (Meilleur album de l'année) lors de la 44è édition des Grammy Awards et atteint la première place du hit parade pop américain en mars 2002.
Le duo a également travaillé avec d'autres artistes, Welch and Rawlings chantent notamment sur deux morceaux (Speedway at Nazareth et Prairie Wedding) de l'album Sailing to Philadelphia du guitariste Mark Knopfler, paru en 2000. Ils sont aussi crédités, entre autres, sur l'album Heartbreaker de Ryan Adams en 2000 ainsi que sur l'album Spooked du chanteur anglais Robyn Hitchcock, édité en 2004. Les chansons de Gillian Welch ont été interprétées entre autres par Emmylou Harris (Orphan Girl reprise sur l'album Wrecking Ball en 1995) et Joan Baez (Caleb Meyer et Elvis Presley Blues reprises sur l'album Dark Chords on a Big Guitar en 2003).

Gillian Welch first appeared on the folk scene as a young singer/songwriter armed with a voice and sensibility far beyond her years, earning widespread acclaim for her deft, evocative resurrection of the musical styles most commonly associated with rural Appalachia of the early 20th century. Welch was born in 1967 in Manhattan and grew up in West Los Angeles, where her parents wrote material for the comedy program The Carol Burnett Show. It was as a child that she became fascinated by bluegrass and early country music, in particular the work of the Stanley Brothers, the Delmore Brothers, and the Carter Family.
In the early '90s, Welch attended the Berklee School of Music in Boston, Massachusetts, where she began performing her own material, as well as traditional country and bluegrass songs, as part of a duo with fellow student David Rawlings. After honing their skills in local open mike showcases, the duo began performing regularly throughout the country. While opening for Peter Rowan in Nashville, they were spotted by musician and producer T-Bone Burnett, who helped Welch and Rawlings land a record deal. With Burnett producing, they cut 1996's starkly beautiful Revival, an album split between bare-bones duo performances -- some even recorded in mono to capture a bygone sound -- and more full-bodied cuts featuring legendary sessionmen like guitarist James Burton, upright bassist Roy Huskey, Jr., and drummers Buddy Harmon and Jim Keltner.
Her sophomore album, Hell Among the Yearlings, followed in 1998. The years following her second release found Welch involved in several soundtracks (O Brother, Where Art Thou?, Songcatcher), tribute albums (Songs of Dwight Yoakam: Will Sing for Food, Return of the Grievous Angel: A Tribute to Gram Parsons), and guest spots on other artists' albums (Ryan Adams' Heartbreaker, Mark Knopfler's Sailing to Philadelphia). Following the success of O Brother, Welch and Rawlings found themselves in the center of a traditional American folk revival and released their third album, Time (The Revelator), in mid-2001. Steady touring, guest appearances, and the release of a DVD (The Revelator Collection) kept the pair busy, but in 2003 they found time to record Soul Journey, their second release on their own Acony Records label. Rawlings cut his first solo album, A Friend of Mine, though Welch sang harmony all over it. It was issued in 2009. Welch didn't release another album under her own name again until 2011, when she and Rawlings released The Harrow & The Harvest on Acony. She and Rawlings co-produced, sang, and played everything on the album, which was engineered by Matt Andrews.
Welch and Rawlings both participated in the recording of 2014's Look Again to the Wind: Johnny Cash's Bitter Tears Revisited, a multi-artist album that paid tribute to Cash's landmark concept album on Native American history. In 2015, Welch sat in on the sessions for the second Dave Rawlings Machine album, Nashville Obsolete. Welch and Rawlings looked back to their first album with the 2016 collection Boots No. 1: The Official Revival Bootleg, which featured unreleased outtakes, alternate versions, and demos from the making of Revival.
Talents : Vocals, Guitar, Banjo, Harmonica, Songwriter
Style musical : Alt-Country, Bluegrass, Neo-Traditional Folk, Americana, Contemporary Folk

http://youtu.be/7FM8ui2ByUI
Years in activity :
| | | | | | | | | | | |
| --- | --- | --- | --- | --- | --- | --- | --- | --- | --- | --- |
| 1910 | 20 | 30 | 40 | 50 | 60 | 70 | 80 | 90 | 2000 | 10 |
DISCOGRAPHY
Singles & EP
1996
CD ALMO SOUNDS PRO-CD-8006 (US) (promo)

Paper Wings (LP version)

1996
CD ALMO SOUNDS PRO-CD-4911 (US) (promo)
SAMPLER - Pass You By / One More Dollar / Paper Wings / Tear My Stillhouse Down
1998
CD ALMO SOUNDS ALMCD60PR (UK) (promo)

Gillian Welch - My Morphine / By The Mark / Paper Wings / Caleb Meyer / Whiskey Girl / Acony Bell

2001
CD ACONY ACNY P

ro3 (US)

Elvis Presley Blues (radio edit)

2005
CD ACONY ACNY PRO5 (US)

Black Star / Pocahontas

2011
CD ACONY ? (UK)

Silver Dagger / Tennessee

2011
CD ACONY ? (UK) (promo)
.

The Way It Goes
Albums
04/1996
CD ALMO SOUNDS 80006 (US)
REVIVAL - Orphan Girl / Annabelle / Pass You By / Barroom Girls / One More Dollar / By The Mark / Paper Wings / Tear My Stillhouse Down / Acony Bell / Only One And Only
07/1998
CD UNIVERSAL 80552 (US)
HELL AMONG THE YEARLINGS - Caleb Meyer / Good Til Now / The Devil Had A Hold Of Me / My Morphine / One Morning / Miner's Refrain / Honey Now / I'm Not Afraid To Die / Rock Of Ages / Whiskey Girl / Winter's Come And Gone
1998
2 CD ACONY ACNY-PR01 (US) (numbered, promo)

Revival / Hell Among The Yearlings :

CD 1 :

REVIVAL : Orphan Girl / Annabelle / Pass You By / Barroom Girls / One More Dollar / By The Mark / Paper Wings / Tear My Stillhouse Down / Acony Bell / Only One And Only

CD 2 :

HELL AMONG THE YEARLINGS : Caleb Meyer / Good Til Now / The Devil Had A Hold Of Me / My Morphine / One Morning / Miner's Refrain / Honey Now / I'm Not Afraid To Die / Rock Of Ages / Whiskey Girl / Winter's Come And Gone

07/2001
CD ACONY ACNY 0103 (US)
TIME (THE REVELATOR) - Revelator / My First Lover / Dear Someone / Red Clay Halo / April The 14th, Pt. 1 / I Want To Sing That Rock And Roll / Elvis Presley Blues / Ruination Day, Pt. 2 / Everything Is Free / I Dream A Highway
06/2003
CD ACONY ACNY0305 (US)
SOUL JOURNEY - Look At Miss Ohio / Make Me A Pallet On Your Floor / Wayside - Back In Time / I Had A Real Good Mother And Father / One Monkey / No One Knows My Name / Lowlands / One Little Song / I Made A Lovers Prayer / Wrecking Ball
02/2011
CD ACONY ACNY1109 (US)
THE HARROW & THE HARVEST - Scarlet Town / Dark Turn Of Mind / The Way It Will Be / The Way It Goes / Tennessee / Down Along The Dixie Line / Six White Horses / Hard Times / Silver Dagger / The Way The Whole Thing Ends
11/2016
2 CD ACONY CDACNY 1601 (US)

Boots No 1 - The Official Revival Bootleg :

CD 1 : Orphan Girl / Annabelle / Pass You By / Go On Downtown / Red Clay Halo / By The Mark / Paper Wings / Georgia Road / Tear My Stillhouse Down / Only One And Only
CD 2 : Orphan Girl / I Don't Want To Go Downtown / 455 Rocket / Barroom Girls / Wichita / One More Dollar / Dry Town / Paper Wings / Riverboat Song / Old Time Religion / Acony Bell

07/2017
LP 12" ACONY ACNY-1109LP (US)

The Harrow & The Harvest - Scarlet Town / Dark Turn Of Mind / The Way It Will Be / The Way It Goes / Tennessee / Down Along The Dixie Line / Six White Horses / Hard Times / Silver Dagger / The Way The Whole Thing Ends
© Rocky Productions 29/02/2020