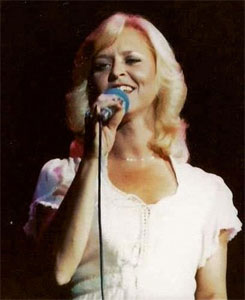 Chanteuse Country US née le 12 Mars 1947 à Sikestone (Missouri). Karen Wheeler est la fille de Onie Wheeler.

b. 12 March 1947, Sikeston, Missouri, USA. Her father was Onie Wheeler, who sang at the Grand Ole Opry for more than two decades. Her mother, Betty Jean, was also a singer who broadcast as Little Jean on KWOC, out of Poplar Bluff, Missouri. This musical atmosphere pointed Wheeler towards a career as an entertainer, which she began as a young girl. In 1958, she recorded 'Go Home' with her parents, and made several solo sides. In 1964 she was recorded by Ray Pennington for Pamper Records in Nashville, Tennessee. In 1967, she and Shirley Michaels joined Bobby Harden in the Harden Trio. Among records made with Harden was 'We Got Each Other'.
As Wheeler's career developed, she appeared at the Grand Ole Opry and was heard on the Renfro Valley Barn Dance and the Wheeling Jamboree. In the early 70s, she recorded for RCA Records and Capitol Records, and had a chart success with 'Born To Love And Satisfy'. Wheeler gained a following as she toured with shows headlined by leading entertainers, such as Roy Acuff, Lefty Frizzell, Loretta Lynn, Ronnie Milsap, Ernest Tubb and Faron Young, and for more than a decade she opened for Conway Twitty.
Between the early 90s and the early 00s, Wheeler was inducted into the halls of fame of the Lone Star State Country Music Association, Radio Country and Airplay International. Meanwhile, she won numerous awards including Country Music Association of America's American Eagle Female Vocalist Of The Year and the CMAA Record Of The Year, for 1996's 'I'd Rather Die Standing'. Songs in Wheeler's repertoire, many of which she has composed herself and which range through country to gospel, include 'Somebody Hold Me', 'I'll Be Your Star Today', 'Need To Know Basis', 'You've Got All I Am', 'Gypsy Love', 'What Can I Do To Make You Happy' and 'You're Smothering Me'. She has worked extensively in the Christian music field and has served as an Executive Board Secretary for Music City Christian Fellowship.
http://www.karenwheelermusic.com/
Talents : Vocals
Style musical : Traditional Country, Rock 'n' Roll

https://youtu.be/vtmF-NS3WVI
Years in activity :
| | | | | | | | | | | |
| --- | --- | --- | --- | --- | --- | --- | --- | --- | --- | --- |
| 1910 | 20 | 30 | 40 | 50 | 60 | 70 | 80 | 90 | 2000 | 10 |
DISCOGRAPHY
Single & EP
02/1961
SP K-ARK 616 (US)
.

Karen Wheeler featuring Jimmy Gentry & The Gents - Wait Till I'm Sixteen / Going To Hold My Baby

09/1962
SP EPIC 5-9540 (US)

What About Tomorrow (Karen WHEELER) / Sandyland Farmer (Onie Wheeler)

03/1965
SP K-ARK 641 (US)
.

I've Been There / The Bad With The Good

08/1965
SP K-ARK 653 (US)
.
More Of Mr. Peters (Karen

Wheeler

& Curtis

Keen

) / I've Been There (Karen

Wheeler

)
09/1965
SP K-ARK 654 (US)
.

More Of Mr. Peters (Karen Wheeler & Curtis Keen) / I've Been There (Karen Wheeler)

07/1968
SP BOONE B 1074 (US)
.

I've Heard A Big Wind Blow / The Best Of Two Worlds

11/1969
SP STARDAY 45-879 (US)
.

Karen Wheeler & Bobby Harden - We Got Each Other / The Love For A Child

196?
EP 33 t. K-ARK 105 (US)
.

Bad With The Good (Karen WHEELER) / Hold My Baby (Karen WHEELER) / I've Been There (Karen WHEELER) / Sick Of Myself (Johnny Scoggins) / Big Thinker (Hank Chess) / Some Day I Will Sober Up (Eddie BOND)

08/1970
SP HILLTOP HD-3027 (US)
.

Listen Spot / Deception

1970
SP HILLTOP HD-3031 (US)
.

Mama's Kitchen / Stand By Your Man

05/1972
SP CHART CH-5166 (US)
.

A Special Day / The First Time For Us

09/1972
SP CHART CH-5179 (US)
.

Life Is Life And Life's Like That / The Keeper Of The Keys

01/1973
SP CHART CH-5185 (US)
.

I Miss You Already / One Hurt At A Time

02/1974
SP RCA VICTOR APBO-0223 (US)
Born To Love And Satisfy / A Woman In Love
09/1974
SP RCA VICTOR PB-10034 (US)
.

What Can I Do (To Make You Happy) / You're Smotherin' Me

02/1975
SP RCA VICTOR PB-10196 (US)
.

I'm Getting Tired Of Holding Hands / A Woman In Love

02/1976
SP RCA VICTOR PB-10611 (US)
.

Love Made / In The Middle Of The Night

06/1978
SP CAPITOL 4595 (US)
.

How Is The Sun In California / How Will I Get Over You

03/1979
SP CAPITOL 4697 (US)
.

How Will I Get Over You / Ain't No Mountain High Enough

1981
SP Fox Fire 138 (US)
.

To Close Too Goodbye / You've Got All I Am

1991
SP Fox Fire FFF 000117 (US) (promo)
.

I'm Just A Soft Touch For You / I'm Just A Soft Touch For You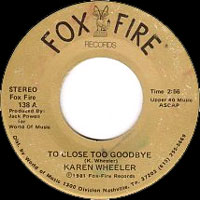 Albums
1997
CD Fox Fire ? (US)

A Country Christmas - Rudolph The Red Nose Reindeer / Joy To The World / Jinlge Bells / Blue Christmas / Frosty The Snowman / Silver Bells / Santa Claus Is Coming To Town / Silent Night / Up On The Housetop / Away In A Manger

1998
CD Fox Fire ? (US)

Love Made - Stealin' / Love Made / You're Smothering Me / It's Yo' Momma / Muleskinner Blues / Gimme A Break / I Just Need Someone (Who Needs Someone Tonight) / I Won't Fall In Love / I'd Rather Die Standing / You've Got All I Am

1999
CD Fox Fire ? (US)

Special Delivery - Special Delivery / Bring My Children Home / Precious Lord Take My Hand / There Heaven To Gain There's Hell To Lose / One Day At A Time / He Left More Love Than He Found / Mother Prays Loud In Her Sleep / I Saw Dad With God Last Night / Keep Me From Blowing Away / I Want Us To Be Together In Heaven

2000
CD Fox Fire ? (US)

Merry Christmas From Our House To Yours - Away In A Manger / O'Little Town Of Bethlehem / Silent Night / O'Come All Ye Faithful / Hark! The Hearld Angles Sing / We Three Kings / O'Holy Night / I Came Upon A Midnight Clear / The First Noel / Joy To The World

2002
CD Fox Fire ? (US)

A Mental Journey - I've Had Enough / If I Had Him / Don't Try / A Little Break Can't Kill A Heart / I'll Take What's Left And Make It Right / Fish Or Cut Bait / Can I Have Him / I Just Came Home To Leave / Time / Without You / I Could've Been Worse / I've Been Run Over By That Same Train Before

2003
CD Fox Fire ? (US)

Now And Then - Gypsy Love / I'll Be Your Star Today / Need To Know Bases / I'd Rather Die Standing / Let's Invite Them Over Again / Have Pity / Somebody Hold Me / Fish Or Cut Bait / There's A Friend In The Way / Soft Touch / Can I Have Him / Sing Out America

2004
CD Fox Fire ? (US)

Love Makes The Difference -

I Had One, One Time / Love Makes The Difference / He's A Definite Maybe / I'm Not Lisa / I Want Someone To Love You / If You Want Me / Misty Blue / I Just Had You On My Mind / Never Did Like Whiskey / Tell Me I'm Crazy / The Grand Tour / Take Me To Your World / If You Can
2004
CD Fox Fire ? (US)

Where I Need To Be -

I'm Gonna Flay / Where Eyes Don't Cry / One Of These Days / When We're Made Perfect / I Let Him Drive / Think Again / Where No Man Can / Ain't Thought Shoutin' Yet / He Hung The Moon / I Don't Walk Alone / It's Almost Time / Where I Need To Be / Long Black Train
2007
CD Raindrops ? (US)

Too Good To Be Bad - I'm Gonna Beat This Thing / He / Johnny Walker Walk / At The Corner Of Walk And Don't Walk / Stubborn Heart / Dancing Shoes / I'm The Honky Tonk Angel / Too Good To Be Bad / You'll Have To Get Over Me / Tell Me I'm Wrong / Somewhere Between Right And Wrong / Two Hearts Never Break Even

2009
CD Fox Fire ? (US)

Softly And Tenderly - Oh Happy Day / I Surrender All / Farther Along / Sweet, Sweet Spirit / Wait A Little Longer Please Jesus' / The Lord's Prayer / In The Garden / I Believe / Just A Closer Walk With Thee / Softly And Tenderly
© Rocky Productions 5/04/2020