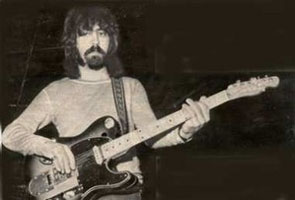 Guitariste Country Rock et Bluegrass US né Clarence LeBlanc le 7 Juin 1944 à Lewiston (Maine). Clarence White est connu surtout pour sa participation au groupe The Byrds de 1968 à 1973, et pour ses participations au sein des formations bluegrass Muleskinner et Kentucky Colonels. Il est décédé le 15 Juillet 1973 à Pamldale (Californie).

Clarence White was a gifted guitarist who was one of the pioneers of country-rock in the late '60s. Although died young, his work with the Byrds and the Kentucky Colonels, among others, remained celebrated among country-rock and bluegrass aficionados in the decades following his death.
Born in Maine but raised in California, White began playing the guitar at an early age, joining his brothers' band, the Country Boys, when he was just ten years old. The band eventually evolved into the Kentucky Colonels. Clarence left the Colonels in the mid-'60s, becoming a session musician; he played electric guitar on many rock and pop albums. He also began playing with the duo of Gib Gilbeau and Gene Parsons in local California clubs. Gilbeau and Parsons frequently worked with the Gosdin Brothers, so the duo was able to land a cameo appearance for White on the Gene Clark With the Gosdin Brothers album. Around the same time, Clarence recorded a solo album for Bakersfield International which the label didn't release.
In 1968, White joined Nashville West, which also featured Gene Parsons, Gib Gilbeau, Sneaky Pete Kleinow, Glen D. Hardin, and Wayne Moore. Nashville West recorded an album for Sierra Records, but the record didn't appear until 1978. White was invited to join the Byrds in the fall of 1968. Roger McGuinn was rebuilding the Byrds' lineup after the departure of Chris Hillman and Gene Parsons, who went on to form the Flying Burrito Brothers. Clarence White fit into the revamped Byrds' country-rock direction. He played on the group's untitled album, which spawned the single "Chestnut Mare." While he was with the band, he continued to work as a session musician, playing on Randy Newman's 12 Songs (1970), Joe Cocker's eponymous 1969 album, and the Everly Brothers' Stories Would Could Tell (1971), among others.
Once the Byrds disbanded in 1973, Clarence White continued his session work and joined Muleskinner, which also featured David Grisman, Peter Rowan, John Guerin, Bill Keith, John Kahn, and Richard Greene. Muleskinner only released one album, which appeared later in 1973.
After the Muleskinner record was finished, White played a few dates with the Kentucky Colonels and began working on a solo album. He had only completed four tracks when he was killed by a drunken driver while he was loading equipment onto a van; he died on July 15, 1973. Following his death, several posthumous albums of his work with the Kentucky Colonels and the Byrds appeared, as did various albums that featured his playing, including Jackson Browne's Late for the Sky and Gene Parsons' Kindling.
Style musical : Country Rock, Bluegrass, Progressive Country, Folk-Rock, Psychedelic
1964
LP 12" World Pacific WP-1829 (mono) / ST-1829 (stereo) (US)

| | |
| --- | --- |
| | Dobro Country - Tut Taylor, Roland & Clarence WHITE - Freight Train / Dobro Country / Pickin' Flat / Lonesome Dobro / Hang Your Head In Shame / Steel Guitar Rag / Just Because / A Fool Such As I / The Sinking Of The Ruben James / Frankie And Johnny / Nobody's Darlin But Mine / Black Ridge Ramble |

1974
LP 12" UNITED ARTISTS UAS 29514 (UK)
KENTUCKY COLONELS FEATURING ROLAND AND CLARENCE WHITE - Clinch Mountain Back Step / Nine Pound Hammer / Listen To The Mocking Bird / Wild Bill Jones / Billy In The Low Ground / Lee Highway / (That's What You Get) For Lovin' Me / I Am A Pilgram / Prisoner's Song / Sally Goodin / Ballad Of Farmer Brown / Faded Love / John Henry / Flat Fork
1976
LP 12" ROUNDER 0070 (US)
THE KENTUCKY COLONELS - 1965-1966 FEATURING ROLAND AND CLARENCE WHITE - New River Train / Blue Moon Of Kentucky / Lee Highway Blues / Don't Let Your Deal Go Down / New Soldier's Joy / Wicked Path Of Sin / Rawhide / Bucking Mule / How Mountain Girls Can Love / Black Mountain Rag / Sunny Side Of The Mountain / Jimmy's Barnyard Shuffle / You Won't Be Satisfied That Way / Clich Mountain Backstep / Let Me Fall
1976
LP 12" ROUNDER 073 (US)

THE WHITE BROTHERS - CLARENCE, ERIC, AND ROLAND - LIVE IN SEDEN 1973 - Tell Me Baby Why You Been Gone So Long/ Banjo Boy Chimes / Last Thing On My Mind / Sally Goodin / Take A Whiff On Me / Rawhide / If You're Ever Gonna Love Me / I'm Blue, I'm Lonesome / Alabama Jubilee / You Won't Be Satisfied That Way / Soldier's Joy / I Know What It Means To Be Lonesome / Blackberry Blossom / New River Train

1980
LP 12" ROUNDER 98 (US)
CLARENCE WHITE & THE KENTUCKY COLONELS - Alabama Jubilee / I Am A Pilgrim / Billy In The Lowground / Bury Me Beneath The Willow / Footprints In The Snow / Wildwood Flower / Farewell Blues / When You're Smiling / Prisoner's Song / Good Woman's Love / Whitewash Chimney / Listen To The Mockingbird / Teardrops In My Eye / Working On A Building
1997
CD BGO BGOCD357 (UK)

KENTUCKY COLONELS Featuring Roland & Clarence White With Billy Ray Latham, Roger Bush, Bobby Slone & Leroy Mack - Clinch Mountain Back-Step / Nine Pound Hammer / Listen To The Mocking Bird / Wild Bill Jones / Billy In The Low Ground / Lee Highway / (That's What You Get) For Lovin' Me / I Am A Pilgrim / Prisoner's Song / Sally Goodin / Ballad Of Farmer Brown / Faded Love / John Henry / Flat Fork

2001
CD SIERRA1019 (US)
33 ACOUSTIC GUITAR INSTRUMENTALS - Wildwood Flower / Master's Bouquet / Burry Me Beneath The Willow / Black Mountain Blues / Billy In The Low Ground / I'm So Happy / He Will Set Your Fields On Fire / Sugarfoot Rag / Nine Pound Hammer / Cripple Creek / Under The Double Eagle / Farewell Blues / I Am A Pilgrim / Country Boy Rock & Roll / Forsaken Love / False Hearted Lover / Black Jack Davy / Banks Of The Ohio / Jimmy Brown The Newsboy / Sally Goodin / Buckin' Mule / Shady Grove / Pike Country Breakdown / Old Joe Clark / Arkansas Traveller / Footprints In The Snow / In The Pines / Journey's End / Pretty Polly / Cotton Eyed Joe / Clinch Mountain Backstep / Randy Lynn Rag / Mandolin Medley
2003
CD TUTLEE TL 1003 (US)
TUT AND CLARENCE FLATPICKING -

Tut TAYLOR & Clarence WHITE -

Picking Peanuts / False Hearted Lover / Happy Dobro / Sweet Georgia Brown / Panhandle Rag / What A Friend / All Smiles Tonight / Dobro Twisted / Playing Around / Lonesome Dobro / Tennessee Dulcimer Works / Sleepy Head / Maggie / Wabash Cannonball / Dobro Country / Little Green Pill / Steel Guitar Blues / Faded Love / Careless Love / Hawaiian Sunset / Happy Pickers / Sweet Picking Time In Toomsboro, GA / Picking Flat / Turn Around

04/2003
CD BIG BEAT CDWIKD-227 (UK)
TUFF AND STRINGY SESSIONS 1966-68 - Hong Kong Hillbilly Aka Nashville West (1969) (Clarence WHITE) / Mother-In-Law (1967) (Gary PAXTON) / Make Up Your Mind (1968) (SPENCERS) / Grandma Funderbunk's Music Box (1968) (Clarence WHITE) / Guitar Pickin' Man (previouslyuUnissued) (Wayne MOORE) / Vaccination For The Blues (1968) (SANLAND BROTHERS) / Don't Pity Me (1967) (Darrell COTTON) / Gotta Go See The World (1968) (Leon COPELAND) / Everybody Has One But You (previouslyuUnissued) (KENTUCKY COLONELS) / She's Gone (previously unissued) (GIB & JAN) / Tuff & Stringy (1967) (Clarence WHITE) / I'm Tied Down To You (1967) (Richard ARLEN) / Hey Juliana (1967) (Wayne MOORE) / Last Date (1969) (Clarence WHITE) / I'll Live Today (1972) (Dennis PAYNE) / Not Enough Of Me To Go Round (1968) (Jack REEVES) / Riff-Raff (1968) (Clarence WHITE) / If We Could Read (1967) (Darrell COTTON) / Rocks In My Head (1967) (Wayne MOORE) / Made Of Stone (previously unissued) (KENTUCKY COLONELS) / Buckaroo (previously unissued) (Clarence WHITE) / Adam & Eve (previously unissued) (Clarence WHITE) / Why Can't We Be (alternate version) (1969) (GREAT LOVE TRIP) / Nature's Child (previously unissued) (JAN & CLARENCE) / Tango For A Sad Mood (1967) (Clarence WHITE) / If We Could Read (Backing Track) (previously unissued) (Darrell COTTON)
2003
CD Shikata SRCD-1005 (US)

Bush, Lathum And White ‎– Rare Performance - Shucking The Corn / Chug-A-Lug / She's No Angel / Salty Dog / Just Stay Around / Dixie Breakdown / Mocking Banjo / Once More / Green Corn / Rubin's Train / Don't Let Your Deal Go Down / Flop Eared Mule / Black Eyed Suzie / Sally Ann / Cumberland Gap / Shady Grove / Chicken Reel / Little Darlin' Pal Of Mine / The Crawdad Song / Pike County Breakdown / Flop Eared Mule / Arkansas Traveler

2003
CD RURAL RHYTHM RHY 1019 (US)

33 Acoustic Guitar Instrumentals - Wildwood Flower / Master's Bouquet / Bury Me Beneath The Willow / Black Mountain Rag / Billy In The Low Ground / I'm So Happy / He Will Set Your Fields On Fire / Sugarfoot Rag / Nine Pound Hammer / Cripple Creek / Under The Double Eagle / Farewell Blues / I Am A Pilgrim / Country Boy Rock & Roll / Forsaken Love / False Hearted Lover / Black Jack Davy / Banks Of The Ohio / Jimmy Brown The Newsboy / Sally Goodin / Buckin' Mule / Shady Grove / Pike County Breakdown / Old Joe Clark / Arkansas Traveller / Footprints In The Snow / In The Pines / Journey's End / Pretty Polly / Cotton Eyed Joe / Clinch Mountain Backstep / Randy Lynn Rag / Mandolin Medley

10/2006
CD RURAL RHYTHM 1024 (US)
FLATPICK - John Henry Blues / Reno Ride / Salt Creek / Kickin' Mule / Big Sandy River / Sheik Of Araby / Black MTN Blues & Soldier's Joy / Durham's Reel / Barefoot Nellie / Weeping Willow / Ragtime Annie / When You're Smiling / Columbus Stockade Blues / Texas Gales & Blackberry Rag / Silver Bells / San Antonio Rose / Listen To The Mocking Bird / Laughing Guitar / Alabama Jubilee
2009
2 CD DIANE AND ROLAND MUSIC 4629 (US)
THE ESSENTIAL CLARENCE WHITE :

CD 1 : Shady Grove / Sally Goodin / Flop-Eared Mule / Banks Of The Ohio / Wildwood Flower / Billy In The Lowground / Black Mt. Rag / Pretty Polly / Under The Double Eagle / Footprints In The Snow / Bury Me Beneath The Willow / Nine Pound Hammer / Farewell Blues / In The Pines
CD 2 : Shady Grove [rhythm tracks] / Shady Grove [rhythm tracks] / Sally Goodin [rhythm tracks] / Sally Goodin [rhythm tracks] / Flop-Eared Mule [rhythm tracks] / Flop-Eared Mule [rhythm tracks] / Banks Of The Ohio [rhythm tracks] / Banks Of The Ohio [rhythm tracks] / Wildwood Flower [rhythm tracks] / Wildwood Flower [rhythm tracks] / Billy In The Lowground [rhythm tracks] / Billy In The Lowground [rhythm tracks] / Black Mt. Rag [rhythm tracks] / Black Mt. Rag [rhythm tracks] / Pretty Polly [rhythm tracks] / Pretty Polly [rhythm tracks] / Under The Double Eagle [rhythm tracks] / Under The Double Eagle [rhythm tracks] / Footprints In The Snow [rhythm tracks] / Footprints In The Snow [rhythm tracks] / Bury Me Beneath The Willow [rhythm tracks] / Bury Me Beneath The Willow [rhythm tracks] / Nine Pound Hammer [rhythm tracks] / Nine Pound Hammer [rhythm tracks] / Farewell Blues [rhythm tracks] / Farewell Blues [rhythm tracks] / In the Pines [rhythm tracks]

2009
CD SIERRA SXCD 6030 (US)
WHITE LIGHTNIN' - No Title Yet Blues / Tuff And Stringy / Tango For A Sad Mood / Buckaroo / Tuff And Stringy / Yesterday's Train / Sally Goodin Meets The Byrds / Oakridge Tennessee / Louisiana Redbone / Birmingham / Freeborn Man / Dear Landlord / Cuckoo Bird / From Eden To Canaan / I'm On My Way Home Again (take 1) / I'm On My Way Home Again (Silver Meteor album) / White's Lightning / Around The Barn
2011
CD SIERRA SXCD 6033 (US)

Bush, Lathum & White - Roger Bush, Billy Ray Lathum & Clarence White - Shucking The Corn / Chug-A-Lug / She's No Angel / Salty Dog / Just Stay Around / Dixie Breakdown / Mocking Banjo / Once More / Green Corn / Ruebin's Train / Don't Let Your Deal Go Down / Flop Eared Mule / Black Eyed Suzie / Sally Ann / Cumberland Gap / Shady Grove