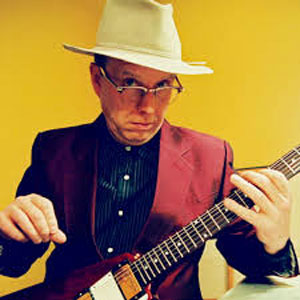 Chanteur et guitariste Rock 'n' Roll US, né John Webb McMurray, le 19 Mai 1954 à Hattiesburg (Mississippi).

"Work hard, rock hard, eat hard, sleep hard, grow big, wear glasses if you need 'em." With this fearless credo, Webb Wilder has been playing his own brand of country-accented, retro-styled rock & roll since the '80s, and created a tongue-in-cheek but larger-than-life persona to go along with it. One could reasonably say Webb Wilder was playing roots rock before anyone started calling it that, with a twang that came from somewhere in between country and rockabilly, some potent growl in the guitars, a hint of blues in the melodies, a tough backbeat that was just a little bit new wave, and Wilder's vocals that could project wit while also getting the party effectively started. Wilder's persona and music were at their strongest on early albums like 1986's It Came from Nashville and 1989's Hybrid Vigor, through 2006's More Like Me and 2015's Mississippi Moderne showed he was still in fine shape if hitting just a bit less hard and turning up the country side of his tunes.
Webb Wilder was born John McMurry in Hattiesburg, Mississippi on May 19, 1954. His aunt, Lillian McMurry, was a co-founder of Trumpet Records, a short-lived but influential label that released seminal sides by Elmore James, Little Milton, and Sonny Boy Williamson II. John inherited her taste for classic blues, R&B, and country sounds as well as soaking up the influences of the British Invasion bands that were dominating the airwaves as he came of age.
In his early teens, McMurry formed a band with his close friend R.S. Field, and in 1976 the two moved to Austin, Texas in hopes of making a dent in the city's music scene. That didn't happen, but their luck changed when they returned to Hattiesburg and formed the Drapes, a rootsy rock band that developed a loyal fan following. By the mid-'80s, the Drapes had run their course, and McMurry moved to Nashville as he pondered his next move. McMurry fell in with a group of student filmmakers who were working on a short comedy about a private eye who played rock & roll, and he landed the lead role, playing a character called Webb Wilder. McMurry connected with the character so strongly that he began playing shows in character, a bespectacled, Fedora-topped rocker who declared himself "the last of the full-grown men."
Webb Wilder and his band the Beatnecks became cult favorites in Music City, and in 1986 they dropped their debut album, It Came from Nashville. Fans and critics gave the album an enthusiastic reception, and Webb Wilder jumped to the major labels when Island Records signed him up, releasing his second long-player, Hybrid Vigor, in 1989. While the album wasn't a major success, the cult of Webb Wilder continued to grow, and the Nashville indie label Praxis issued Doo Dad in 1991. Wilder appeared in another film, Paradise Park, in 1991, and the following year he released Corn Flicks, a video collection including three short films featuring Webb Wilder. In 1993 Wilder appeared in the Peter Bogdanovich film The Thing Called Love, a story set against the backdrop of the Nashville music scene that starred River Phoenix, Sandra Bullock, and Samantha Mathis. Wilder jumped to the Texas-based roots music label Watermelon Records for the 1995 album Town & Country, with Acres of Suede following in 1996.
Wilder took a break from recording for the next nine years, though he continued to perform live and dabbled in film, co-starring in the independent feature Pueblo Sin Suerte (2002) and writing and producing a short film called Scattergun (2007). In 2005 Wilder returned to recording with the album About Time, and in 2006 he released a DVD documenting his live show, Tough It Out! (Live in Concert). An album drawn from the same show, It's Live Time!, was released by Landslide Records in 2007, and the blues-oriented Blind Pig label reissued it as Born to be Wilder in 2008. The same year Tough It Out! arrived, Wilder staged his first WebbFest, an annual concert and meet-up for Webb Wilder fans from across the United States. Arriving in 2009, More Like Me was Wilder's second release for Blind Pig, and he returned to Landslide for 2012's Mississippi Moderne. Powerful Stuff, a collection of rediscovered unreleased tracks recorded between 1985 and 1992, was released in 2018; it included Wilder's unheard original version of the title tune, which was a hit for the Fabulous Thunderbirds in 1989. 2020's Night Without Love was a collection of covers and originals that offered Webb Wilder's perspective on the ups and downs of romance.
Talents : Vocals, Guitar
Style musical : Roots Rock, Blues-Rock

http://www.youtube.com/watch?v=FXXwUOxNKnA
Years in activity :
| | | | | | | | | | | | |
| --- | --- | --- | --- | --- | --- | --- | --- | --- | --- | --- | --- |
| 1910 | 20 | 30 | 40 | 50 | 60 | 70 | 80 | 90 | 2000 | 10 | 20 |
DISCOGRAPHY
Singles & EP
1989
CD ISLAND PR-2835-3 (US) (promo)
COLD FRONT - Cold Front / Webb Wilder Speaks... : Webb intros / Rock & Roll Is #1 / The Webb Wilder Credo / Who Is Webb Wilder? "Intro To Cold Front"
1989
SP ISLAND IS-458 (EUR)

Cold Front /

What's Gone Wrong With You
1989
SP ISLAND 112 965 (GER)

Hittin' Where It Hurts / Louisiana Hannah

1989
CD ISLAND PR 3023-2 (US) (promo)

Human Cannonball (Gun Powder mix) / Human Cannonball (LP version) / Webb Speaks Again : Rock, Rock, Rock / Burning God Of Love / The Story Of The Human Cannonball

1989
SP ISLAND IS-454 (UK)

Human Cannonball (edit) / Wild Honey

1990
CD ISLAND CID 458 875 613-2 (UK)

Cold Front / What'S Gone Wrong With You ? / Human Cannonball (7" DJ version)

1991
CD Zoo ZP17025-2

Tough It Out
Albums
1986
CD WATERMELON 1018 (US)
IT CAME FROM NASHVILLE - How Long Can She Last (GoingThat Fast) / Horror Hayride / I'm Burning / Is This All There Is? / The Devil's Right Hand / Move On Down The Line / One Taste Of The Bait / I'm Wise To You / It Gets In Your Blood / Poolside / Ruff Rider (Dedicated To Broderick Crawford 1911-86) / Keep It On Your Mind / Rock & Roll Ruby / Samson And Delilah's Beauty Shop / Cactus Planet / Dance For Daddy
1989
CD ISLAND 422-842372-2 (US)
HYBRID VIGOR - Hittin' Where It Hurts / Human Cannonball / Do You Know Something (I Don't Know) / Cold Front / Safe Side / Wild Honey / What's Got Wrong With You? / Ain't That A Lot Of Love? / Skeleton Crew / Louisiana Hannah
07/1991
CD VOLCANO 31010 (US)
DOO DAD - Hoodoo Witch / Tough It Out / Meet Your New Landlord / Sittin' Pretty / Big Time / Sputnik / Run With It / King Of The Hill / Everyday (I Kicked Myself) / The Rest (Will Take Care Of Itself) / Baby Please Don't Go / I Had Too Much To Dream (Last Night)
02/1995
CD WATERMELON 1032 (US)
TOWN & COUNTRY - Webb WILDER and The NASHVEGANS - Stay Out Of Automobiles / Nashville Bum / Slow Death / I'm A Lover Not A Fighter / To The Loving Public / Honky Tonk Hell / My Mind's Eye / Too Many Rivers / Goldfinger / Hissy-Fit / Talk Talk / Streets Of Laredo (The Cowboy's Lament) / Short On Love / I Ain't Living Long Like This / Original Mixed-Up Kid / Rockin' Little Angel
05/1996
CD WATERMELON 1033 (US)
ACRES OF SUEDE - Olde Elephant Man / No Great Shakes / Loud Music / Fall In Place / Flat Out Get It / Soul Mate / Scattered, Smothered And Covered / Tell Me Why Charlie / Why Do You Call? / Carryin' The News To Mary / Lost In The Shuffle / Rocket To Nowhere
03/2005
CD LANDSLIDE LDCD1030 (US)

ABOUT TIME - Down On The Farm / I Just Had To Laugh / You Might Be Lonely For A Reason / Miss Missy From Ol' Hong Kong / If Your Looking For A Fool / Tell The World / Jimmy Reed Is The King Of Rock And Roll / Scattergun / Battle Of The Bands / Old Copper Penny / Mary Lou / Move It / The Only One / Little Boy Sad / Scattergun (instr.)

05/2005
CD VARESE SARABANDE 066649 (US)
SCATTERED, SMOTHERED AND COVERED - A WEBB WILDER OVERVIEW - How Long Can She Last (Going Fast) / Horror Hayride / Poolside / One Taste Of The Bait / Ruff Rider / Is This All There Is? / Scattered, Smothered And Covered / Flat Out Get It / Stay Out Of Automobiles / Slow Death / Fall In Place / Loud Music / The Webb Wilder Credo / Honky Tonk Hell / My Minds Eye / Rocket To Nowhere / I Ain't Living Long Like This / Carryin' The News To Mary / No Great Shakes
08/2005
CD + DVD LANDSLIDE 9001 (US)
TOUGH IT OUT :

CD : Tough It Out / Stay Out Of Automobiles / Baby Please Don't Go / You Might Be Lonely For A Reason / One Taste Of The Bait / Human Cannonball / If You're Looking For A Fool / Sputnik / Big Time / No Great Shakes / Miss Missy From Old Hong Kong / Poolside / How Long Can She Last / Louisiana Hannah / I Just Had To Laugh
DVD : Flat Out Get It

/

If You're Looking For A Fool

/

I Just Had To Laugh

/

Sputnik

/

One Taste Of The Bait

/

Big Time

/

You Might Be Lonely For A Reason

/

Human Cannonball

/

Poolside

/

The Rest Will Take Care Of Itself

/

Down On The Farm

/

No Great Shakes

/

Miss Missy From Old Hong Kong

/

Louisiana Hannah

/

How Long Can She Last

/

Stay Out Of Automobiles

/

Tough It Out

/

Baby Please Don't Go

/

bonus material

03/2007
CD DIXIEFROG 8621 (F)
IT'S LIVE TIME! -

Tough It Out / Stay Out Of Automobiles / Baby Please Don't Go / You Might Be Lonely For A Reason / One Taste Of The Bait / Human Cannonball / If You're Looking For A Fool / Sputnik / Big Time / No Great Shakes / Miss Missy From Ol' Hong Kong / Poolside / How Long Can She Last / Louisiana Hannah / I Just Had To Laugh

01/2008
CD BLIND PIG 485120 (US)
BORN TO BE WILDER - Tough It Out / Stay Out Of Automobiles / Baby Please Don't Go / You Might Be Lonely For A Reason / One Taste Of The Bait / Human Cannonball / If You're Looking For A Fool / Sputnik / Big Time / No Great Shakes / Miss Missy From Ol' Hong Kong / Poolside / How Long Can She Last / Louisiana Hannah / I Just Had To Laugh
04/2009
CD BLIND PIG 485129 (US)
MORE LIKE ME - Ju Ju Man / Too Cool For Love / Don't Slander Me / She's Not Romantic / Honky Tonkin' (In Mississippi) / Pretty Is As Pretty Does / Sudden Stop / She Said Yeah / Come Around / Still Water Runs Deep / More Like Me / Changing Colors
05/2010
2 CD FLOATING WORLD 6047 (US)
TOWN & COUNTRY / ACRES OF SUEDE :

CD 1 : Stay Out Of Automobiles / Nashville Bum / Slow Death / I'm A Lover Not A Fighter / To The Loving Public / Honky Tonk Hell / My Mind's Eye / Too Many Rivers / Goldfinger / Hissy-Fit / Talk Talk / Streets Of Laredo (The Cowboy's Lament) / Short On Love / I Ain't Living Long Like This / Original Mixed-Up Kid / Rockin' Little Angel
CD 2 : Olde Elephant Man / No Great Shakes / Loud Music / Fall In Place / Flat Out Get It / Soul Mate / Scattered, Smothered And Covered / Tell Me Why Charlie / Why Do You Call? / Carryin' The News To Mary / Lost In The Shuffle / Rocket To Nowhere

09/2015
CD LANDSLIDE CDLD1043 (US)

Mississippi Moderne - Stones In My Pathway (intro) / Rough And Tumble Guy / If It Ain't Broke (Don't Fix It) / Only A Fool / I Gotta Move / Too Much Sugar For A Nickel / Lonely Blue Boy / Yard Dog / I'm Not Just Anybody's Fool / It Takes Time / Lucy Mae Blues / Who Will The Next Fool Be? / I'm Gonna Get My Baby / Stones In My Pathway

04/2018
CD LANDSLIDE LDCD 1044 (US)

Powerful Stuff - Webb Wilder & the Beatnecks - Make That Move / New Day / No Great Shakes / Lost In The Shuffle / Powerful Stuff / Ain't That A Lot Of Love / Wild About You Baby / Animal Lover / Nutbush City Limits / High Rollin' / Catbird Seat / Animal Lover / Hey Mae / Revenooer Man / Is This All There Is? / Lucille

04/2020
CD LANDSLIDE LDCD 1047 (US)

Night Without Love - Tell Me What's Wrong / Night Without Love / Hit The Nail On The Head / Holdin' On To Myself / Be Still / Illusion Of You / Buried Our Love / Sweetheart Deal / Ache And Flake / The Big Deal / Hi Heel Sneakers
© Rocky Productions 31/05/2020