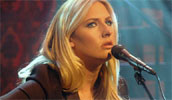 Chanteuse Country US née le 12 Mars 1981 à Nashville (Tennessee). Holly Williams est la fille de Hank Williams Jr et la soeur de Hank Williams III. Et bien sur, la petite fille de Hank Williams.

Most country artists talk about their long journey to Nashville, but Holly Williams was born and raised in country music's capital. Most country artists speak of some music-loving elder who almost made it, but Holly Williams comes from country royalty. Hank Williams was her grandfather, Hank Jr. her dad, and Hank III her half-brother. Despite all this -- and a couple songs she wrote at the age of eight -- when growing up Holly wasn't interested in music, and dreamed of a career in modeling. Hank Jr and Holly's mother had separated when Holly was young, but in her teen years her father was taking his daughter to more of his shows. Perhaps that's why, at the age of 17, Holly finally tried playing one of the guitars in the house. Within a week she was writing introspective, somewhat dark, songs.
After graduating from high school, she gave herself a year to try the music business before she would settle for college. Three months in Los Angeles to study piano, write songs, and attend concerts by the Rolling Stones, Elliott Smith, and Neil Finn helped her focus. Her songs had landed in the hands of Ron Sexsmith, who immediately offered Williams a support slot on his European tour. By 2003 she had recorded and released her own EP, toured with Billy Bob Thornton, and signed with Universal South. The label issued her debut full-length, Ones We Never Knew, in October of 2004. A year later Williams was dropped by her label and later involved in a serious car accident that required months of recovery. She returned in 2009 with the album Here with Me and its hit single, "Keep the Change," both released by her new label, Mercury. The album was critically lauded, but she parted ways with the label after touring in support of it.
Williams began running her own clothing store in 2007. She took a couple of years off from recording to get it running. Then she turned 30, and married her guitarist, Chris Coleman. When she decided to record again, she opted to do it herself. The Highway is a self-financed and self-released offering on Williams and Coleman's Georgiana Records label. Produced by Grammy-winner Charlie Peacock, the 11-song set features guest appearances by Jackson Browne, Jakob Dylan, Dierks Bentley, and Gwyneth Paltrow. A year in the making, it was released in early 2013.
https://en.wikipedia.org/wiki/Holly_Williams
Talents : Vocals, Guitar
Style musical : Contemporary Country, Pop Rock, Folk, Americana

https://www.youtube.com/watch?v=vMSKxGiCprY
Years in activity :
| | | | | | | | | | | | |
| --- | --- | --- | --- | --- | --- | --- | --- | --- | --- | --- | --- |
| 1910 | 20 | 30 | 40 | 50 | 60 | 70 | 80 | 90 | 2000 | 10 | 20 |
DISCOGRAPHY
Singles & EP
| | | | |
| --- | --- | --- | --- |
| 2004 | CD Hump Head ‎HOLLY1 (EUR) | | Sometimes - Sometimes / Between Your Lines / Velvet Sounds |
| 2004 | CD UNIVERSAL SOUTH UNSR-02566-2 (EUR) (promo) | | Four Song Sampler - Between Your Lines (demo) / Cheap Parades (demo) / Sometimes / Would You Still Have Fallen |
| 2004 ? | CD Wrasse ? (B) | | Man In The Making |
| 2005 | CD UNIVERSAL SOUTH HOLLYCDP1 (EUR) (promo) | . | Sometimes |
Albums
| | | | |
| --- | --- | --- | --- |
| 2004 ? | CD RPM ‎? (US) (promo) | | Holly Williams - Sometimes / Take Me Down / Would You Still Have Fallen / Cheap Parades / Faith In You / Winter Without You / Man In The Making / God Save The World / Between Your Lines / Everybody's Waiting For A Change / Memory Of Me / Nothing More |
| 10/2004 | CD UNIVERSAL SOUTH 000252902 (US) | | THE ONES WE NEVER KNEW - Sometimes / Everybody's Waiting For A Change / Would You Still Have Fallen / Take Me Down / Between Your Lines / I'll Only Break Your Heart / Cheap Parades / Man In The Making / Memory Of Me / Velvet Sounds / All As It Should Be / Nothing More |
| 06/2009 | CD MERCURY 001254702 (US) | | HERE WITH ME - He's Making A Fool Out Of You / Mama / I Hold On (Holly WILLIAMS feat. Chris JANSON) / Keep The Change / Let Her Go / Three Days In Bed / Alone / A Love I Think Will Last (Holly WILLIAMS feat. Chris JANSON) / Gone With The Morning Sun / Without Jesus Here With Me / Birds |
| 2009 | CD MERCURY MRNF-02904-2 (US) (promo) | | HERE WITH ME - He's Making A Fool Out Of You / Mama / I Hold On (Holly WILLIAMS feat. Chris JANSON) / Keep The Change / Let Her Go / Three Days In Bed / Alone / A Love I Think Will Last (Holly WILLIAMS feat. Chris JANSON) / Gone With The Morning Sun / Without Jesus Here With Me / Birds |
| 02/2013 | CD GEORGIANA 859709050379 (US) | | THE HIGHWAY - Drinkin' / Gone Away From Me (Holly WILLIAMS feat. Jackson BROWNE) / Railroads / Happy / The Highway / Without You (Holly WILLIAMS feat. Jakob DYLAN) / Let You Go / Giving Up / A Good Man / 'Til It Runs Dry (Holly WILLIAMS feat. Dierks BENTLEY) / Waiting On June (Holly WILLIAMS feat. Gwyneth PALTROW) |
| 12/2016 | CD Independent 5638874546 (US) | | Mindful Passage - Holly WILLIAMS & Tim MACOMBER - O'Carolan's Quarrel ,/ Catnip Finance / Southwind - Fanny Poer / Hut On Staffin Island - Home Ruler / White Petticoat - Rose In The Heather - The Wild One / Just Another Day In Paradise / Captain O' Kane / Long Afternoon - Lazy Kitty / Entwined / Banish Misfortune - Caliope House / Far Away Waltz - La Valse Des Jeunes Filles / O'Carolan's Draught - George Brabazon / Butterfly - Kid On The Mountain / Da Slockit Light / Twinkbird |
© Rocky Productions 20/07/2020