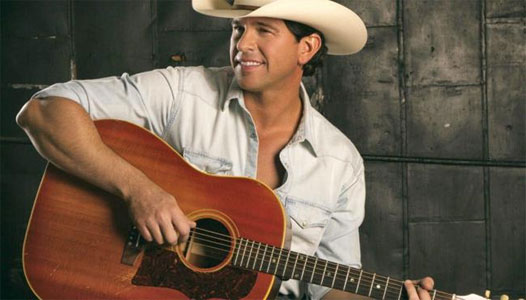 Chanteur Country US originaire de Miami (Oklahoma).

Country artist Jon Wolfe is part rebel and part traditionalist -- his songs are upbeat and tuneful enough to get crowds dancing, but his allegiance to classic honky tonk styles makes him something of an outsider as the increasingly polished and slickly produced sounds of bro-country make their stand on country radio. Nevertheless, due to hard work, Wolfe made some inroads over the course of the decade, with 2015's Natural Man and 2017's Any Night in Texas appearing in the Top Ten of Billboard's Heatseekers chart.
Born and raised in Miami, Oklahoma, a small town 90 miles from Tulsa, Wolfe's first experience with singing came in church, and while he grew up with a taste for classic pop (most notably Frank Sinatra), he was introduced to country music by his stepfather, who played bass with the house band at a local country venue. (One of the other members of the band was Joe Don Rooney, who went on to play with the group Rascal Flatts.) The tremendous success of fellow Oklahoman Garth Brooks inspired Wolfe, and as he began digging deeper into classic country, he first considered making music his career. For a spell, he lived in Chicago, working as a commodities trader -- "I was the only guy on the trading floor in cowboy boots," Wolfe once told a reporter -- but in time he made his way to Texas, regularly playing in Houston before settling in the Austin/San Marcos area. As he became a regular on the Lone Star honky tonk circuit, he was soon sharing stages with the likes of Dwight Yoakam, George Strait, Merle Haggard, and Asleep at the Wheel.
In 2005, Wolfe self-released his debut album, Almost Gone, and a 2006 show in Nashville led to a deal with the independent Midas label; he cut some material for the label, including a version of the song "She Won't Be Lonely Long," but Midas went out of business before releasing anything by Wolfe, while Clay Walker recorded "She Won't Be Lonely Long" and saw it become a hit. Despite his frustrations, Wolfe kept performing and writing songs, and he released the album It All Happened in a Honky Tonk, another self-distributed title, in 2010. The album became a regional success in the Southwest, and in 2013 it was reissued by Warner Bros.
Two years later, Wolfe returned with his third full-length release, Natural Man, another set that fused a traditional sound with contemporary energy and swagger. In 2017, Wolfe's single "Boots on a Dance Floor" rose to number one on the Texas Regional Radio Report. The tune also appeared on his fourth album, Any Night in Texas, which he released that year through his own Fool Hearted Productions label. Wolfe returned with the Feels Like Country Music EP in 2019.
http://www.jonwolfecountry.com/
https://en.wikipedia.org/wiki/Jon_Wolfe
https://www.facebook.com/jonwolfecountry/
Talents : Vocals, Guitar, Songwriter
Style musical : Contemporary Country, Traditional Country, Honky Tonk

https://youtu.be/U5HtgNbdvgM
Years in activity :
| | | | | | | | | | | | |
| --- | --- | --- | --- | --- | --- | --- | --- | --- | --- | --- | --- |
| 1910 | 20 | 30 | 40 | 50 | 60 | 70 | 80 | 90 | 2000 | 10 | 20 |
DISCOGRAPHY
EP
| | | | |
| --- | --- | --- | --- |
| 2019 | CD Fool Hearted ? (US) | | Feels Like Country Music - Feels Like Country Music / Better Bartender / Heart To Steal Tonight / Some Ol' Bar In The 90's / A Good Woman |
Albums
08/2005
CD NOT ON LABEL (US)

Almost Gone - Twelve On Twelve Off / Tennessee Whiskey / Almost Gone / Dixieland Let Me Down / Sleepin' With The Bottle / She'll Never Know / One Of Those Nights / Texas Soil Tonight / Baby's Goin' Wild / Eighteen Wheels Runnin' My Life / Easy Lovin' / Turn Loose Of The Horses

2010
CD Fool Hearted ? (US)

It All Happened In A Honky Tonk - Il All Happened In A Honky Tonk / Let A Country Boy Love You / Sweet Little Song And Dance / The Only Time You Call / I Don't Dance / That Girl In Texas / His New Baby / You Might Have Told Me / Two Out Of Seven / Something To See / Play Me Something I Can Drink To / If She's Looking For Love

01/2013
CD Warner MUSIC 2-532862 (US) (deluxe edition)

It All Happened In A Honky Tonk -

It All Happened In a Honky Tonk / Let a Country Boy Love You / Sweet Little Song And Dance / The Only Time You Call / I Don't Dance / That Girl In Texas / I'll Take My Chances / His New Baby / You Might Have Told Me / Two Out Of Seven / I Can't Take My Eyes Off You / That's Not Very Texas Of You / Somethin To See / Play Me Something I Can Drink To / If She's Looking For Love
10/2013
CD Fool Hearted ? (US)

It All Happened Live In A Honky Tonk From Floore's Country Store - If She's Looking For Love / Let A Country Boy Love You / Sweet Little Song And Dance / I'll Take My Chances / You Might Have Told Me / That's Not Very Texas Of You / His New Baby / Something To See / Play Me Something I Can Drink To / Two Out Of Seven / I Can't Take My Eyes Off You / That Girl In Texas / I Don't Dance / The Only Time You Call / It All Happened In A Honky Tonk

03/2015
CD Fool Hearted ? (US)

Natural Man - If You're Lonely Too / That's What I'm Talkin' About / Smile On Mine / It Just Feels Right / Outrun Her Memory / Don't It Feel Good / She Beats All I've Ever Seen / Singin' Thing / Natural Man / What Are You Doin' Right Now / I'm Doing Alright / Married To Nothin' / When I Get To Heaven

06/2017
CD Fool Hearted ? (US)

Any Night In Texas - Girl Like You / Time On My Hands / Any Night In Texas / Boots On The Dance Floor / Baby This And Baby That / A Country Boy's Life Well Lived / Drink For Two / Airport Kiss / Hang Your Hat On That / Whenever I'm With You / That's What A Song Will Do / Crush Me / We're On To Somethin' / Long Song

02/2020
CD Fool Hearted ? (US)

Live At The Legendary Gruene Hall - Girl Like You / What Are You Doin' Right Now / If You're Lonely Too / A Country Boy's Life Well Lived / Airport Kiss / Baby This And Baby That / Outrun Her Memory / Don't It Feel Good / Singin' Thing / Honky Tonk Heroes (Like Me) / It Ain't Cool / Any Night In Texas / Long Song / Smile On Mine / Boots On A Dance Floor
© Rocky Productions 13/12/2020