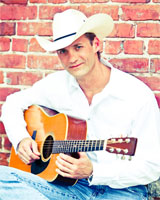 Chanteur Country US né Tony Wade Hayes le 20 Avril 1969 à Bethel Acres (Oklahoma).

Raised in Bethel Acres, OK, Wade Hayes grew up around country music. His father Don was a professional musician who played bars and honky tonks across Oklahoma. Through the influence of his father, he began playing music as a child. Initially, he played mandolin for a while, but he switched to guitar at the age of 11. Inspired by honky tonk, outlaw country, and bluegrass, Hayes developed a distinctive style at an early age.
When Wade was a pre-teen, his father signed a contract with a Nashville-based independent record label and moved the family to the Music City. Within a year, the label had folded, leaving the Hayes family broke. They struggled back to Oklahoma, where Wade began playing guitar and singing backup in his father's band, Country Heritage. Following his graduation from high school, Wade went to three different colleges, but he decided to drop out of school to pursue music after seeing Ricky Skaggs on the 1991 Country Music Awards show. He moved to Nashville and beginning playing on demo tapes, all the while working on his own original material. Shortly after he settled down in Nashville, Hayes began writing songs with Chick Rains, who arranged an audition for the vocalist with record producer Don Cook (the Mavericks, Brooks & Dunn). Cook was impressed and began working with the singer, eventually getting him in contact with executives at Columbia Records.
Old Enough to Know Better, Hayes' debut album, was released in 1995. The record was an immediate hit, with its title track becoming a number one single. The Academy of Country Music nominated him for Top New Male vocalist of the Year for 1995. Hayes' second album, On A Good Night, was released in the summer of 1996. Although it wasn't as big a hit as his debut, it still sold respectably.
Hayes' third album, When the Wrong One Loves You Right, was released in early 1998 and Highways and Heartaches followed two years later.
https://en.wikipedia.org/wiki/Wade_Hayes
Talents : Vocals, Guitar
Style musical : Traditional Country, Contemporary Country, Honky Tonk

http://www.youtube.com/watch?v=6M81uVxzP9U
Years in activity :
| | | | | | | | | | | | |
| --- | --- | --- | --- | --- | --- | --- | --- | --- | --- | --- | --- |
| 1910 | 20 | 30 | 40 | 50 | 60 | 70 | 80 | 90 | 2000 | 10 | 20 |
DISCOGRAPHY
Singles & EP
03/1995
CD COLUMBIA 7784238 (US)
I'm Still Dancin With You
07/1995
CD COLUMBIA 7795438 (US)
Don't Stop
10/1995
CD COLUMBIA 7808738 (US)
What I Meant To Say
05/1996
CD SONY 78312 (US)
.
On A Good Day
05/1996
CD COLUMBIA 663422 (US)
On A Good Night / Don't Make Me Come To Tulsa

[remix] /

Old Enough To Know Better

[remix] /

I'm Still Dancin' With You

[remix]

10/1996
CD COLUMBIA 7836938 (US)
.
Where Do I Go to Start All Over
08/1997
CD SONY 78674 (US)
Wichita Lineman / On A Good Night
11/1997
CD SONY 78745 (US)
The Day That She Left Tulsa (In A Chevy) / Wichita Lineman
03/2000
CD SONY 79361 (US)
Up North (Down South, Back East, Out West)

[Vocals up mix] /

I'm Lonesome Too
05/2000
CD SONY 79414 (US)
Goodbye Is The Wrong Way To Go /

She's Actin Single

02/2003
CD UNIVERSAL SOUTH B0000329-01 (US)
.

Doesn't Mean I Don't Love You / Wrong Kind Of Right
Albums
01/1995
CD COLUMBIA 7773938 (US)
OLD ENOUGH TO KNOW BETTER - Don't Make Me Come To Tulsa / I'm Still Dancin' With You / Old Enough To Know Better / Kentucky Bluebird / Don't Stop / What I Meant To Say / Steady As She Goes / Family Reunion / Someone Had To Teach You / It's Gonna Take A Miracle
06/1996
CD COLUMBIA 7831238 (US)
ON A GOOD NIGHT - On A Good Night / Undo The Right / The Room / It's Over My Head / I Still Do / My Side Of Town / Where Do I Go To Start All Over / Our Time Is Coming / Hurts Don't It / This Is The Life For Me
01/1998
CD SONY 68037 (US)
WHEN THE WRONG ONE LOVES YOU RIGHT - When The Wrong One Loves You Right / How Do You Sleep At Night / The Day That She Left Tulsa (In A Chevy) / Are We Having Fun Yet / This Is My Heart Talking Now / One More Night With You / Summer Was A Bummer / Tore Up From The Floor Up / If I Wanted To Forget / Mine To Lose
09/2000
CD SONY 69955 (US)
HIGHWAYS AND HEARTACHES - Up North (Down Douth, Back East, Out West) / Life After Lovin' You / Goodbye Is The Wrong Way To Go / What's It Gonna Take / She Used To Say That To Me / Up And Down / You Just Keep On / That's What Honky Tonks Are For / You Were, You Are, You'll Always Be / I'm Lonesome Too
03/2010
CD WADE HAYES ? (US)
PLACE TO TURN AROUND - Good Day To Go Crazy / The Best Part / God Made Me (To Love You) / What's A Broken Heart For You / Right Where I Want You / I Want To / She Knows Me / Every Time I Give The Devil A Ride / I Wouldn't Know / Place To Turn Around / Drinkin' Thing
06/2015
CD Conabor / Smith Music 74344 (US)

Go Live Your Life -

Go Live Your Life / Love Knew Better / Bluebonnet Blues / She Is Home / Wrecking Ball / Here And Her / Let You Go / Remember The Alimony / Old Dirt Road / If The Sun Comes Up / [untitled]
© Rocky Productions 31/12/2015