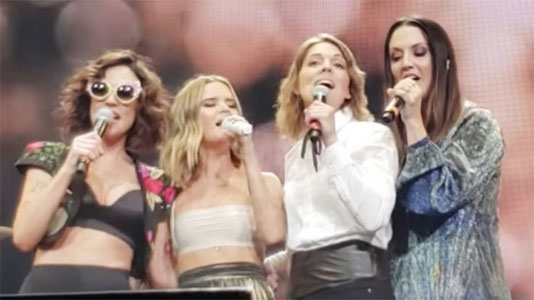 Groupe Country US formé en 2019, composé de Brandi Carlile, Natalie Hemby, Maren Morris et Amanda Shires.

The Highwomen are the rarest of country supergroups: a quartet who came together at the height of their popularity and creative powers, not when they were settling into their legacy. In that regard, the quartet of Brandi Carlile, Maren Morris, Amanda Shires, and Natalie Hemby differ from their knowing namesake the Highwaymen, a band Willie Nelson, Johnny Cash, Waylon Jennings, and Kris Kristofferson formed in 1985, just as they started to drift down the charts. When the Highwomen appeared in 2019, every member of the quartet was at a peak in her respective roots niche. Singer/songwriter Carlile was fresh off winning three Grammy Awards and Morris was at the vanguard of country-pop, while Shires' cult was growing thanks to the atmospheric Americana of To the Sunset and Hemby's reputation as a country songwriter was at a peak, thanks to her contributions to Kacey Musgraves' Golden Hour and Miranda Lambert's The Weight of These Wings.
The origins of the Highwomen lie with Shires, who noticed how few women she heard on country radio while she was on a cross-country tour. Producer Dave Cobb, who was working with Shires on To the Sunset, suggested Shires contact Carlile, who quickly agreed to form a group with the singer/songwriter. Morris was the next to join. The trio initially hinted at the Highwomen in the press and social media during late 2018, with Shires making the band's name public during a radio interview in January 2019. Shires claimed the Highwomen was a play on the Highwaymen but the name was meant as "exalted, not stoned." The fourth member of the group was kept secret until the Highwomen played Loretta Lynn's 87th birthday concert at Nashville's Bridgestone Arena. At the concert, Hemby was unveiled as the band's fourth member.
"Redesigning Women," the first single from the group's eponymous Cobb-produced debut album, arrived July 19, 2019, a week before the full quartet played their first full set at the Newport Folk Festival. Low Country Sound/Elektra released The Highwomen on September 6, 2019. Among the album's songs was a new version of "Highwaymen," which was revised with the assistance of its original author, Jimmy Webb.
https://en.wikipedia.org/wiki/The_Highwomen
Style musical : Contemporary Country, Country-Pop, Pop-Rock, Americana

https://youtu.be/ioXvn3dGhYw
Years in activity :
| | | | | | | | | | | | |
| --- | --- | --- | --- | --- | --- | --- | --- | --- | --- | --- | --- |
| 1910 | 20 | 30 | 40 | 50 | 60 | 70 | 80 | 90 | 2000 | 10 | 20 |

DISCOGRAPHY
Album
| | | | |
| --- | --- | --- | --- |
| 09/2019 | CD Atlantic / Low Country Sound 86174 (US) | | The Highwomen - Highwomen / Redesigning Women / Loose Change / Crowded Table / My Name Can't Be Mama / If She Ever Leaves Me / Old Soul / Don't Call Me / My Only Child / Heaven Is A Honky Tonk / Cocktail And A Song / Wheels Of Laredo |
© Rocky Productions 7/09/2019