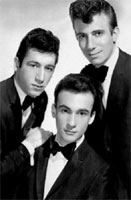 Groupe Doo Wop originaire du Bronx (New York) et composé de Angelo D'Aleo (né le 3 Février 1940), Fred Milano (né le 22 Août 1939) et Carlo Mastrangelo (né le 5 Octobre 1938), remplacé par Frank Lyndon. Les Belmonts sont surtout connu pour leur accompagnement de Dion.

The history of the Belmonts is usually linked to that of their lead singer, Dion (born Dion DiMucci, July 18, 1939), with whom they had their biggest hits. In point of fact, however, the link up between Dion and the Belmonts actually lasted only two years, and the group existed (albeit briefly) prior to and a long after his time with them. Angelo D'Aleo (born February 3, 1940), first tenor; Fred Milano (born August 22, 1939), second tenor; and Carlo Mastrangelo (b. October 5, 1938), baritone; and Dion DiMucci were all friends from the area around Belmont Avenue in the Bronx, in N.Y.C. They attended Roosevelt High School and hung out together, and all of them sang; D'Aleo, Milano, and Mastrangelo began singing together and named themselves the Belmonts. As a trio, they recorded for the Mohawk label in 1957, making their debut with the song "Teenage Clementine," which came and went without notice. It was when Mastrangelo wrote a song of his own, "We Went Away," that was heard by Dion, that the quartet came together. It was recorded for Mohawk under the direction of conductor/arranger Hugo Montenegro (who had previously arranged an abortive debut single by Dion with a separate backing group), and the B-side got onto several local radio play lists.
The group moved to Laurie Records, newly founded by Bob Schwartz (who'd been a part-owner of Mohawk) and his brother Gene, and, with Dion as lead singer, cut their label debut with "I Wonder Why." The latter made it to number 22 on the pop charts, making them a hot act in New York and the Northeast. It was followed by a pair of hits, "No One Knows" and "Don't Pity Me," which peaked at 19 and 40, respectively. "A Teenager in Love" made number five, and further hits with "Where or When" and "When You Wish Upon a Star" elevated Dion & the Belmonts as a major national act. Dion DiMucci was clearly the star of the group, in presentation and billing, but the Vocals talents of the group were displayed equally well, if not as prominently, on most of those hits and the tracks cut for their LPs. Their own musical tastes diverged somewhat from those of their lead singer, into jazz, pop ballads, and other areas, while Dion preferred harder rock & roll sounds and later gravitated toward blues.
In 1960, Dion decided to pursue a solo career and parted company with the Belmonts. The usual perception is that the group disappeared after this, but the truth is that the Belmonts continued to enjoy success for the first year after his departure. The trio remained with Laurie Records for one single, "We Belong Together," featuring Carlo Mastrangelo as lead singer, and then formed their own label -- originally named Surprise, and then Sabrina, it was finally christened Sabina Records when those two earlier choices proved to belong to other companies. The label became active (as Surprise) in March of 1961 with the recording of "Tell Me Why," which rose to number 18 nationally. The follow-up record late that summer, "Don't Get Around Much Anymore," rose to a modest number 57, and the next release, "I Need Someone," only got to 75.
The Belmonts' fortunes picked up again with their Sabina single "Come On Little Angel," written by Ernie Maresca. Produced by Gerry Granahan, an established songwriter and recording star (as Dickie Do & the Don'ts), who also oversaw the operations of the company, the single got to number 28 during the summer of 1962. The group also made a bad miscalculation around this time when Maresca offered them the first crack at a song entitled "The Wanderer," and the Belmonts turned it down, only to see it become a massive hit -- indeed, a signature tune -- for Dion. A major lineup change then occurred, when a split developed within the group over their business affairs and the financial condition of Sabina Records; Mastrangelo exited the Belmonts in favor of trying to record solo for Laurie Records. The group carried on, replacing him with Frank Lyndon, and released their first LP, Carnival of Hits, late in 1962 to try and capitalize on "Come on Little Angel."
Sabina Records began diversifying its catalog slightly, releasing "Time to Dream," which was credited to Buddy Christie and Buddy Sheppard, with the Belmonts singing back up as "the Holidays." They also recorded material by a friend of theirs from the Bronx, Pete Barin, but the label couldn't seem to click with any records except those by the Belmonts themselves, and that was changing. By 1963, the Belmonts were not only struggling for a hit, and battling the woefully under-financed condition of their record label, but also changes in public taste. Dion had managed to keep his music current as a solo performer and racked up some huge hits in the process, through 1963, but the Belmonts, by the nature of their name and their harmony sound, seemed more dated. A brief revival in doo wop music in 1961 had been a godsend to the trio, in terms of bookings as well as record sales, and there'd been lots of work in New York and the surrounding area, at a time when they were just coming off of several big hits with Dion. By this time, there were other harmony-based groups out there recording and adding their own respective wrinkles to the music, including the Beach Boys and, closer to home, the East Coast-based Jay & the Americans and the Four Seasons, both of who had a more commercial sound than the Belmonts. The sales of their own records began declining around this time, "Diddle-Dee-Dum" getting to number 53 and "Ann-Marie" to number 86 in 1963.
Sabina Records struggled on through a handful of additional releases by the Belmonts that never charted, and finally, in 1964, folded. The group moved to United Artists Records that year, and cut their final recordings from this part of their history there in 1966. The trio disbanded that year, although they were back together in 1967 on ABC Records with Together Again, an album that reunited them with Dion. The group remained active after this, cutting an album entitled Summer Love on the Dot Records label in 1969.
The group next became visible in the early '70s, amid the oldies boom. They cut an album for Buddah Records entitled Cigars Acappela Candy, on which they performed several classic oldies tracks and also applied their sound to contemporary hits like "My Sweet Lord" and "Na Na Hey Hey (Kiss Him Goodbye)." In 1972, however, they reunited with Dion for what proved to be the biggest single gig in their history, a performance at New York's Madison Square Garden, which was not only a sell-out event but also recorded for posterity and released as Live at Madison Square Garden 1972. Milano, Mastrangelo, and D'Aleo were the participants in that performance, which was reportedly released two different ways -- the original Warner Bros. LP was heavily sweetened in the studio, where the subsequent reissues (including the Rhino CD) were made from untouched tapes from the original show. The Madison Square Garden show and its aftermath, which included performances together in 1973 as well, basically allowed all concerned to grab their moment of glory. Dion resumed his solo career, while the Belmonts continued working and got another LP of their own out in 1978, entitled Cheek to Cheek, and generated a nostalgia-laced hit in 1981 entitled "Let's Put the Fun Back in Rock N Roll," on which they were teamed with Freddy Cannon, another veteran of early '60s rock & roll. The group's vintage post-Dion work resurfaced on Relic Records and the Ace label from England, which has made it part of it's reasons for existence to reissue seemingly every available note of music by both Dion & the Belmonts, and as of 1996, Fred Milano remained active representing the Belmonts.
https://en.wikipedia.org/wiki/The_Belmonts
Talents : Angelo D'Aleo : First Tenor - Fred Milano : Second Tenor - Carlo Mastrangelo : Baritone - puis Frank Lyndon : Baritone
Style musical : Doo Wop
Years in activity :
| | | | | | | | | | | | |
| --- | --- | --- | --- | --- | --- | --- | --- | --- | --- | --- | --- |
| 1910 | 20 | 30 | 40 | 50 | 60 | 70 | 80 | 90 | 2000 | 10 | 20 |
DISCOGRAPHY
Singles & EP
| | | | |
| --- | --- | --- | --- |
| 09/1957 | SP MOHAWK 106 (US) | . | Teen-Age Clementine / Santa Margherita |
| 01/1961 | SP LAURIE 3080 (US) | . | We Belong Together / Such A Long Way |
| 03/1961 | SP SURPRISE 1000 (US) | . | Tell Me Why / Smoke From Your Cigarette |
| 06/1961 | SP SABRINA 500 (US) | . | Tell Me Why / Smoke From Your Cigarette |
| 08/1961 | SP SABRINA 501 (US) | . | Dont Get Around Much Anymore / Searching For A New Love |
| 11/1961 | SP SABINA 502 (US) | . | I Need Someone / That American Dance |
| 1961 | EP 33 t. Yamaha Music YM-3 (JAP) (picture disc) | | BELMONTS : Don't Get Around Much Anymore / Smoke From Your Cigerette / ANGELS : 'Til / A Moment Ago |
| 03/1962 | SP SABINA SAB 503 (US) | . | Hombre / I Confess |
| 1962 | SP ROUND TABLE RT 0044 (I) | | Hombre / I Confess |
| 1962 | SP SONET T 8142 (DK) | | Hombre / I Confess |
| 04/1962 | EP BARCLAY 70450 (F) | | I Need Some One / The American Dance / Don't Get Around Much Anymore / Searching For A New Love |
| 03/1962 | SP SABINA SAB 505 (US) | . | Come On Little Angel / How About Me |
| 06/1962 | SP SABINA SAB 507 (US) | . | Diddle-Dee-Dum (What Happens When Your Love Has Gone) / Farewell |
| 08/1962 | SP ROUND TABLE RT 0047 (I) | | Come On Little Angel / How About Me |
| 1962 | SP Discophon 27.165 (S) | | Don't Get Around Much Anymore / Hombre / I Need Someone / That American Dance |
| 01/1963 | SP FUNCKLER CA 42.733 (NL) | | Diddle-Dee-Dum (What Happens When Your Love Has Gone) / Farewell |
| 02/1963 | SP SABINA SAB 509 (US) | . | Ann-Marie / Ac-Cent-Tchu-Ate the Positive |
| 06/1963 | SP SABINA SAB 513 (US) | . | Walk On Boy / Lets Call it a Day |
| 08/1963 | SP SABINA SAB 517 (US) | . | I' Ve Got More Important Things To Do / Lets Call it a Day |
| 09/1963 | SP SABINA SAB 519 (US) | . | C'mon Everybody / Why |
| 1963 | EP SCAN-DISC SCD 14 (SWE) | | Ann-Marie / Ac-Cent-Tchu-Ate The Positive / Diddle-De-Dum / Searching For A New Love |
| 1964 | SP SABINA SAB 520 (US) | . | Frankie LYMON & The BELMONTS - Earth Angel / Don't Look At Me |
| 1964 | SP SABINA SAB 521 (US) | . | Nothing in return / Summertime Time |
| 1965 | SP SABINA 526 (US) | . | You're Like A Mystery / Come Go With Me |
| 01/1965 | SP UNITED ARTISTS UA 809 (US) | . | I Don't Know Why , I Just Do / Summertime Time |
| 07/1965 | SP UNITED ARTISTS UA 904 (US) | . | Then I Walked Away / Today My Love Has Gone Away |
| 12/1965 | SP UNITED ARTISTS UA 966 (US) | . | I Got A Feelin / To Be With You |
| 03/1966 | SP UNITED ARTISTS UA 50007 (US) | . | Come With Me / You're Like A Mystery |
| 11/1968 | SP DOT 45-17173 (US) | . | She Only Want To Do Her Own Thing / Reminiscences |
| 05/1969 | SP DOT 45-17257 (US) | . | Have You Heard / Answer Me, My Love |
| 05/1969 | SP DOT 45-17257 (US) | . | The Worst That Could Happen / Answer Me, My Love |
| 1973 | SP ROULETTE GG-107 | . | I Need Someone / Come On Little Angel |
| 1975 | SP LAURIE LR 3631 (US) | . | Story Teller / A Brand New Song |
| 1976 | SP STRAWBERRY 106 (US) | . | Check To Check / The Voyager |
| 1976 | SP 12" STRAWBERRY STW 1107 (US) | | I'll Never Fall In Love Again / Voyager |
| 1978 | SP LAURIE DOUBLE GOLD LDG 119 (US) | . | |
| 197? | SP GOOD OLD GOLD 084 (US) | . | Come On Little Angel (BELMONTS) / I (Johnny FLAMINGO) |
| 1980 | SP LAURIE 3698 (US) | . | Medley (BELMONTS) / You're The Only Girl For Me (Ernie MARESCA) |
| 1981 | SP MIASOUND 1002 (US) | . | Freddy CANNON & The BELMONTS - Mama ain't always Right |
| 1997 | SP THE RIGHT STUFF / UNITED ARTISTS S7-724381976975 (US) (jykebox) | . | Please Come Home For Christmas (DION) / Wintertime (BELMONTS) |
| ???? | SP COLLECTABLES C 1203 (US) | . | Tell Me Why / Smoke From Your Cigarette |
| ???? | SP COLLECTABLES COL 3305 (US) | . | We Belong Together (BELMONTS) / Ring A Ling (CARLO) |
| ???? | SP COLLECTABLES LDG 2119 (US) | . | |
Albums
1962
LP 12" SABINA SALP 5001 (US)

Carnival Of Hits - Come On Little Angel / Don't Get Around Much Anymore / I Don't Know How To Cry / Have You Heard / Searching For A New Love / I Need Someone / Tell Me Why / How About Me / This Love Of Mine / That American Dance / I Confess / Hombre

1964
LP 12" Spin-O-Rama M 125 (mono) / S 125 (stereo) (US)

| | |
| --- | --- |
| | Jimmy Soul And The Belmonts - Jimmy SOUL & The BELMONTS : Teenage Clementine / Rock N Roll Santa / Santa Margherita / On The Bandstand / Respectable / Charlie FRANCIS Sings : Cocoanut Milk / Mountain Of A Man / Double Dealing Heart / Believe In Me / Sugar And Spice |

1969
LP 12" DOT DLP-25949 (US)
SUMMER LOVE -

Medley: Have You Heard - The Worst That Could Happen / Medley: Secret Love - Till - No One Knows - Runaround / Medley: Laughing On The Outside (Crying On The Inside) - Tears On My Pillow / Medley: Up Up And Away - Fly Me To The Moon (In Other Words) - Chanson D'Amour / Medley: Love Me With All Your Heart (Cuando Calienta El Sol) - Love Me Forever - Answer Me My Love

1972
LP 12" BUDDAH BDS 5123 (US)
CIGARS, ACAPPELLA, CANDY - That's My Desire / Da Doo Ron Ron / Loving You Is Sweeter Than Ever / Where Or When / My Sweet Lord / Rock And Roll Lullabye / We Belong Together / Na Na Hey Hey (Kiss Him Goodbye) /

Street Corner Symphony :

Sunday Kind Of Love - Sincerely - In The Still Of The Night - Darling Lorraine - Please Say You Want Me - Come Softly To Me - Come Go With Me - You Baby You - I Wonder Why - Gee - You Belong To Me - Teenager In Love - Little Girl Of Mine - Little Darlin'
1975
LP 12" STRAWBERRY STW 6001 (US)
CHEEK TO CHEEK -

I'll Never Fall In Love Again

/

Voyager / Stranger In Paradise / A Brand New Song / Cheek To Cheek / Da Doo Ron Ron / Rock & Roll Lullabye / Na Na Hey Hey (Kiss Him Goodbye) / My Sweet Lord / Where Or When
1981
LP 12" MIASOUND MSG-40-001 (US)

Half & Half - Dion & The Belmonts / The Belmonts - Dion & The Belmonts ; I Wonder Why / Teenager In Love / Where Or When / That's My Desire / No One Knows / Don't Pity Me / Lover's Prayer / When You Wish Upon A Star / In The Still Of The Night / BELMONTS : Tell Me Why / Come One Little Angel / I Need Someone / Ann Marie / Searching For A New Love / Hombre / I Confess / Don't Get Around Much Anymore

1988
LP 12" UPTOWN DISKWERKS ? (US)
THE SEASON OF HARMONY - The Annual Animal Christmas Ball / Miracle On The Hill / The Child Devine / Our First Christmas As Mr And Mrs. / The Eight Days Of Hanukkah / Alot Like Santa Claus / Mary Had A Baby / Old 365 The New Year's Song
1988
LP 12" DOMINO 2125 (EUR)

Street Corner Symphony - That's My Desire / Da Doo Ron Ron / Loving You Is Sweeter Than Ever / Where Or When / My Sweet Lord / Rock And Roll Lullabye / We Belong Together / Na Na Hey (Kiss Him Goodbye) / Street Corner Symphony

1988
LP 12" Ace CHD 251 (UK)

Carlo And The Belmonts - BELMONTS : We Belong Together / Such A Long Way / CARLO : Little Orphan Girl / Santa Margherita / Five Minutes More / Write Me A Letter / Brenda The Great Pretender / Ring-A-Ling / BELMONTS : We Belong Together / My Foolish Heart / Such A Long Way / CARLO : Baby Doll / Mairzy Doats / BELMONTS : Teen-Age Clementine / CARLO : The Story Of Love / Kansas City

1991
CD Ace CDCHD 251 (UK)

Carlo And The Belmonts -

BELMONTS : We Belong Together / Such A Long Way / CARLO : Little Orphan Girl / Santa Margherita / Five Minutes More / Write Me A Letter / Brenda The Great Pretender / Ring-A-Ling / BELMONTS : We Belong Together / My Foolish Heart / Such A Long Way / CARLO : Baby Doll / Mairzy Doats / BELMONTS : Teen-Age Clementine / CARLO : The Story Of Love / Kansas City / CARLO : Stranger In My Arms / Time Is Wastin' / Ghost Man / Just You / You Turned Me Over / Nowhere Chick / BELMONTS : A Brand New Song / Story Teller
12/1994
CD RELIC 7085 (US)

THE BEST OF THE BELMONTS - Tell Me Why / Don't Get Around Much Anymore / I Don't Know How To Cry / Diddle-Dee-Dum (What Happens When Your Love Has Gone) / Hombre / Coma Coma Baby / Time To Dream / Searching For A New Love / Have You Heard? / I Got A Woman / That American Dance / Why? / How About Me? / Ac-Cent-Tchu-Ate The Positive / More Important Things To Do / I Need Someone / Tweedle Dee / Summertime Time / I Confess / Ann-Marie / Come On Little Angel / Go On Back / Walk On Boy / This Love Of Mine / Farewell

01/1995
CD RELIC 7089 (US)
LOST TREASURES -

Searching For A New Love / So Wrong / Lookout For Cindy / Today My Love Has Gone Away / How About Me? / Loneliest Guy In The World / Bad Girl / Come Take A Walk With Me / Come On Little Angel / Not Responsible / Broken Heart / I Need Someone / My Love Is Real / The Wedding Song / Dancin' Girl / Tell Me Why / Now It's All Over / Little Boat / Lookout For Sandy / Smoke From Your Cigarette / In My Baby's Eyes / That Background Sound / Am I Losing Your Love? / Let's Call It A Day / I'll Be Seeing You

04/1995
CD PERFORMANCE 394 (US)
ACAPELLA CHRISTMAS - The Annual Animal Christmas Ball / Miracle On The Hill / The Child Divine / Our First Year As Mr and Mrs / The Eight Days Of Hanukkah / A Lot Like Santa Claus / Mary Had A Baby / Old 365 (The New Year's Song)
09/1995
CD ACE CDCHD 580 (UK)
THE LAURIE, SABINA & UNITED ARTISTS SIDES - VOLUME ONE -

Come On Little Angel / Tell Me Why / Smoke From Your Cigarette / That Background Sound / How About Me? / My Love Is Real / Searching For A New Love / I Don't Know How To Cry / I Need Someone / Hombre / Don't Get Around Much Anymore / Why? / (I've Got) More Important Things To Do / Have You Heard? / Dancin' Girl / Time To Dream / Not Responsible / Now It's All Over / Walk On Boy / Summertime Time / I Confess / Diddle-Dee-Dum (What Happens When Your Love Has Gone) / Ann-Marie / Come Take A Walk With Me / Such A Long Way / We Belong Together / I Don't Know Why (I Just Do) / I Got A Feeling / Today My Love Has Gone Away /

You're Like A Mystery
1998
CD ACE CDCHD 251 (UK)

Carlo And The Belmonts -

BELMONTS : We Belong Together / Such A Long Way / CARLO : Little Orphan Girl / Santa Margherita / Five Minutes More / Write Me A Letter / Brenda The Great Pretender / Ring-A-Ling / BELMONTS : We Belong Together / My Foolish Heart / Such A Long Way / CARLO : Baby Doll / Mairzy Doats / BELMONTS : Teen-Age Clementine / CARLO : The Story Of Love / Kansas City / CARLO : Stranger In My Arms / Time Is Wastin' / Ghost Man / Just You / You Turned Me Over / Nowhere Chick / BELMONTS : A Brand New Song / Story Teller
12/1998
CD ACE CDCHD 685 (UK)
THE LAURIE, SABINA & UNITED ARTISTS SIDES - VOLUME TWO -

So Wrong / Let's Call It A Day / Broken Heart / Lookout For Candy / Ac-Cent-Tchu-Ate The Positive / How About Me? / Lookout For Sandy / I Need Someone / Searching For A New Love / That American Dance / This Love Of Mine / I Need Someone / Farewell / Walk On Boy / Lookout For Sandy / Today My Love Has Gone Away / Come On Little Angel / C'mon Everybody (Do You Wanna Dance) / Diddle-Dee-Dum (What Happens When Your Love Has Gone) / My Foolish Heart / Wintertime / (Then) I Walked Away / To Be With You / Come With Me / Where You Gonna Run To Girl /

Night Time
10/2002
CD COLLECTABLES 7506 (US)

THE VERY BEST OF THE BELMONTS - TELL ME WHY - Tell Me Why / I Need Someone / Searching For A New Love / Come On Little Angel / Don't Get Around Much Anymore / I Confess / Have You Heard / Diddle Dee Dum / That Background Sound / More Important Things To Do / Ac-Cent-Tchu-Ate The Positive / Walk On Boy / So Wrong / Lookout For Cindy / Hombre / Ann Marie / Farewell / Smoke From Your Cigarette / That American Dance / This Love Of Mine / How About Me? / I Don't Know How To Cry / Summertime Time / Now It's All Over / Time To Dream

08/2014
CD Oldays ODR6013 (JAP)

Carnival Of Hits

-

Come On Little Angel / Don't Get Around Much Anymore / I Don't Know How To Cry / Have You Heard / Searching For A New Love / I Need Someone / Tell Me Why / How About Me / This Love Of Mine / That American Dance / I Confess / Hombre / BONUS TRACKS : Diddle-Dee-Dum / Ann-Marie
© Rocky Productions 26/12/2021