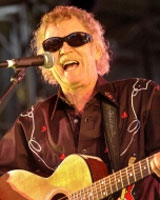 Chanteur Country Australien né le 1er Novembre 1928 à Tamworth (New South Wales).

Australian Country singer born in Tamworth (New South Wales). One of the major names in country music today. Arthur Blanch was born and grew up in sheep and cattle country near the small village of Wollun, outside Tamworth. As it turned out, he was a natural singer. He sang and yodelled while mustering, feeding the dogs and milking. Soon he was entering a long round of talent quests. Arthur Blanch is the epitome of the Little Aussie Battler who has done well for himself.
His Vocalss literally ooze sincerity and reality. If ever there was an instance where a country music artist has put his symbolic flesh and blood into vinyl then here it is.
When Arthur Blanch was elevated to the Country Music Roll of Renown at Tamworth in 2001. It not only acknowledged a very long and succussful musical career, it also rekindled Arthur's love affair with his music, leading to some special performance moments and this his new collection of "Gems" during the celebrations of his 50 years as a recording artist. To still have chart success 50 years into a recording career is a testament to a singer's qualities - and Arthur Blanch has plenty of those.
Talents : Singer, Songwriter, Guitar
Style musical : Country Traditional

http://youtu.be/KVrhIrkAINA
Years in activity :
| | | | | | | | | | |
| --- | --- | --- | --- | --- | --- | --- | --- | --- | --- |
| 1910 | 20 | 30 | 40 | 50 | 60 | 70 | 80 | 90 | 2000 |
DISCOGRAPHY
Singles
| | | | |
| --- | --- | --- | --- |
| 1963 | SP W & G WG-S-1585 (AUS) | . | (I Wanta Stay On) Jumbo (Jewel BLANCH (4 years old)) / On Account-A I Love You (Jewel & Arthur BLANCH) |
| 1963 | SP W & G WG-S-1605 (AUS) | . | Turn Back The Hands Of Time / How She Could Yodel |
| 1963 | SP W & G WG-S-1606 (AUS) | . | Arthur & Bernice BLANCH - Don't Ever Take The Ribbons From Her Hair / Round Up Time For Love |
| 1963 | SP W & G WG-S-1666 (AUS) | . | Arthur & Bernice BLANCH - If I Had You On A Desert Island / The Same Old Fool |
| 1965 | SP DOT 16702 (US) | . | LITTLE JEWEL & The BLANCH FAMILY - Maker Of Raindrops And Roses / Sing A Little, Little Jewel |
| 1978 | SP MC 5015 (US) | . | The Little Man's Got The Biggest Smile In Town / ? |
| 1979 | SP RIDGE POP 479 (AUS) | . | Maybe I'll Cry Over You / ? |
| ???? | SP MCS 001 (AUS) | | ARTHUR'S BACK - Third Planet From The Sun / My Life is Just a Bridge |
Albums
1963
LP 12" W & G WG-B-1705 (AUS)
MEET THE BLANCH FAMILY
196?
LP 12" W & G ? (AUS)
WALKING IN THE SUNSHINE
196?
LP 12" AXIS ? (AUS)
BLANCH FAMILY CLASSICS - ARTHUR, JEWEL & AND BERICE BLANCH - Little Child (Daddy Dear) / The Strange Little Girl / Mummy's Pretty Clothes / Brother Bill / Keep It A Secret / Gary / Somebody Else Is Taking My Place / Eva Magdalena / The Funny Little Voice / China Doll / Twitterpated / Our Best Man / If I Had Television On My Telephone / How Long Must It Be
1981
LP 12" CBS ? (AUS)
THE LADY AND THE COWBOY - JEWEL & ARTHUR BLANCH - The Lady And The Cowboy / Country Kind Of Life / Country Music / Happy Go Lucky Command / Light Of Love / Country Lullaby / A Real Cowboy / I Can Love You / You Bring The Best Out In Me / The Best Cowboy I Know / Readin' Back Home / Hey, Cowboy
1992
CD ENC-140 (AUS)
YOU DON'T KNOW ME - You Don't Know Me / Swagman / Best Performance Of The Year / A Bottle A Day / Lovin' Pains / Let Me Be the First To Go / Hello Tamworth / Old Frank / Saturday / There's So Much That I Forgot / Almost Anytime / These Lips Don't Know How To Say Goodbye
07/2000
CD OMC-931 (AUS)
LOVE WALKED IN - Love Walked In / I Really Don't Want To Know / I'll hold You In My Heart / When The Girl In Your Arms / I Don't See Me In Your Eyes Anymore / You Were Only Fooling / I'm Walking Behind You / You Took Her Off My Hands / Rose Colored Glasses / Dark Moon / My Heart Cries For You / Invisible Tears / No One Will Ever Know / The Doll With A Sawdust Heart / I Remember You / Sweetheart Of Yesterday / Cold Cold Heart / Life Turned Her That Way / Too Soon To Know / Maybe I'll Cry Over You
2001
CD TCD 103 (AUS)
GEMS & A FEW JEWELS - VOLUME 1 - Out Of Step Heart / Long Way Home / Heart vs Heart / The Strange Little Girl / Keep Me From Blowin Away / Woman Ahead Of Her Time / The Little Man's Got The Biggest Smile In Town / Real Cowboy / The Lady & The Cowboy / They Never Lost You / The Woman Needs Love / Dreams Of Country Kid / Can I See You Tonight / What Goes Around Comes Around / A Good Woman's Love / Bring Her Home / Life Turned Her That Way / Almost Anytime / Rings / What Do Lonely People Do / You're Playing Hard To Forget / (I Wanta Stay On) Jumbo / On Account-A I Love You / Little Child (Daddy Dear)
2002
CD TCD 104 (AUS)
GEMS & A FEW JEWELS - VOLUME 2 - The Outback's Come To Town / Tryin' To Outrun The Wind / That's How Yo Know When Love's Right / How Did We Get Here From There / When A Love Ain't Right / Reckless Winds / One Heart For You / Home Is Where The Heart Is / So Good / That's Just Me / All I'm Really Livin' For / Too Late For Regrets / Nothin' At All / Heart Mender / My life Is Just A Bridge / Let Me Be The First To Go / Third Planet From The Sun / I've Come A Long Way / Call Me / Maybe I'll Cry / Stranger Than Galilee
2003
CD TCD 105 (AUS)
GEMS & A FEW JEWELS - VOLUME 3 - My Country / Australia's Robin Hood / I Don't Wanna Cry / Simple Little Words / I Can Love You / Rose Coloured Glasses / You're Such A Stupid Man / I've Cried A Mile / Send All The Ghosts Away / I've Already Stayed Too Long / Another Pretty Country Song / Sing A Sad Song / I'm Not Losin' Any Sleep / Music Man / Morning Breeze / Young Blood & Sweet Country Music / For Better Or Worse / Nobody / This Broken Heart / Green Light In Your Brown Eyes / I'm Lonely / I'm Not Getting Any Better At Goodbyes
12/2003
CD TCD 101 (AUS)
SONGS OF PRAISE AND INSPIRATION - Glory Be To God On High / How Gentle God's Commands / I Love To Tell The Story / Shepherd, Show Me How To Go / He That Hath God His Guardian Made / Rock Of Ages / Give Me, O Lord, An Understanding Heart / Father, We Thy Loving Children / O Little Town Of Bethlehem / In Mercy, In Goodness, How Great Is Our King / There's A Wideness In God's Mercy / I Need Thee Every Hour / Saw Ye My Saviour / No Eye Hath Seen, Nor Tongue Declared / Abide with Me, Fast Breaks the Morning Light / I Walk With Love Along The Way / Dear Lord And Father Of Us All / Onward, Christians Solders / Trust The Eternal / Gracious Spirit, Dwell With Me / Nearer, My God To Thee / The Heavens Declare The Glory / Through The Love Of God, Our Saviour
04/2004
CD ? (AUS)
SAMPLINGS FROM "THE EARLY SESSIONS" - 1952-1962 -

Sister Of Sioux City Sue / Headin Back Home / The Golden Rocket / Shearin Time / Broken Dreams / It Makes No Difference / Wagon Rock / Please Help Me Im Falling / I Love You Because / I Know One / How She Could Yodel / Pay Me No Mind / China Doll / If I Had Television On My Telephone / Our Best Man / Turn Back The Hands Of Time / Somebody Else Is Taking My Place / There's Something New In My World /

Daddys Little Girl / Home
????
CD TCD 102 (AUS)
THE BLANCH FAMILY IN THE 60'S - Sing A Little Litt / Maker Of Raindrops And Roses / Born To Sing / There Lives A King / Beautiful Queensland / This Land Is Your Land / It's Such A Pretty World Today / It Is No Secret / Walkin' In The Sunshine / For Pet's Sake Pete / Choctaw Joe / Work On You / Brother Bill / Happy Birthday Jesus / Ship Of Truth / How Long Must It Be / Spin Away / Any Ole Time / Eva Magdalena / Where There's A Heartache / Beautiful Tomorrow
08/2007
CD ONE STOP 107 (AUS)
LIFE'S BEEN GOOD TO ME -

For A Song / When Your Rock Turns To Stone / Strollin' In The Sunshine / I'd Better Write It Down / Wellingrove Girl / Roots And Wings / With Every Breath / I Just Wanna Make Love With You / It's A Lovely Lovely World / Still They Call Me Love / Back In Baby's Arms / Life's Been Good To Me

01/2008
CD ? (AUS)
WHAT REALLY MATTERS - Keep Her While She's There / The Dream / Always Have Always Will / Misty Blue / And My Dad / Don't Feel Sorry / What Really Matters / We Love Who We Love / Happiness / I Need A Night Off / Neighbours / Summer In The Valley / Touch Of The Master's Hand
03/2010
CD ? (AUS)
HOW CAN I THANK YOU - Beautiful Life / How Can I Thank You / What's On A Woman's Mind / Only You Did / Just Bein' Me / He Needs To Do Some Work At Home / The High Road / Teachers / I Just Need You / Do What Cowboy's Do / Slowly / Better Day Comin' / No More Songs To Sing
© Rocky Productions 12/04/2013