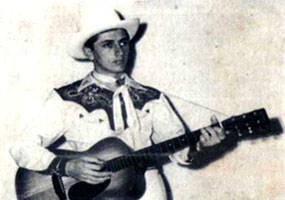 Chanteur Country US né Ervin Bruce, le 25 Avril 1932 à Cut Off (Louisiane). Vin Bruce est décédé 8 Juin 2018.

Born Ervin Bruce in Cut Off, LA, on April 25, 1932, Cajun singer Vin Bruce grew up in the musical environment provided by his father, whose fiddle playing for the local Cajun dances influenced Bruce to take up the guitar and write music. He honed his smooth and gentle Vocals style by playing with local groups, and by the age of 18, Bruce decided to take his career solo and caught the ears of Columbia Records. He recorded a number of 78s with Columbia between 1951-1956, scoring a hit with "Dans la Louisianne," which made him one of the first Cajun musicians to gain national attention, even landing him on the stage of the Grand Ole Opry, where he befriended Hank Williams, Chet Atkins, and others. When the first wave of rock & roll devoured the industry, Bruce was dropped from Columbia, and while he maintained a much lower national profile, he was still lauded as among the best Cajun singers of all time by fans of the genre. Juggling a day job on an oil rig (he could no longer support himself on music alone) and a singing career, Bruce remained somewhat busy between the 1960s and the 1990s, releasing several albums and singles on various small labels. He continued to play regularly in and around Louisiana, and eventually he converted a barn into a recording studio and released the album Carousel for Two on the Louisiana Red record label in the fall of 2000.
Vin Bruce passed away June 8, 2018.
https://en.wikipedia.org/wiki/Vin_Bruce
Talents : Singer, Songwriter, Guitar
Style musical : Cajun, Swamp Blues
LA VALSE DE STE MARIE (1953)

FILLE DE LA VILLE (1952)

SI TU M'AIMES (1962)

CHRISTMAS ON THE BAYOU (1962)
Years in activity :
| | | | | | | | | | |
| --- | --- | --- | --- | --- | --- | --- | --- | --- | --- |
| 1910 | 20 | 30 | 40 | 50 | 60 | 70 | 80 | 90 | 2000 |
DISCOGRAPHY
Singles
04/1952
SP COLUMBIA

4-20923 (US)

Fille De La Ville / Dans La Louisianne
07/1952
SP COLUMBIA

4-20973 (US)

Sweet Love / I Trusted You
11/1952
SP COLUMBIA

4-21027 (US)

Knockin' On The Door / Are You Forgetting

02/1953
SP COLUMBIA

4-21077 (US)

Je Lassez Mon Couer / Claire De Lune

06/1953
SP COLUMBIA

4-21120 (US)

My Mama Said / I'll Stay Single

09/1953
SP COLUMBIA

4-21157 (US)

I'm Gonna Steal My Baby Back / Goodbye To A Sweetheart

12/1953
SP COLUMBIA

4-21189 (US)

Oh Ma Belle / La Valse De Ste Marie

06/1954
SP COLUMBIA

4-21271 (US)

Here In The Bottle / I Tried

12/1954
SP COLUMBIA

4-21336 (US)

Too Many Girls / Over An Ocean Of Golden Dreams

1961

SP

SWALLOW 45-119 (US)
Le Delaysay / La Fille De Campaigne
1962

SP

SWALLOW 45-123 (US)
Si Tu M'Aimes / Je Vais Aller A Ta Noce
07/1962

SP

SWALLOW 45-129 (US)
Jole Blon / The Ballad Of Jean Callais
1962

SP

SWALLOW 45-132 (US)
Big Texas / Big Mamou
11/1962

SP

SWALLOW 45-137 (US)
Christmas With A Broken Heart / Christmas On The Bayou
1963

SP

SWALLOW 45-144 (US)
I'm A Poor Hobo / Dans La Louisiana
1963

SP

SWALLOW 45-153 (US)
I Lost My Mind / I'll Be A Bachelor
1963

SP

SWALLOW 45-156 (US)
I've Got Forgetting To Do / Garden Of Love
1966

SP

SWALLOW 45-157 (US)
Dans Le Claire De La Lune / Jolie Brune
1966

SP

JIN 206 (US)
Heartless One / Forgotten
1967

SP

SWALLOW 45-164 (US)
Vieux Garcon / La Valse De Bayou
1967

SP

SWALLOW 45-169 (US)
Dear Mom / Le Jour Est La
1967

SP

JIN 217 (US)
One More Dance, My Cherie / I'll Stay Single
1967

SP

JIN 223 (US)
Are You Forgettin' / ?
1968

SP

JIN 231 (US)
Dear Mom / Old Flame
1968

SP

SWALLOW 45-183 (US)
It's My Birthday / Colinda
1969

SP

SWALLOW 45-194 (US)
Walk Through This World With Me / The Wild Side Of Life
19??

SP

SWALLOW 45-201 (US)
My Bucket's Got A Hole In It / A Maiden's Prayer
19??

SP

SWALLOW 45-204 (US)
The Last Letter / The Convict Waltz
19??

SP

SWALLOW 45-208 (US)
Drunkard's Dream / Cold, Cold Heart
19??

SP

SWALLOW 45-214 (US)
Coeur De La Villa / Secret Meeting
19??

SP

SWALLOW 45-219 (US)
Valse D'amite / Valse De St. Marie
19??

SP

SWALLOW 45-221 (US)
Land, Sky And Water / Veuve De La Coulee
1974

SP

LA LOUISIANE 8136 (US)
Le Sud De La Louisianne / Teala's Waltz
2004
SP SPOON 500 (US)
The Hurt / Somebody Loves You
Albums
1962
LP 12" SWALLOW LP-6002 (US)

VIN BRUCE SINGS JOLE BLON & OTHER CAJUN CLASSICS -

Jole Blon / Chere Cherie / Tee Maurice / J'Ai Passer D'vant Ta Porte / Big Texas / Big Mamou / Dans La Louisianne / Fille De La Ville / Oh Ma Belle / Coeur De La Ville / La Valse De St. Marie / J'Ai Laisser Mon Coeur
1966
LP 12" SWALLOW LP-6006 (US)
VIN BRUCE'S GREATEST HITS - Dans Le Claire De La Lune / The Musician / Colinda / I'll Be A Bachelor / Le Delaysay / Si Tu M'Aimes / Jolie Fille / I Lost My Mind / I'm A Poor Hobo / Jolie Brune / Christmas With A Broken Heart / Le Jour Est La
1968
LP 12" SWALLOW LP-6015 (US)
VIN BRUCE'S CAJUN COUNTRY - Valse D'Amitie / Veuve De La Coulee / Made A Big Mistake / Fifty Cents Song / Drunkard's Dream / Convict Waltz / Wild Side Of Life / My Bucket's Got A Hole In It / Maiden's Prayer / Cold Cold Heart / Last Letter / Walk Through This World With Me
1968
LP 12" SWALLOW LP-6016 (US)
VIN BRUCE SINGS COUNTRY - Garden Of Love / Just One More Dance / Oh Heartless One / I'll Stay Single / Are You Forgetting / Forgotten / Secret Meeting Place / Ballad Of Jean Callais / Land, Sky And Water / An Old Flame / I've Got Forgetting To Do / Dear Mom
1973
LP 12" LA LOUISIANE LL-134 (US)
CAJUN COUNTRY'S GREATEST - Le Sud De La Lousianne / Dans La Louisianne / J'Ai Laisse Mon Coeur A La Maison / Jolie blonde / Clair De La Lune / Teala's Waltz / La Fille De La Ville / Te Petite A Te Meon / Chere Cherie / J'Ai Passe Devant Ta Porte / Bayou La Fourche / La Valse De Ste. Marie
1975
LP 12" MOUNTAIN LAUREL 7504 (US)

COUNTRY SONGS FROM LOUISIANA -

Knockin' On The Door / Are You Forgetting / Fille De La Ville / Dans La Louisianne / Sweet Love / I Trusted You / Goodbye To A Sweetheart / I'm Gonna Steal My Baby Back / Over An Ocean Of Golden Dreams / Too Many Girls / My Mama Said / I'll Stay Single / I Tried / Here Is The Bottle
1991
LP 12" COWGIRLBOY

LP-5032

(GER)
COUNTRY SONGS FROM LOUISIANA - Knockin' On The Door / Are You Forgetting / Fille De La Ville / Dans La Louisianne / Sweet Love / I Trusted You / Goodbye To A Sweetheart / I'm Gonna Steal My Baby Back / Over An Ocean Of Golden Dreams / Too Many Girls / My Mama Said / I'll Stay Single / I Tried / Here Is The Bottle
1993
CD LANOR LRCD-1040 (US)
VIN BRUCE

CHANTE LES CADJINS DU BAYOU -

Les Cadjins Du Bayou / He' Jolie! / La Valse De La Belle Riviere / La Clé De Mon Coeur / La Delaisse / Troler / Appelle Moi Sur Le Telephone / Ma Vie De Musicien / C'Est Malheureux / Ma Belle Du Bayou / Prends Ces Chaines De Mon Coeur / Si J'Aurais Des Ailes
02/1996
CD CAJUN SOUNDS 90251 (PORT)

LES CADJINS DU BAYOU

- Les Cadjins Du Bayou / He' Jolie! / La Valse De La Belle Riviere / La Clé De Mon Coeur / La Delaisse / Troler / Appelle Moi Sur Le Telephone / Ma Vie De Musicien / C'Est Malheureux / Ma Belle Du Bayou / Prends Ces Chaines De Mon Coeur / Si J'Aurais Des Ailes
1997
CD LANOR LR-1066 (US)

BEAU BAYOU L'OURS -

Beau Bayou L'Ours / It's Yout Turn To Cry / Let's Watlz Again / Papa Joe / Vin Bruce Song / Wrong Road Of Love / A Dream I'll Never Forget / Every Second Every Minute Every Hour / The Good Old Days / Let's Start A New Love / Palmetto Waltz / Where Is Love
06/2000
CD SWALLOW SWAL 6163 (US)
THE ESSENTIAL COLLECTION - Fille De Campaigne / It's My Birthday / Dans Le Claire De La Lune / Musician / I'll Be A Bachelor / Delaysay / Jolie Brun / I Lost My Mind / Jolie Fille / Si Tu M'Aimes / Colinda / Ballad Of Jean Callais / Dans La Louisiane / Fille De La Ville / Oh My Belle / Couer De La Ville / Valse De St. Marie / J'Ai Laissez Mon Couer / Jolé Blon / Valse D'Amitié / Drunkard's Dream / Wild Side Of Life / Christmas With A Broken Heart
10/2000
CD LOUISIANA RED HOT 9302 (US)
CAROUSEL FOR TWO - Love You More Today / Gift Of Love / Sweet And Low / Carousel For Two / Nothing But Smiles / Where Is Love / Your Dream's Not Over (Until You Stop Dreaming) / Whispers And Shadows / Blue Lakes / Hurt Inside Of Me / Pay Phone / God's Only Son
2004
CD SPOON SP-CD-11 (US)
SOMEBODY LOVE YOU - THE COUNTRY SIDE OF A CAJUN LEGEND - Somebody Loves You / My Heart Won't Let You Go / Introduction By Don Helms / Let's Turn Back The Years / Alone Without You Darling / The Hurt / I Love You More Today / The Dreams I Dream / Carousel For Two / Letters Have No Arms / Do You Mind / There'll Be No Teardrops Tonight

08/2006
CD MARDI GRAS 1105 (US)
CAJUN LEGEND - Les Cadjins Du Bayou / He' Jolie / Palmetto Waltz / Beau Bayou l'Ours / Let's Waltz Again / Vin Bruce Song / Papa Joe / Wrong Road Of Love / A Dream I'll Never Forget / The Good Old Days / Where Is Love? / Every Second, Every Minute, Every Hour / Troler / Appelle - Moi Sur Le Telephone / Ma Vie De Musicien / La Valse De La Belle Riviere / La Clé De Mon Coeur / Le Delaissé / Si Jaurais des Ailes / CEst Malheureux
08/2011
CD BEAR FAMILY BCD 16895 (US)
DANS LA LOUISIANE - Fille De La Ville [Girl Of The Town] / Dans La Louisianne [In Louisiana] / Sweet Love / I Trusted You / Claire De La Lune [Light Of The Moon] / Je Laissez Mon Coeur [I LeftMy Heart] / Are You Forgetting / Knockin' On The Door / Goodbye To A Sweetheart (Hello To A Friend) / I'm Gonna Steal My Baby Back / My Mama Said / I'll Stay Single / La Valse De St. Marie / Oh Ma Belle / Le Délece / Si Toi Tu M'Aime / Over An Ocean Of Golden Dreams / I Tried / Here Is The Bottle / Too Many Girls
© Rocky Productions 3/11/2011