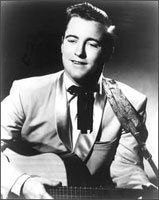 Chanteur et contrebassiste Country US né William Dorsey Burnette Jr., le 28 Décembre 1932 à Memphis (Tennessee). Dorsey Burnette a fondé en 1954, avec son frère Johnny, le Rock 'n' Roll Trio. Compositeur réputé, il a travaillé surtout pour Ricky Nelson. Après la dissolution du groupe, Dorsey et Johnny font quelques singles ensembles et se séparent en 1960. Dorsey a fait cavalier seul chez Abbot (57), Surf (57), Imperial (59), Era (60), Coral (60), Merri (60), Era (61) etc.... Il survécut quinze ans à son frère Johnny, décédant d'une crise cardiaque, le 19 Août 1979 à Canoga Park (Californie).

Dorsey Burnette is best remembered today as the brother of Johnny Burnette and a member of Rock 'n' Trio, and as the father of Billy Burnette. He had a solo career of his own, however, during the early '60s, and also wrote over 350 songs covered by the likes of Rick Nelson, Jerry Lee Lewis, Waylon Jennings, Glen Campbell, and Stevie Wonder, among many others.
Dorsey Burnette was born on December 28, 1932, in Memphis, the older of two sons of Dorsey Sr. and Willy May Burnette. He got his first guitar, a Gene Autry model, from his father at age six, at the same time that his father gave four-year-old Johnny a similar instrument — the two immediately smashed them. His father eventually convinced the pair that if they learned to play guitar, they could be like the players on the Grand Ole Opry. Dorsey was a tough kid with a violent temper and not a lot of smarts holding it in check, and he was constantly in trouble in school and spending time with the wrong crowd. By the time he was a young teenager, Dorsey was hanging out at the Poplar Street Mission with future recording artist Lee Denson, when he wasn't getting arrested for truancy or fighting. He competed in the Golden Gloves as an aspiring boxer, and it was at the 1949 championship that he met Paul Burlison, another aspiring fighter. They made note of their shared interest in music, but Burlison's induction into the Army in 1951 prevented him from hooking up just then with Dorsey and Johnny, who had begun playing together in the late '40s. They were good enough to get sponsored by a local appliance store on one of the Memphis radio stations, doing country music, and they played gigs throughout the Memphis area, principally for beer money, fun, and girls — he and his confederates worked hard and played hard, and music and the possibility of success that it offered probably kept Dorsey out of jail.
Dorsey, Johnny, and Burlison finally hooked up in mid-1952, working as a trio and within other, larger groups. They cut their first record, "Go Mule Go"/"You're Undecided," for the tiny Von label in 1954, their lineup augmented by a fourth member, fiddler Tommy Seeley. That record may have sold fewer than 200 copies, but Dorsey Burnette wasn't to be stopped — he claimed that the group auditioned for Sam Phillips at Sun, but was rejected.
Dorsey worked his day jobs — picking cotton, deckhand on a riverboat, fisherman, carpet-layer, and electrician's apprentice at Crown Electric. While he was there, a day laborer a little younger than Dorsey who had grown up in the same housing project quit his job to try making it in music after cutting a couple of records. Elvis Presley's example, going off as part of a trio with Scotty Moore and Bill Black, brought the Burnette brothers and company to the decision to formalize their work together. Burlison and Burnette's subsequently layoff from Crown Electric made the decision a no-brainer.
As a result, in early 1956, they were off to New York, where Dorsey Burnette and Paul Burlison got jobs as electrician's assistants while Johnny went to work in the garment district in Manhattan's West 30s. They decided to try out for Ted Mack's Amateur Hour, which was one of the top new talent showcases in the country, just at the time when Elvis Presley — now signed to RCA Victor — was burning up the airwaves with "Heartbreak Hotel," and were picked to play on the program. The group, known as the Rock 'n Roll Trio, won three successive shows broadcast over the ABC network; by the time of the third they had professional management, and soon after that they were signed to the Coral label, part of the Decca Records (now MCA) family of labels.
the Rock 'n Roll Trio didn't last, either as a trio or a name, as they failed to find any hits — despite a killer version of "Train Kept A-Rollin'" to their credit — and by late 1957 they were getting billed as "Johnny Burnette & the Rock 'n Roll Trio." This was probably as much a marketing ploy as a reflection of the reality that a fourth member, in the person of a drummer, had joined the group — Johnny Burnette was a good rock & roll name to push in lieu of the group's moniker, although Dorsey was the one who did most of the songwriting and had also sung lead on some of their numbers. He couldn't stomach the change in billing or his younger brother's sudden push to the front, and finally quit the group and returned to Memphis just prior to the group's scheduled appearance in the Alan Freed jukebox movie Rock Rock Rock.
He tried assembling his own group, Dorsey Burnette & the Rock 'n Roll Trio, but they never caught on and disbanded before 1958 was over. He tried reconstituting himself as a solo act and got an offer to go out to California to appear on the Town Hall Party (the West Coast's leading country music showcase), rejecting the chance to work the Louisiana Hayride. He moved his whole family — including Johnny, who was no longer recording, under his name or any other — out with him and struggled to make ends meet, working as an electrician and writing songs in his spare time.
It was Burnette's brashness in walking up to the home of Ozzie and Harriet Nelson — famous from television and radio as entertainers, and the parents of Ricky and David Nelson — and asking to speak to Ricky that got him his break as a songwriter. Rick Nelson literally pulled up on his motorcycle, accepted Dorsey's introduction, and had him and Johnny audition right there. He ended up recording a dozen of their songs, most of them written by Dorsey Burnette, and his success with "Waitin' in School" got the Burnettes a new contract with Imperial Records and Dorsey a hookup with Imperial's publishing division, Commodore Music.
Roy Brown later covered Dorsey and Johnny's "Hip Shakin' Baby," and Dorsey managed to get a solo hit in 1959 on the Era label with "Tall Oak Tree," a song that Rick Nelson had rejected. Ironically, given Johnny Burnette's prominence, Dorsey's first hit came five months before his brother finally reached the charts with "Dreamin'." The two successes led Coral Records to dig into their vaults and release a 1957-vintage single of "Blues Stay Away from Me."
The Burnettes never had another hit, although Dorsey kept writing and recording long after "Tall Oak Tree." His contract was sold to the Dot label (now owned by MCA), and he cut three singles and an album during the six months he was there. During this period, eight-year-old Billy Burnette made his recording debut on the maudlin "Little Child," which mercifully wasn't released until 1992.
Dorsey Burnette's family life took a tragic turn from which he never fully recovered in 1964, when Johnny Burnette died in a drowning accident. The surviving brother, driven by guilt or depression and his self-destructive nature, became a chronic alcoholic and drug abuser, his musical abilities and reliability suffering in the process as he staggered from failure to failure across a dozen labels over the next 15 years. Dorsey found some belated comfort in Christianity, becoming "born again" in the 1970s and returning to where he started, in country music. His country recordings for Capitol Records got him pegged as "most promising newcomer" by one music organization that never recognized his earlier activity in rock & roll, and revitalized his career. By then, Burnette was appearing in small venues and playing to anyone who would pay him, getting into fights occasionally, and taking too many drinks and too many pills. In his shows, he would do his newer songs and a few of the old rockabilly numbers like "Tear It Up," which he counted as country music.
Somehow, he never found the right label once the Capitol contract was over. In 1979, however, he signed a contract with Elektra Records and began recording with fellow former rockabilly star Jimmy Bowen. Things looked promising, and Burnette, whose fame in England had never subsided (American rockabilly stars being treated like Olympian demigods anywhere but America), even supposedly did a recording session with Led Zeppelin (according to rumor). The first single by Burnette and Bowen had just been released when Burnette died of a heart attack on August 19, 1979. Among those who performed at the benefit concert organized on behalf of Burnette's widow by Delaney Bramlett were Kris Kritofferson, Tanya Tucker, Roger Miller, and Glen Campbell.
Dorsey Burnette will probably always be best remembered as a member of the Rock 'n Roll Trio in association with his brother Johnny, their work spread between the MCA and Capitol/EMI labels (which took over the Liberty catalog), but he spent most of his time in music as a solo act, whether he was recording or writing songs. Apart from "Tall Oak Tree" and "Hey Little One," he recorded an impressive array of soulful pop and rockabilly numbers, eerily recalling Elvis Presley's 1950s and early-'60s sound (only Burnette's songs are better), most of which are worth owning.
https://en.wikipedia.org/wiki/Dorsey_Burnette
Talents : Vocals, Songwriter, Guitar, Steel Guitar, Bass
Style musical : Rockabilly, Contemporary Country, Country-Pop
Years in activity :
| | | | | | | | | | | | |
| --- | --- | --- | --- | --- | --- | --- | --- | --- | --- | --- | --- |
| 1910 | 20 | 30 | 40 | 50 | 60 | 70 | 80 | 90 | 2000 | 10 | 20 |
DISCOGRAPHY
Singles & EP
12/1955
SP VON 1006 (US)
.
You're Undecided / Go Mule Go
11/1956
SP ABBOTT 188-45 (US)
.
Let's Fall In Love / The Devil's Queen
02/1957
SP ABBOTT 190-45 (US)
.
Jungle Magic / At A Distance
11/1957
SP SURF SR 5019-45 (US)
.
Bertha Lou / Til The Law Says Stop
05/1958
SP IMPERIAL

X5509 (US)

.
BURNETTE BROTHERS - Warm Love

/

My Honey
03/1959
SP IMPERIAL X5561 (US)
.
You Came As A Miracle / Try
09/1959
SP IMPERIAL X5597 (US)
.
Lonely Train / Misery
01/1960
SP ERA 3012 (US)
.
Tall Oak Tree / Juarez Town
04/1960
SP CORAL 9-62190 (US)
.
Blues Stay Away From Me (Dorsey & Johnny BURNETTE) / Midnight Train
05/1960
SP ERA 3019 (US)
.
Hey Little One / Big Rock Candy Mountain
05/1960
SP IMPERIAL X5668 (US)
.
Way In The Middle Of The Night / Your Love
08/1960
SP ERA 3025 (US)
.
The Gost Of Billy Malloo / Red Roses
10/1960
SP MERRI 206 (US)
.
Lucy Darlin' / Black Roses
11/1960
SP ERA 3033 (US)
This Hotel / The River And The Mountain
02/1961
SP ERA 3041 (US)
.
Hard Rock Mine / Sin
02/1961
SP INFINITY INX-001 (US)

.

The TEXANS - Green Grass Of Texas

/

Bloody River
04/1961
SP ERA 3045 (US)
.
Great Shakin' Fever / That's Me Without You
05/1961
SP IMPERIAL X5756 (US)
.
Circle Rock / House In A Tin Rooftop
05/1961
SP DOT 45-16230 (US)
.
Rainin' / A Full House
05/1961
SP GOTHIC GOX-001 (US)

.

The TEXANS - Rockin' Johnny Home

[instr.] /

Ole Reb

[instr.]

09/1961
SP DOT 45-16265 (US)
.
Feminine Touch / Sad Boy
01/1962
SP DOT 45-16305 (US)
.
Dying Ember / A Country Boy In The Army
06/1962
SP REPRISE R-20.093 (US)
.
Castle In The Sky / The Boys Kept Hangin' Around
06/1962
SP LIBERTY

55460 (US)

.

The SHAMROCKS - Lonely Island /

Green Hills

10/1962
SP REPRISE R-20.121 (US)
I'm Waitin' For Ya Baby / Darling Jane
02/1963
SP REPRISE R-20.146 (US)

.

Foolish Pride / Four For Texas
03/1963
SP REPRISE R-20.153 (US)
.
Johnny & Dorsey BURNETTE - Hey Sue / It Don't Take Much
05/1963
SP REPRISE R-20.177 (US)
.
Invisible Chains / Pebbles
08/1963
SP IMPERIAL 5987 (US)
.
Circle Rock / House With A Tin Roof
08/1963
SP REPRISE R-20.208 (US)
.
Where's The Girl ? / One Of The Lucky
12/1963
SP REPRISE 246 (US)
Four For Texas / Foolish Pride
12/1963
EP LONDON RED 1402 (UK)

Dorsey Burnette Sings -

Don't Let Go / He Gave Me My Hands / Feminine Touch / The Creator
05/1964
SP MEL-O-DY M-113 (US)
.
Little Acorn / Cold, As Usual
10/1964
SP MEL-O-DY M-116 (US)
.
Jimmy Brown / Everybody's Angel
11/1964
SP MEL-O-DY M-118 (US)
.
Long Long Time Ago / Ever Since The World Began
02/1965
SP VEE JAY

VJ-658 (US)

.

The TEXANS - Green Grass Of Texas

/

Bloody River

1965
SP CEE-JAM 6 (US)
.
Bertha Lou / Keep-A-Knockin' (The BROTHERS)
1965
SP MERCURY 72546 (US)
.
In The Morning / To Remember
1965
SP ERA 3205 (US)
.
Wayward Wind / Suddenly There's A Valley
1966
SP CEE-JAM 16 (US)
.
Bertha Lou / Til The Law Says Stop
02/1966
SP SMASH S-2029 (US)
.
In The Morning / To Remember
03/1966
SP TAMLA MOTOWN

GO 42.630 (NL)

Jimmy Brown / Long Long Time Ago

05/1966
SP SMASH S-2039 (US)
.
If You Want To Love Somebody / Teach Me Little Children
09/1966
SP SMASH S-2062 (US)
.
Tall Oak Tree / I Just Can't Be Tamed
04/1967
SP HICKORY 45-1458 (US)
.
Ain't That Just Fine / House That Jack Built
1967
SP LAMA 7791 (US)
.
Rolling Restless Stone / Back To Nature
1968
SP MUSIC FACTORY 417 (US)
.
I'll Walk Away / Son You've Got To Make It Alone
11/1968
SP LIBERTY 56087 (US)
.
The Greatest Love / Thin Little, Simple Little, Plain Little Girl
1969
SP LIBERTY C006 90097 (F)
The Greatest Love / Thin Little, Simple Little, Plain Little Girl
1969
SP LIBERTY LIB 56087 (NL)

The Greatest Love / Thin Little, Simple Little, Plain Little Girl

1970
SP HAPPY TIGER 546 (US)
.
To Be A Man / Fly Away And Hurry Home
1970
SP HAPPY TIGER 563 (US)
.
Call Me Lonesome / One Lamp Sun
02/1970
SP CONDOR FF-1005 (US)
.
Magnificent Sanctuary Band / Can't You See It Happening
1970
SP U.S. NAVY ? (US)

Be A Navy Man - Navy Man [Country and Western] / Navy Man [60 second PSA] / Navy Man [30 second PSA] / Navy Man [Contemporary] / Navy Man [60 second PSA] / Navy Man [30 second PSA]

03/1971
SP CAPITOL 3073 (US)
.
New Orleans Woman / After The Long Ride Home
09/1971
SP CAPITOL 3190 (US)
.
Children Of The Universe / Shelby County Penalty Farm
03/1972
SP CAPITOL 3307 (US)
.
In Spring / Same Old You Same Old Me
07/1972
SP CAPITOL 3404 (US)
.
I Just Couldn't Let Her Walk Away / Church Bells
10/1972
SP CAPITOL 3463 (US)
.
Lonely To be Alone / Cry Mama
01/1973
SP CAPITOL 3529 (US)
.
I Let Another Good One Get Away / Take Your Weapons Lay Them Down
04/1973
SP CAPITOL 3588 (US)
.
Keep Out Of My Dreams / Mama Mama
07/1973
SP CAPITOL 3678 (US)
.
Darling / Sweet Lovin' Woman
11/1973
SP CAPITOL 3796 (US)
.
Mr. Juke Box Sing A Lullaby / It Happens Everytime
02/1974
SP CAPITOL 3829 (US)
.
Bootleggers / Bob, A.. The Playboys And Me
05/1974
SP CAPITOL 3887 (US)
.
Daddy Loves You Honey / True Love Means Forgiving
10/1974
SP CAPITOL 3963 (US)
.
Tangerine / What, Ladies Can Do
04/1975
SP MELODYLAND ME-6007F (US)
.
Molly / She's Feelin' Low
09/1975
SP MELODYLAND ME-6019F (US)
.
Lyin' In Her Arms Again / Doggone The Dogs
02/1976
SP MELODYLAND ME-6031F (US)
.
Ain't No Heartbreak / I Dreamed I Saw
04/1977
SP CALLIOPE CALS 8004 (US)
.
Things I Treasured / One Morning
09/1977
SP CALLIOPE CALS 8012 (US)
.
Soon As I Touched Her / Dear Hearted Children
07/1979
SP ELEKTRA E 46513 (US)
.
Here I Go Again / What Would It Profit Me
12/1979
SP ELEKTRA E 46586 (US)
.
B.J.Kick-A-Beaux / What Would It Profit Me
2019
SP FTM LTD 396 (UK) (limited edition)
.

Ever Since The World Began (Dorsey BURNETTE) / In Love (Mike SHERIDAN & The NIGHTRIDERS)

2020
EP El Toro ET15095 (S)

Bertha Lou / Til The Law Says Stop / Let's Fall In Love / The Devil's Queen
Albums
1960
LP 12" ERA EL-102 (mono) / ES-700 (stereo) (US)
TALL OAK TREE - Big Rock Candy Mountain / Hey Little One / Hard Working Man / Lucky Old Sun / Suddenly There's A Valley / Lazy Bones / Red Roses / Noah's Ark / Swing Low / Wayward Wind / I Got The Sun In The Morning / Tall Oak Tree
12/1963
LP 12" DOT DLP-3456 (mono) DLP-25456 (stereo) (US)
DORSEY BURNETTE SINGS - Don't Let Me Go / Dying Ember / Rainin' In My Heart / A Full House / Sad Boy / He Gave Me My Hands / Feminine Touch / The Biggest Lover In Town / No One But Him / The Creator / Cry For Your Love / The Rains Came Down
1969
LP 12" ERA ES-800 (US)

| | |
| --- | --- |
| | DORSEY BURNETTE'S GREATEST HITS - Hey Little One / Hard Rock Mine / Lazy Bones / The Ghost Of Billy Maloo / Hard Working Man / Suddenly There's A Valley / Tall Oak Tree / Wayward Wind / Swing Low Sweet Chariot / Noah's Ark / Red Roses / Big Rock Candy Mountain |

07/1972
LP 12" CAPITOL ST 11094 (US)
HERE & NOW - I Just Couldn't Let Her Walk Away / Daddy Don't You Walk So I Ast / Together Again / In The Spring (The RosesAlways Turn Red) / Cry Mama / Lonely To Be Alone / I Love You Because / I Never Picked Cotton / The Same Old You, The Same Old Me / Healin' Savin' Sanctifyin' Love
07/1973
LP 12" CAPITOL ST 11219 (US)
DORSEY BURNETTE - Lila / Keep Out Of My Dreams / If This Isn't Love / It Happens Everytime / Darlin' / The Sparrow And The Hawk / Sweet Lovin' Woman / Mr. Juke Box Sing A Lullaby / True Love Means Forgiving / I Let Another Good One Get Away
1974
2 LP 12" TRIP

TLX-8506

(US)

COMIN' BACK -

Tall Oak Tree / Hey Brother / Cry Momma / Yesterday's Gone / Mr. Hangman / Before The Rising Sun / Come On Home / Little By Little / Blackjack Davey / Magic Of Love / Tomorrow Night / Sun Gonna Shine / It Happens Over And Over / Be Seeing You Soon / If Nashville Lets You Down / Let It Be Known / Little Acorn / My Refugee / Yesterday / Main Street Missionary
1976
LP 12" BUCKBOARD BBS 1024 (US)
DORSEY BURNETTE - Mainstreet Missionary / Hey Brother / Yesterday's Gone / Before The Rising Sun / Come On Home / If Nashville Lets You Down / Be Seeing You Soon / Blackjack Davey / Tomorrow Night / It Happens Over And Over
10/1977
LP 12" MUSIC CITY MC6-506S1 (US)
THIS IS DORSEY BURNETTE -

I Love Being Loved By You / Ain't No Heartbreak / I Dreamed I Saw / She's Feelin' Low / Woman / He Told Me Jesus Was My Friend / Don't Go City Girl On Me / Lyin' In Her Arms Again / Doggone The Dogs / Molly / I Ain't Gettin' Any Younger

11/1977
LP 12" CALLIOPE CAL 7006 (US)
THINGS I TREASURE - Things I Treasured / Hey Little One / Won't You Come On Down / One Morning / Hide Away / Soon As I Touched Her / Tall Oak Tree / Dear Hearted Children / A Star Born Every Minute
1979
LP 12" GUSTO GT 00050 (US)
THE GOLDEN HITS OF DORSEY BURNETTE - Big Rock Candy Mountain / You're Sixteen / God Country And My Baby / Magnificent Sanctuary Band / Big Big World / Tall Oak Tree / Little Boy Sad / Dreamin' / Hey Little One / The Greatest Love
1979
LP 12" KOALA AW 14139 (US)
TALL OAK TREE - LIVE 1973/74 - In The Spring / Hey Little One / I Let Another Good One Get Away / Tear It Up / Darlin' Don't Come Back / Sanctuary Band / Tall Oak Tree / What Ladies Can Do
197?
LP 12" ZIRKON 104 (US)
DORSEY BURNETTE - Bertha Lou / Til The Law Says Stop / Keep A Knockin' (BROTHERS) / Great Schakin' Fever / Warm Love (BURNETTE BROTHERS) / Long Legged Linda (The KIDS OF TEXAS) / Rockin' Johnny Home (inst.) (TEXANS) / Ole Reb (inst.) (TEXANS) / Bloody River (inst.) (TEXANS) / Green Grass Of Texas (inst.) (TEXANS) / The Devil's Queen / Misery / Lonely Train / Way In The Middle Of The Night / Let's Fall In Love / (There's A) Tall Oak Tree / Hey Little One / Don't Let Go / Feminine Touch / Rainin' In My Heart
1980 ?
LP 12" POINT P 292 (CAN)
COUNTRY SOUND - CITY SOUND - The Boys Kept Hanging Around / Invisible Chains / 16 Violins / I'm Waitin' For Ya' Baby / The Green Side Of The Mountain / Pebbles / Where's The Girl / One Morning / Darling Jane / One Of The Lonely
1980
LP 12" SOLID SMOKE SS-8005 (US)
TOGETHER AGAIN - JOHNNY & DORSEY BURNETTE - Little Ole You (DORSEY) / I Wanna Love My Baby (JOHNNY) / I'm Happy (JOHNNY & DORSEY) / That's The Way I Feel (JOHNNY) / Just Keep On A Goin (JOHNNY) / Baby Doll Blue Eyes (JOHNNY) / Cincinnati Fireball (DORSEY) / You're Sixteen (DORSEY) / Hey Stranger (JOHNNY) / Address Unknown (JOHNNY) / Lovesick Blues (JOHNNY) / Cincinnati Fireball (JOHNNY) / Finders Keepers (JOHNNY) / Interview (JOHNNY) / One Sided Love Affair (JOHNNY)
1982
LP 12" ROCKHOUSE / DISCAZ AZ 2421 (F)
JOHNNY & DORSEY BURNETTE - JOHNNY & DORSEY BURNETTE - I Wanna Love My Baby / I'm Happy / That's The Way I Feel / Just Keep On A-Goin' / Baby Doll Blue Eyes / Hey Stranger / Address Unknown / Lovesick Blues / Cincinnati Fireball / Finders Keepers / Interview / One-Sided Love Affair / + Johnny BURNETTE
1984
LP 12" Out Of Town OTD 8636 (US)

Country World - Merle Haggard, Jimmy Wakely, Dorsey Burnette - Come To Me (Jimmy Wakely) / Daddy Don't You Walk So Fast (Dorsey Burnette) / California Blues (Merle Haggard) / Easy Lovin' (Jimmy Wakely) / Lovely To Be Alone (Dorsey Burnette) / My Carolina Sunshine Girls (Merle Haggard) / For The Good Times (Jimmy Wakely) / The Same Old You The Same Old Me (Dorsey Burnette) / Why Should I Be So Lonesome (Merle Haggard) / You're Nobody 'Til Somebody Dy Loves You (Jimmy Wakely)

07/1987
2 LP 12" HOLLYWOOD HCD-501 (US)

GREAT SHAKIN' FEVER -

Great Shakin' Fever / Don't Let Go / Dying Ember / Rainin' In My Heart / Sad Boy / He Gave Me Hands / Good Good Lovin' / A Full House / Feminine Touch / It's No Sin / The Creator / The Biggest Lover In Town / Buckeye Road / That's Me Without You / No One But Him / Cry For Your Love / The Rains Came Down / A Country Boy In The Army / Somebody Nobody Wants / It Could've Been Different / Little Child / With All Your Heart / Look What You've Missed / Gypsy Magic / I Would Do Anything.
07/1987
LP 12" HOLLYWOOD HCD-502 (US)

KEEP A KNOCKIN' -

It's Late / Till The Law Says Stop / Warm Love [BURNETTE BROTHERS] / Long Legged Linda / Way In The Middle Of The Night / Rockin' Johnny Home / That's Me Without You / House In A Tin Top Roof / I Only Came Here To Dance / Bertha Lou / Keep A Knockin' / Devil's Queen / Misery / Four For Texas / Long Long Time Ago / My Honey [BURNETTE BROTHERS]
11/1987
LP 12" SKYLINE 1990 (US)

DORSEY BURNETTE -

Let's Fall In Love / It's Late / Rock Me / Bertha Lou / Til The Law Say Stop / Great Shaking Fever / Midnight Train / Juarez Town / My Love You're A Stranger / Tomorrow Night / Little By Little / Don't Let Go / Circle Rock / I'm Waiting For Ya Baby
11/1992
CD BEAR FAMILY BCD 15545 (GER)
GREAT SHAKIN' FEVER - Great Shakin' Fever / Don't Let Go / Dying Ember / Rainin' In My Heart / Sad Boy / He Gave Me My Hands / Good Good Lovin' / A Full House / Feminine Touch / It's No Sin / The Creator / The Biggest Lover In Town / Buckeye Road / That's Me Without You / No One But Him / Cry For Your Love / The Rains Came Down / A Country Boy In The Army / Somebody Nobody Wants / It Could've Been Different / Little Child (with Billy BURNETTE) / With All Your Heart / Look What You've Missed / Gypsy Magic / I Would Do Anything
12/1997
CD K-TEL 5021 (US)
THE BEST OF DORSEY BURNETTE - (There Was A) Tall Oak Tree / Hey Little One / That's Me Without You / Hard Rock Mine / Red Roses / That Lucky Old Sun / Great Shakin' Fever / Hard Working Man / Big Rock Candy Mountain / The Ghost Of Billy Maloo / It's No Sin / I Got The Sun In The Morning / Suddenly There's A Valley / Noah's Ark / The Wayward Wind / Lazy Bones / (There Was A) Tall Oak Tree (alternate take)
08/2001
CD COLLECTABLES 6852 (US)
THE VERY BEST OF DORSEY BURNETTE - (There Was A) Tall Oak Tree / Hey Little One / That's Me Without You / Hard Rock Mine / Red Roses / That Lucky Old Sun / Great Shakin' Fever / Hard Working Man / Big Rock Candy Mountain / Ghost Of Billy Maloo / It's No Sin / I Got The Sun In The Morning / Suddenly There's A Valley / Noah's Ark / Wayward Wind / Lazybones / (There Was A) Tall Oak Tree [alternate take]
2003
CD ROCKSTAR RSRCD 005 (UK)
JOHNNY & DORSEY - THE BURNETTE BROTHERS - Me And The Bear / Gumbo / Kiss Me (two versions) / I'm Restless / Sweet Baby Doll / I'll Never Love Again / Try / You Came As A Miracle / It's Late / I Only Came To Dance / Your Love / Lonely Train (two versions) / Way In The Middle Of The Night / Misery / Circle Rock / House With A Tin Roof Top / Water Boy / Chained / Jeannie / Wait For Me / Warm Love / Boppin' Rosalie / Do Baby Do / My Honey / We're Havin' A Party / Waitin' At The Station (two versions) / Interview / Christmas Message / Go Mule Go / You're Undecided
2007
CD GUSTO ? (US)
THE GOLDEN HITS OF DORSEY BURNETTE - Big Rock Candy Mountain / You're Sixteen / Big Big World / Tall Oak Tree / Little Boy Sad / Dreamin' / Hey Little One / The Greatest Love / God, Country And My Baby / The Magnificent Sanctuary Band
2008
CD GIGATONE 2086 (US)
THE GREAT LOST DORSEY BURNETTE ALBUM - This Little Girl / In The Night / Alone And Blue / I'm Gonna Call My Baby / I'm Waitin' / You Wouldn't Ask Me If You Knew / My Baby's On Her Away / I've Learned / Let The World Go On Its Way / In My Arms Again / A Hundred Tears Ahead Of You / Blue Monday Coming On / Flowers For Mama / A Hundred Tears Ahead Of You / Blue Monday Coming On / Flowers For Mama
06/2008
CD HYDRA 27136 (GER)
LIKE WHAT WE WROTE - VOL. 2 - THE SONGS OF JOHNNY & DORSEY BURNETTE - Bertha Lou / Hip Shakin' Baby / Honey Baby / I Don't Like It / Tear It Up / Hey Pretty Baby / Eternally / Be My Love Tonight / Bertha Lou / Rosalee / Ain't That Fine / Tall Oak Tree / Gypsy Woman / Green Grass Of Texas / Just Keep On Going / I've Been Thinkin' / Pure Love / Hey Little One / Snacky Poo 2 / One Of These Mornings / Lonely Lonely Train / I Don't Want To Know / Just A Little Too Much / Tired & Lonely Rebel / A Long Vacation / Twinkie Lee / Fly Away And Hurry Home
2009
CD BURNING FIRE ? (?)
ROCKABILLY ESSENTIALS - The Biggest Lover In Town / Buckeye Road / A Country Boy In The Army / The Creator / Cry For Your Love / Don't Let Go / Dying Ember / Feminine Touch / A Full House / Good Good Lovin' / Great Shakin' Fever / Gypsy Magic / He Gave Me My Hands / I Would Do Anything / It's No Sin / It Could've Been Different / Little Child / Look What You've Missed / No One But Him / Rainin' In My Heart / The Rains Came Down / Sad Boy / Somebody Nobody Wants / That's Me Without You / With All Your Heart
2010
CD CARINCO NEUE ? (GER)
HEY LITTLE ONE - (There Was A) Tall Oak Tree / Hey Little One / Hard Rock Mine / Red Roses / That Lucky Old Sun / Great Shakin' Fever / Hard Working Man / Big Rock Candy Mountain / The Ghost f Billy Maloo / It's No Sin / I Got The Sun In The Morning / Noah's Ark
03/2011
2 CD EL TORO 1037 (S)
IF YOU WANT IT ENOUGH... 1956-59 :

CD 1 : Let's Fall In Love / The Devil's Queen / Jungle Magic / At A Distance / Touch Me / Eager Beaver Baby / Butter Fingers / If You Want It Enough / Bertha Lou / Til The Law Says Stop / Warm Love / My Honey / Boppin' Rosalie / Do Baby Do / I'm Restless / Kiss Me / Gumbo / Me And The Bear / Kiss Me / Try / You Came As A Miracle / I Only Came Here To Dance / It's Late / Lonely Train / Misery / Your Love / Way In The Middle Of The Night / Lonely Train [undubbed master take]
CD 2 : Sweet Baby Doll / I'll Never Love Again / Love Kept A-Rollin' / That's All I Care / I'll Never Love Again [take 2] / I Believe What You Say [Goldstar demo] / Green Grass Of Texas / Bloody River / Just Keep On Goin' [Sherman demo] / I'm Happy / Settin' The Woods On Fire / Kentucky Waltz / Ole Reb / Rockin' Johnny Home / You're Cheatin' On Me [rehearsal] / You're Cheatin' On Me [undubbed Master] / You're Cheatin' On Me [overdubbed master] / Ballad Of The One-Eyed Jacks [Goldstar demo] / Blue School Days [Goldstar demo] / Just Keep On Goin' [Goldstar demo] / Just A Memory [Goldstar demo] / Circle Rock / House With A Tin Roof Top / Believe What You Say / Til The Law Says Stop / Whenever You're Ready [aka Let's Fall In Love] / It's Late / Snacky Poo / Snacky Poo No. 2

09/2021
CD JASMINE JASCD1059 (UK)

Hey Little One - The Very Best Of Dorsey Burnette - 1956-1962 - Midnight Train / Let's Fall In Love / The Devil's Queen / At A Distance / Jungle Magic / Bertha Lou / Til The Law Says Stop / Try / Misery / Lonely Train / (There Was A) Tall Oak Tree / Juarez Town / Hey Little One / Big Rock Candy Mountain / Your Love / Way In The Middle Of The Night / The Ghost Of Billy Malloo / Lucy Darlin' / Black Roses / The River And The Mountain / This Hotel / Hard Rock Mine / Great Shakin' Fever / That's Me Without You / Rainin' / A Full House / Circle Rock / House With A Tin Roof / Feminine Touch / Dying Ember / Rolling Restless Stones / Back To Nature / The Boys Kept Hangin' Around / I'm A Waitin' For Ya Baby
© Rocky Productions 4/07/2022