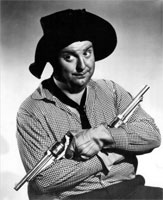 Chanteur Country US né Lester Alvin Burnette, le 18 Mars 1911 à Summum (Illinois). Smiley Burnette est décédé le 16 Février 1967 à Encino (Californie).

Based on his record sales, Smiley Burnette wasn't more than a footnote in the annals of recorded country music. However, thanks to his appearances as a sidekick to Gene Autry in dozens of Republic Pictures Westerns before World War II, and with Charles Starrett and Roy Rogers later on, he was one of the most familiar country & western performers in movies, and a beloved performer on stage and radio.
Burnette began his performing career at age nine, playing the musical saw. He organized and led his own band in high school in the late '20s, and after graduation he set out on a performing career. Burnette became successful as a one-man band — he claimed proficiency on 100 instruments — and worked in vaudeville before becoming an announcer and performer on radio in Tuscola, IL. Autry discovered Burnette and hired him to appear on the WLS Barn Dance out of Chicago, where Autry was already the top singing star. His recording career began around this time, centered around the Conqueror and American Record Company labels.
Autry went to Hollywood when producer Nat Levine at Mascot Pictures decided to put a professional country singer into the Ken Maynard film In Old Santa Fe, and he brought Burnette with him. The duo was established on the screen as a double act, one of the most popular in the history of B picture Westerns. With his portly physique, good-natured but slightly dim-witted persona, and trademark floppy hat, he became a familiar screen presence as Autry's sidekick Frog Milhouse, appearing in 55 Westerns alongside Autry between 1933 and 1942. In most of these, he was also called on to sing at least one number of his own, which he did in either his normal voice, which was funny enough, or a deep, frog-like croak.
As an actor, Burnette was one of B Westerns' two "kings of the sidekicks" (the other was George "Gabby" Hayes, who didn't sing). His featured musical numbers, like his records ("Mama Don't Allow No Music" on ARC, reissued by Sony in 1995, is a good representative piece), were usually novelty songs with a strong comedic content, in contrast to the romantic ballads that Autry or Rogers would do in the same movies. He also made appearances in supporting roles in non-Westerns, including Republic's serials (Dick Tracy, etc.) in the 1930s. Burnette subsequently did dozens of films with Rogers and Starrett (The Durango Kid).
Burnette was a successful songwriter, and his music was recorded by the likes of Bing Crosby, Dean Martin, Red Foley, and Ferlin Husky, among others. He made appearances on his own, as a musical performer, on the Ozark Jubilee, Jubilee USA, the Grand Ole Opry, and the Louisiana Hayride, and played rodeos as well. In 1962, Starday Records released an album of Burnette's funniest songs under the title Ole Frog. From 1962 through 1967, he was a regular on the television series Petticoat Junction, playing railroad engineer Charlie Pratt.
In 1971, four years after his death from leukemia, Burnette was inducted into the Nashville Songwriters Hall of Fame.
http://www.smileyburnette.org/Smiley/index.html
https://en.wikipedia.org/wiki/Smiley_Burnette
Talents : Singer, Songwriter, Guitar, Accordion, Comedy Actor
Style musical : Comedy, Singing Cowboy, Traditional Country

https://youtu.be/umUY1p8wR-Q
Years in activity :
| | | | | | | | | | |
| --- | --- | --- | --- | --- | --- | --- | --- | --- | --- |
| 1910 | 20 | 30 | 40 | 50 | 60 | 70 | 80 | 90 | 2000 |
DISCOGRAPHY
78 t. & Singles
07/1934
78 t. MELOTON 13046 (CAN)
Smiley BURNETT - Mama Don't Like My Music / He Was A Travelin' Man
07/1934
78 t. BANNER 33082 (US)
Smiley BURNETT - Mama Don't Like My Music / He Was A Travelin' Man
07/1934
78 t. ROMEO 5344 (US)
Smiley BURNETT - Mama Don't Like My Music / He Was A Travelin' Man
07/1934
78 t. ORIOLE 8344 (US)
Smiley BURNETT - Mama Don't Like My Music / He Was A Travelin' Man
07/1934
78 t. PERFECT 13011 (US)
Smiley BURNETT - Mama Don't Like My Music / He Was A Travelin' Man
07/1934
78 t. MELOTON 13072 (CAN)
Smiley BURNETT - Mathilda Higgins / Peg Leg Jack
07/1934
78 t. BANNER 33104 (US)
Smiley BURNETT - Mathilda Higgins / Peg Leg Jack
07/1934
78 t. ROMEO 5354 (US)
Smiley BURNETT - Mathilda Higgins / Peg Leg Jack
07/1934
78 t. ORIOLE 8354 (US)
Smiley BURNETT - Mathilda Higgins / Peg Leg Jack
07/1934
78 t. PERFECT 13018 (US)
Smiley BURNETT - Mathilda Higgins / Peg Leg Jack
1935
78 t. CONQUEROR 8387 (US)
Smiley BURNETT - He Was A Travelin' Man / Mama Don't Like My Music
08/1935
78 t. MELOTON 13452 (CAN)
My Cross-Eyed Girl (Gene AUTRY & Jimmy LONG) / Uncle Noah's Ark (Gene AUTRY & Smiley BURNETT)
08/1935
78 t. BANNER 33485 (US)
My Cross-Eyed Girl (Gene AUTRY & Jimmy LONG) / Uncle Noah's Ark (Gene AUTRY & Smiley BURNETT)
08/1935
78 t. ROMEO 5489 (US)
My Cross-Eyed Girl (Gene AUTRY & Jimmy LONG) / Uncle Noah's Ark (Gene AUTRY & Smiley BURNETT)
08/1935
78 t. ORIOLE 8489 (US)
My Cross-Eyed Girl (Gene AUTRY & Jimmy LONG) / Uncle Noah's Ark (Gene AUTRY & Smiley BURNETT)
08/1935
78 t. PERFECT 13159 (US)
My Cross-Eyed Girl (Gene AUTRY & Jimmy LONG) / Uncle Noah's Ark (Gene AUTRY & Smiley BURNETT)
10/1935
78 t. MELOTONE M351018 (CAN)
Gene AUTRY & Smiley BURNETT - Ridin' Down The Canyon / Wagon Train
12/1935
78 t. MELOTONE M5-12-53 (CAN)
Old Covered Wagon (Gene AUTRY & Smiley BURNETT) / Silver Haired Mother Of Mine (Gene AUTRY & Jimmy LONG)
1935
78 t. CONQUEROR 8467 (US)
Uncle Noah's Ark (Gene AUTRY & Smiley BURNETT) / My Shy Little Blue Bonnet Girl (Gene AUTRY & Jimmy LONG)
1935
78 t. CONQUEROR 8483 (US)
When The Desert Sun Goes Down (Gene AUTRY TRIO) / Wagon Train (Gene AUTRY & Smiley BURNETTE)
1935
78 t. CONQUEROR 8484 (US)
Angel Boy (Gene AUTRY & Jimmy LONG) / The Covered Wagon (Gene AUTRY & Smiley BURNETTE)
1935
78 t. CONQUEROR 8493 (US)
Smiley BURNETT - Peg Leg Jack / Mathilda Higgins
1935
78 t. MELOTONE 13452 (CAN)
Uncle Noah's Ark (Gene AUTRY & Smiley BURNETT) / Cross-Eyed Gal (Gene AUTRY & Jimmy LONG)
1935
78 t. BANNER 33485 (US)
My Cross Eyed Gal (Gene AUTRY & Smiley BURNETT) / Uncle Noah's Ark (Gene AUTRY & Jimmy LONG)
12/1938
78 t. DECCA 5633 (US)
Down In The Cane Brake (Bill BURNETT) / Uncle Fraley's Formula (Smiley BURNETT)
05/1939
78 t. DECCA 5685 (US)
Bill BURNETT - Steamboat Bill / Lawyer Skinner
1946
78 t. ARA 4002 (US)
Smiley BURNETTE with The SUNSHINE GIRLS - Do You Want My Heart / It's My Lazy Day
1946
78 t. ARA 4003 (US)
I Hope You're Having Fun Hurting Me (Smiley BURNETTE with The SUNSHINE GIRLS) / I'm A Stranger Here Myself (SUNSHINE GIRLS)
1946
78 t. ARA 4004 (US)
Cool Water (Smiley BURNETTE) / Foggy, Foggy Dew (Smiley BURNETTE with The SUNSHINE GIRLS)
1946
78 t. ARA 4005 (US)
Hominy Grits (Smiley BURNETTE with The SUNSHINE GIRLS) / Ten Gallon Hat (From Powder River) (Smiley BURNETTE)
1946 ?
78 t. ARA 4008 (US)
Catfish Take A Look At That Worm / Peg-Leg Bandit
1947
78 t. ARA 4025 (US)
It's My Lazy Day / Do You Want My Heart
1947
78 t. UA 603 (US)
Catfish Take A Look At That Worm / ?
1947
78 t. UA 606 (US)
Swamp Woman Blues / ?
05/1948
78 t. BULLET 654 (US)
It's A Lazy Day / Hominy Grits
1948
78 t. BULLET 655 (US)
Swamp Woman Blues / Catfish Take A Look At That Worm
03/1949
78 t. BULLET 676 (US)
House Trailer Blues / I Hope You're Having Fun Hurting Me
05/1950
SP CAPITOL

F1165 (US)

Catfish / Jackass Mail

1950
SP CAPITOL

30129 (US)

Blue Bottle Fly / Smart Alec Crow
11/1950
SP CAPITOL

30133 (US)

Rudolph The Red-Nosed Reindeer / The Swiss Boy
11/1950
SP CAPITOL

F1304 (US)

Rosie The Elephant / You Put Me On My Feet

01/1951
SP CAPITOL

F1347 (US)

Hominy Grits / My Lazy Day

05/1951
SP CAPITOL

F1520 (US)

Do The Pines Grow Green In The Valley / I Can't Be Honest

08/1951
SP CAPITOL

1746 (US)

Can't Go On / I Ain't Done Nothin' To You

02/1954
SP ABBOTT 154-45 (US)
Mucho Gusto / Chuggin' On Down '66
05/1954
SP ABBOTT 161-45 (US)
That Long White Line / Lazy Locomotive
1959

SP

CRICKET C-113 (US)
Clementine / Boss Of The Town
1959

SP

CRICKET C-119 (US)
Smart Alec Crow / Gran'pa Frog
04/1962
SP STARDAY

45-586 (US)

Old Fishin' Pole / It's My Last Day

1964
SP RANCHO 1001 (US)
Smiley BURNETTE & Rufe DAVIS - Steam, Cinders & Smoke / Clickity Clack
| | |
| --- | --- |
| | |
Albums
1959
LP 12" CRICKET CR-11 (US)
SMILEY BURNETTE & HIS RODEO SONGAREE - Gran'pa Frog / Thievin Burro / No Kids: Prairie Dog Lament / Deep Froggy Blues / Red River Valley -Clementine (Medley) / Boss Of The Town / Smart Alec Crow / Way Down Low - I Wish Thati'd Said That (Medley) / Pussy Foot / Buffalo Gals - Comin' Round The Mountain (Medley)
1962
LP 12" STARDAY SLP-191 (US)
OLE FROG - It's My Lazy Day / Lilac Lane / Broomstick Buckaroo / Old Fishin' Pole / I Lied Blues / Catfish, Take a Look At That Worm / Introduction-Comedy / Everybody Makes Me Feel At Home / Swiss Boy / That's All, Brother, That's All / Lil' Indian / Way Down Low
198?
LP 12" COWGIRLBOY LP-5050 (GER)
A LAZY DAY IN THE COUNTRY - It's My Lazy Day / Do You Want My Heart? / Broomstick Buckaroo / If I Was The Boss Of The Town / Cecil Could You See What He Wanted To See / That's All, Brother / Catfish, Take A Look At The Worm / The Swiss Boy / Just Come On In / Ramblin' Blood In My Veins / Mama Don't Allow It / The Deep Froggy Blues / I Don't Want Nothin', I'm Just Lookin' / No Time / Three Hermits / Swamp Woman Blues
05/1997
CD KING 6104 (US)
IS FROG MILHOUSE - It's My Lazy Day / Lilac Lane / Broomstick Buckaroo / Old Fishin' Pole / I Lied Blues / Catfish, Take A Look At That Worm / Comedy / Comedy / Everybody Makes Me Feel At Home / Swiss Boy / That's All Brother / Lil' Indian / Way Down Low
02/1998
CD SIMITAR 5570 (US)
COLLECTORS EDITION - Ramblin' Blood / Red River Valley - Clementine / Gran'pa Frog / That's All Brother That's All / Thievin' Burro / Way Down Low - I Wish That I Said That / Smart Alec Crow / No Kids/Prairie Dog Lament / Deep Froggy Blues / Buffalo Gals - Comin' round The Mountian / Boss Of The Town / Magic Guitar
1998
CD CATTLE CCD 203 (GER)

SMILEY BURNETTE - GENTLE GENIUS OF COUNTRY MUSIC (1934-47) -

Swamp Woman Blues / Catfish, Take A Look At That Worm / Ten Gallon Hat / Foggy, Foggy Dew / Peg Leg Jack / Steamboat Bill / Down In The Cane Brake / Uncle Fraley's Formula / Hominy Grits / Do You Want My Heart / It's My Lazy Day / House Trailer Blues (Need A Woman 'Round Here) / That's Why I Am At This Bar Tonight (Previously Unissued) / I'm Not The Forgetting Kind (Previously Unissued) / Cool Water / He Was A Travelin' Man / Mama Don't Allow It (Mama Don't Like Music) / I'm A Stranger Here Myself; Lawyer Skinner / I Hope You're Having Fun Hurting Me / Uncle Noah's Ark (previously unissued duo with Gene AUTRY)
2004
CD BACM D 080 (UK)

COUNTRY SONGS & COMIC CUTS - Eye / Tonight's My Night To Howl / When A Country Girl Loves You / The Wooing Of Kitty McQueue / If I Thought I'd Make A Hit With You / Poor Baby / My Ring Eyed Pony / Harmonica Bill / The Rich Get Richer, The Poor Get Poorer / The Dentist Song / Hat Check Girl / It Ain't Much Help / Calleop / I Don't Like Work / Gordy The Little Pea Frog / Just Like A Rainbow After Rain
© Rocky Productions 26/11/2011