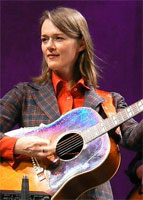 Chanteuse Country US originaire de Nashville (Tennessee).

Possessing a bright clear voice that combines the vulnerability of a young girl with the intelligence and resilience of a grown woman, Laura Cantrell burst onto the international music scene in 2000 with a debut album that showcased her affecting Vocalss, literate songwriting, and superb taste in musicians and fellow songwriters. Cantrell, however, had followed a rather unusual path to become one of the new favorites of Americana -- she moved from her home in Tennessee to New York City, studied law and accounting in college, and juggles a career in finance with her busy sidelines as a musician and disc jockey.
Laura Cantrell was born and raised in Nashville, Tennessee; her father was a lawyer (in time, he earned a seat with the Tennessee Court of Appeals), and she initially intended to follow suit. However, as a teenager she developed a keen interest in music, and before leaving Tennessee to attend Columbia University, she landed a summer job as a tour guide at the Country Music Hall of Fame. The job sparked an interest in classic country sounds of the '30s, '40s, and '50s, and while at Columbia she became involved in student radio, hosting a show in which she spun country sounds both old and new, as well as immersing herself in the alternative rock scene. Cantrell discovered she liked to sing, and began making occasional club appearances with her many musically inclined friends; she also made her recording debut in 1990, singing backup on a single by Bricks, a lo-fi collaboration between Mac McCaughan of Superchunk and Andrew Webster of Tsunami. Cantrell's interest in radio led to her landing her own show on New Jersey's WFMU-FM, one of America's best regarded free-form radio stations, and on Radio Thrift Shop Cantrell won a large and loyal audience playing classic country, folk, and singer/songwriter recordings as well as her favorite artists from New York's burgeoning alt-country scene.
In 1996, Cantrell released her first solo recording, a locally distributed EP called Hello; by this time, Cantrell was supporting her enthusiasm for music by working in the New York offices of Bank of America, where she rose to the position of Vice President of Equity Research (making her that rare musician who can actually understand an accounting statement from her record company). In 1999, Cantrell recorded her first album, Not the Tremblin' Kind, which was produced by Jay Sherman-Godfrey, a former member of New York-based honky tonk rockers the World Famous Blue Jays (whose leader, Jeremy Tepper, is also Cantrell's husband). Released by a small Scottish label, Spit & Polish Records, Not the Tremblin' Kind soon received a stack of rave reviews, most notably from legendary British disc jockey John Peel, who called it "my favorite record from the last ten years, and possibly my life." (Cantrell made five appearances on his BBC Radio program.) Tepper's "rig rock" label Diesel Only Records released the album stateside in 2000, and Cantrell quickly began balancing tour dates and recording sessions with her careers in finance and radio. (Cantrell, describing music as "insanely expensive," has yet to quit her day job, despite her growing success in music.)
Cantrell's second album, When the Roses Bloom Again, followed in 2002; to support its release, Cantrell toured Europe and the United States opening for another noted fan of her records, Elvis Costello. In 2004 she released The Hello Recordings, a five-song collection of demos, followed by the full-length J.D. Foster-produced Humming by the Flowered Vine in 2005, which was dedicated to the memory of John Peel. After touring in support of the album, Cantrell chose to spend her time child-rearing and performed only sporadically between 2006 and 2011, including a well-received performance at the Barbican Centre in London in 2008. Cantrell re-emerged in 2011 with the Mark Nevers-produced album Kitty Wells Dresses: Songs of the Queen of Country Music, a collection featuring one original and a slew of interpretations associated with Wells, who -- 91 years old at the time of the album's release -- was the oldest living member of the Country Music Hall of Fame.
Talents : Vocals, Guitar
Style musical : Contemporary Country / Neo-Traditionalist Country / Alternative/Indie Rock / Contemporary Singer/Songwriter / Alternative Singer/Songwriter

http://youtu.be/kifh6UOOZyo
Years in activity :
| | | | | | | | | | | |
| --- | --- | --- | --- | --- | --- | --- | --- | --- | --- | --- |
| 1910 | 20 | 30 | 40 | 50 | 60 | 70 | 80 | 90 | 2000 | 10 |
DISCOGRAPHY
EP
| | | | |
| --- | --- | --- | --- |
| 02/2000 | CD CONNECT PROMOTION & PRODUCTION ? (US) | | CONNECT SET - Letters / California Rose / Khaki & Corduroy / Bees / Lee Harvey Was A Friend Of Mine |
| 04/2003 | CD SPIT & POLISH 001 (UK) | | ALL THE SAME TO YOU - All The Same To You / When The Roses Bloom Again / High On A Hilltop |
| 07/2004 | CD SPIT & POLISH 7010 (UK) | | THE HELLO RECORDINGS - Cellar Door / Roll Truck Roll / No Place For Me / The Curse Of Hook Mountain / Lee Harvey Was A Friend Of Mine |
| 2008 | CD DIESEL ONLY ? (US) | | TRAINS AND BOATS AND PLANES |
Albums
10/2000
CD DIESEL ONLY DISL (US)
NOT THE TREMBLIN' KIND - Not The Tremblin' Kind / Little Bit Of You / Queen Of The Coast / Pile Of Woe / Two Seconds / Churches Off The Interstate / The Whiskey Makes You Sweeter / Do You Ever Think Of Me / Big Wheel / My Heart Goes Out To You / Somewhere, Some Night / The Way It Is
09/2002
CD DIESEL ONLY 7005 (US)
WHEN THE ROSES BLOOM AGAIN - Too Late For Tonight / All The Same To You / Early Years / Don't Break The Heart / Wait / Mountain Fern / Vaguest Idea / Yonder Comes A Freight Train / Broken Again / When The Roses Bloom Again / Conqueror's Song / Oh So Many Years
10/2004
CD EMUSIC LIVE (US)
LAURA CANTRELL LIVE AT SCHUBAS 6/7/03 - Dont Break The Heart / We'll Never Love Again / Wait / Vaguest Idea / Early Years / Mountain Fern / Churches Off The Interstate / Somewhere, Some Night (I'll Find My Baby) / Rainboy / Do You Ever Think Of Me / All The Same To You / When The Roses Bloom Again / Conquerer's Song / Not The Tremblin' Kind / Indoor Fireworks / Too Late For Tonight
06/2005
CD MATADOR 651 (US)
HUMMING BY THE FLOWERED VINE - 14th Street / What You Said / And Still / Khaki & Corduroy / Letters / California Rose / Wishful Thinking / Poor Ellen Smith / Bees / Old Downtown
07/2005
2 CD SPIT & POLISH 024 (UK)
WHEN THE ROSES BLOOM AGAIN / THE HELLO RECORDINGS :

CD 1 : Too Late For Tonight / All The Same To You / Early Years / Don't Break The Heart / Wait / Mountain Fern / Vaguest Idea / Yonder Comes A Freight Train / Broken Again / When The Roses Bloom Again / Conqueror's Song / Oh So Many Years
CD 2 : Cellar Door / Roll Truck Roll / No Place For Me / The Curse Of Hook Mountain / Lee Harvey Was A Friend Of Mine

05/2011
CD SPIT & POLISH SPIT039 (UK)
KITTY WELLS DRESSES - SONGS OF THE QUEEN OF COUNTRY MUSIC - Kitty Wells Dresses / I Don't Claim To Be An Angel / Poison In Your Heart / One By One / I Can't Tell My Heart / It Wasn't God Who Made Honky Tonk Angels / Making Believe / Amigo's Guitar / I Gave My Wedding Dress Away / Searching For A Soldier's Grave
01/2014
CD SPIT & POLISH SPIT 041 (UK)
No Way There from Here - All The Girls Are Complicated / Starry Skies / Letter She Sent / No Way There from Here / Glass Armour / Beg Or Borrow Days / Driving Down Your Street / When It Comes To You / Can't Wait / Barely Said A Thing / Washday Blues / Someday Sparrow
© Rocky Productions 31/01/2014