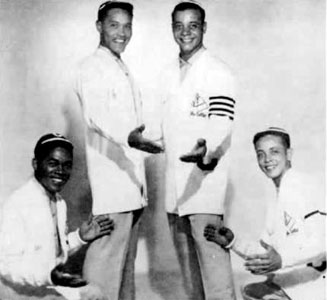 Groupe Doo Wop US de Bakersfield Californie). Les Colts étaient composé de Ruben Grundy (lead), Joe Grundy, Carl Moland et Leroy Smith.

The Colts are best remembered as the group who first recorded "Adorable," a classic doo wop tune subsequently covered by the Drifters, Little Caesar & the Romans and other Vocals groups. The Colts formed in the Mojave desert city of Bakersfield, CA, but commuted by car to L.A., where they attended classes at Los Angeles City College. The group -- Ruben Grundy, his brother Joe Grundy, Carl Morland, and Leroy Smith -- eventually caught the attention of music business veteran and impresario Samuel "Buck" Ram, who at the time was also managing the Platters and the Penguins. In August of 1955, the Colts were signed to Mambo Records in Los Angeles and shortly thereafter recorded "Adorable" and its flipside, "Lips Red As Wine." Just as the single (Mambo number 112) was about to hit retail outlets, however, Ram and the label's reps decided that the Mambo name might confuse some people and lead them to think that the label featured only Latino dance music, so the group was shifted over to the Vita label instead (Vita number 112).
Meanwhile, in New York, Atlantic Records' Ahmet Ertegun and Jerry Wexler had heard the Colts' "Adorable" and felt the song should be covered by their Drifters. It proved to be the perfect tune for the group (their first without celebrated lead vocalist, Clyde McPhatter, who by this time had just left the group). Aided by strong popularity on the West Coast, "Adorable" charted from late October into November before being overtaken in sales by the Drifters' version. In October 1955, the Colts made their very first performance at the 400 Club in San Diego, appeared on local TV shows, and closed out the year by appearing in a big R&B revue in Los Angeles, hosted by DJ Hunter Hancock.
In early 1956, the Colts' next single -- "Sweet Sixteen" b/w "Honey Bun" (written for them by Curtis Williams of the Penguins, the writer of "Earth Angel") -- was released (Vita number 121) and after their next single ("Never No More" b/w "Hey You Shoo-Be-Doo-Be" (Vita number 130), manager Ram moved the Colts over to Dot Records. Mickey Lynn, the wife of Johnny Otis Band singer Mel Williams, joined the group as a vocalist, but this lineup failed to produce any releases for Dot. In the summer of 1957, they released "Sheik of Araby" b/w "Guiding Angel" on Buck Ram's Antler label, but by now, Ram was concentrating on the worldwide success of the Platters. The Colts disbanded shortly thereafter.
By December of 1961, the song "Adorable" was still hot, when Little Caesar and the Romans recorded it for their only full-length LP, Those Oldies but Goodies (DFLP 1218) which features a fine version with Vocals by Carl Barnett.
Style musical : Doo Wop, Rhythm 'n' Blues
Years in activity :
| | | | | | | | | | | | |
| --- | --- | --- | --- | --- | --- | --- | --- | --- | --- | --- | --- |
| 1910 | 20 | 30 | 40 | 50 | 60 | 70 | 80 | 90 | 2000 | 10 | 20 |
DISCOGRAPHY
Singles
9/1955
SP MAMBO 112 (US)
Adorable / Lips Red As Wine
10/1955
SP VITA 112 (US)
Adorable / Lips Red As Wine
10/1955
SP VITA 114 (US)
Jackie

Kelso

& The

Colts

- Kwella Kwella / Rat A Rat
01/1956
SP VITA 121 (US)
Sweet Sixteen / Honey Bun
04/1956
SP VITA 130 (US)
Never No More / Hey You, Shoo Bee Ooh Bee
03/1957
SP ANTLER 4003 (US)
Shiek Of Araby / Never No More
05/1957
SP ANTLER 4007 (US)
Guiding Angel / Shiek Of Araby
1957
SP Spry 110 (US)
Ruben

Grundy

& The

Devilles Sisters -

Every Word / Sail Away
1958
SP ANTLER 4002 (US)
Oh When You Touch Me / I Never Knew
04/1959
SP Del-Co 4002 (US)

Oh, When You Touch Me (

Joe GRUNDY - The RED COATS)

/ I Never Knew (GRUNDY BROTHERS - The RED COATS)

05/1962
SP PLAZA P-505 (US)
Sweet Sixteen / Hey, Pretty Baby
1962
SP PLAZA P-505 (US)
Sweet Sixteen /

Lips Red As Wine

1965
SP OLDIES 45 OL 328
Sweet Sixteen / Adorable
© Rocky Productions 7/04/2016