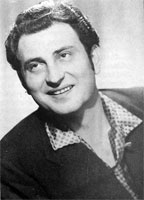 Chanteur Country US né Howard Elton Hausey, le 25 Décembre 1925 à Minden (Louisiane). Howard Crockett est mort le 27 Décembre 1994 à Fort Worth (Texas).

Howard Crockett was born Howard Elton Hausey on Christmas Day of 1925 in northern Louisiana. As a child, Howard showed promise as a baseball player and was even scouted by professional teams, but an arm injury cut his career short. Following a spell in the Navy, Crockett began pursuing a musical career, writing songs. His career kicked into gear when he attended the Louisiana Hayride around 1956, where he met Johnny Horton. The singer took a liking to Howard's original "Honky Tonk Man," purchasing a third of the rights from Howard, with another third going to Horton's manager, Tillman Franks, and then Horton recorded the song, having a major hit with the tune and helping establish the tune as a country standard. (According to the liner notes by Claes Håken Olofsson, Bo Berglind, and Colin Escott for Bear Family's 2007's set Out of Bounds, Crockett also claims to have written "One Woman Man," but Franks states he wrote it with Horton.)
Following the success of "Honky Tonk Man," Howard Hausey relocated to Fort Worth, TX, and he began playing on the local Dallas show The Big D Jamboree, while Horton continued to cut some of his songs. Mac Wiseman then signed Howard to Dot Records, encouraging the singer to adopt Crockett as a surname. Crockett's first single for Dot, "If You'll Let Me"/"You've Got Me Lyin'," featured pianist Floyd Cramer, guitarist Chet Atkins, and the Jordanaires as supporting vocalists, and appeared in 1957. The next year, "Branded"/"Night Rider" was released. During the late '50s, Crockett regularly played the Louisiana Hayride with his band the Night Riders, while continuing to write for Horton, giving him such tunes as "All Grown Up" and "Whispering Pines."
Sometime in 1958, Dot dropped Crockett and he moved to the local Fort Worth imprint Manco, in 1959 releasing "Sleufoot the Bear," a song that Horton cut the next year as "Slew Foot." Two more singles followed for Manco in the next year, then in 1961 he signed with Smash, where he released three singles, all to no success. Crockett then moved to Motown's country subsidiary, Mel-O-Dy, where he released sides that emphasized his Vocals similarities to Johnny Cash, but these too did not garner much attention. As the '60s gave way to the '70s, Crockett's career continued to stall — partially due to his own resistance to cut deals (according to the Bear Family liner notes, he refused to deal with Hanna-Barbera in adapting his song "The Story of Bango" into a TV series), and partially due to bad breaks. He faded into the local Texas scene in the '70s, retiring from the music business. He died on December 27, 1994, from cancer.
Talents : Vocals
Style musical : Honky Tonk, Rockabilly, Traditional Country
Years in activity :
| | | | | | | | | | | | |
| --- | --- | --- | --- | --- | --- | --- | --- | --- | --- | --- | --- |
| 1910 | 20 | 30 | 40 | 50 | 60 | 70 | 80 | 90 | 2000 | 10 | 20 |
DISCOGRAPHY
Singles & EP
| | | | |
| --- | --- | --- | --- |
| 06/1957 | SP DOT 45-15593 (US) | . | If You'll Let Me / You've Got Me Lyin' |
| 03/1958 | SP DOT 45-15701 (US) | . | Night Rider / Branded |
| 06/1958 | SP SOLAR 500 (US) | . | Howard CROCKETT & The PLAINS MEN - Trudy Brown / Seven Cards From Now |
| 01/1959 | SP HAMILTON 50024 (US) | . | I Love This Girl / Seven Cards From Now |
| 1959 | SP ROSINA 149 (US) | . | Seven Cards From Now / Honky Tonk Man |
| 1959 | EP DIXIE 538 (US) | | ? / ? / ? / I Ain't Never (?) / Johnny Reb (Howard CROCKETT) / I Got Stripes (Howard CROCKETT) |
| 06/1960 | SP MANCO ML-1002 (US) | . | Sluefoot The Bear / Polly Ann |
| 01/1961 | SP MANCO ML-1012 (US) | . | Streamboat Bill / That Old Jukebox |
| 1961 | SP MANCO ML-1023 (US) | . | Just A Poor Man / I've Got You Married, Too |
| 11/1961 | SP SMASH S-1721 (US) | . | Deep Elm Dave / Going Down To Soldiers |
| 04/1962 | SP SMASH S-1750 (US) | . | Out Of Bounds Again / Break Away Billy Boy |
| 10/1962 | SP SMASH S-1782 (US) | . | Jessie And The Glendale Train / Trail Of Tears |
| 12/1963 | SP MEL-O-DY M-109 (US) | . | That Silver-Haired Daddy Daddy Of Mine / Big Wheel |
| 04/1964 | SP MEL-O-DY M-111 (US) | . | I've Been A Long Time Leaving / Bringing In The Gold |
| 09/1964 | SP MEL-O-DY M-115 (US) | . | My Lil's Run Off / Spanish Lace & Memories |
| 12/1964 | SP MEL-O-DY M-119 (US) | . | The Miles / Put Me In Your Pocket |
| 04/1965 | SP MEL-O-DY M-121 (US) | . | The Great Titanic / All The Good Times Are Gone |
| 1965 | SP BROWNFIELD BF 26 (US) | . | If Someone Must Go / The Times |
| 1966 | SP BROWNFIELD BF 32 (US) | . | Green Green Fire / The High Roller |
| 1966 | SP STAR-GO SG 100 (US) | . | I Can't Cry The Same Tears Twice / To Be Remembered By You |
| 1966 | SP SOFT S 777 (US) | . | Honky Tonk Man / That Old Jukebox |
| 10/1967 | SP STOP ST-128 (US) | . | It's Hard To Hang On To What / I Can't Cry The Same Old Tears Twice |
| 12/1967 | SP STOP ST-136 (US) | . | Big Cat / You Messing Up My Mind |
| 04/1968 | SP STOP ST-172 (US) | . | Big Day / You Can't Get Around To 'Em All |
| 09/1968 | SP STOP ST-210 (US) | . | Soap And Water / A Man With No Face |
| 12/1968 | SP STOP ST-238 (US) | . | Where Were You (When The Lights Went Out) / The Story Of Bango |
| 02/1969 | SP STOP ST-250 (US) | . | Ask Little Brother / Law Says |
| 1970 | SP CHARAY C-23 (US) | . | Strike A Match / That Old Jukebox |
| 08/1970 | SP CHARAY C-23 (US) | . | What Is Truth With The Word / Star |
| 1970 | SP CHARAY C-23 (US) | . | Cross Eyed Mary / Strike A Match |
| 1970 | SP CHARAY C-23 (US) | . | Star / Cross-Eyed Mary |
| 1970 | SP CHARAY C-23 (US) | . | That Old Jukebox / Cross Eyed Mary |
| 1970 | SP CHARAY C-23 (US) | . | Right Words / Strike A Match |
| 1970 | SP CHARAY C-23 (US) | . | Friendly Man / Strike A Match |
| 1970 | SP HAPPY TIGER 549 (US) | . | Star / Word |
| 1970 | SP BLACKFOOT 01/02 (US) | . | Hit And Run Years / Whispering Pines |
| 1971 | SP BLACKFOOT 004 (US) | . | Battle Of New Orleans / Bonnie Tree |
| 1971 | SP BLACKFOOT CL-101 (US) | . | Soap And Water / The Law And Me |
| 1971 | SP BLACKFOOT CL-102 (US) | . | Wine-O From Chicago / Woman On My Mind |
| 1973 | SP AMERICA 3112 (US) | . | Last Will And Testimony (Of A Drinking Man) / The House Where Momma Lived |
| 197? | SP AMERICA AM 7000 (US) | . | Town Drunk / The Story Of Bango |
| 03/1973 | SP DOT DOA-17457 (US) | . | Last Will And Testimony (Of A Drinking Man) / The House Where Momma Lived |
| 10/1973 | SP DOT DOA-17482 (US) | . | I Feel More Like Myself Than I Did A While Ago / I'd Like To Be Everybody For Just One Day |
| 06/1974 | SP DOT DOA-17509 (US) | . | Pictures And Memories / The Calling |
| 1975 | SP TEXAS INT. 101 (US) | . | The Battle Of New Orleans / Anywhere The Lovelight Shines |
| 1976 | SP TEXAS INT. 104 (US) | . | My Day In Court (I Hate Dogs) / I Make It All Up To You |
| 1976 | SP TEXAS INT. 105 (US) | . | Old Half And Half / Only The Bad Things |
| 1977 | SP TEXAS INT. TIR-106 (US) | . | That Old Jukebox / Sour Mash Whiskey And Red Texas |
| 08/1977 | SP OAKRIDGE ? (US) | . | Bonnie Tree / You Can't Get Around To 'Em All Jack |
| 1978 | SP TEXAS INT. 107 (US) | . | Cheatin' Is Such A Common Thing / Touchin' Kind Of Love |
| 1980 | SP TITANIC 80-121 (US) | . | Howard CROCKETT & Julius CURB - Titanic / Elvira |
| 1990 | SP NEON FIRE 27695 (US) | . | Make Me Understand / Sunday Morning |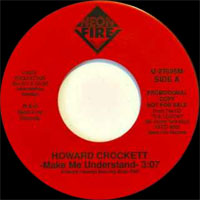 Albums
| | | | |
| --- | --- | --- | --- |
| 1966 | LP 12" BROWNFIELD BFLP-1001 (US) | | THE MANY MOODS OF THE MYSTERIOUS HOWARD CROCKETT - Tall Man / Count The Many Ways / All For The Love Of A Girl / Folsom Prison Blues / Honky-Tonk Man / Gonna Find Me A Bluebird / I'd Like To Be Everybody For Just One Day / All Grown Up / Am I Losing You / Ring Of Fire / Slue-Foot / Mr. Heartache / If Someone Must Go / The Times / Green, Green Fire / High Roller |
| 1970 | LP 12" CHARAY 1001 (US) | | HOWARD CROCKETT - Anywhere The Lovelight Shines / The Battle Of New Orleans / I Can't Cry The Same Tears Twice / Man With No Face / Titanic / Where Were You / Whispering Pines / Hit And Run Years / Friendly Man / Right Words |
| 1976 | LP 12" TEXAS INT. LP-103 (US) | | SOUR MASH WHISKEY AND RED TEXAS WINE - My Day In Court (I Hate Dogs) / Marriage Made In Heaven (Divorce Made In Hell) / Sour Mash Whiskey And Red Texas Wine / Some Monday Morning / Girl Next Door / Sleu-Foot / Like My Old Man (Before Me) / Traveling With My Mind / I Saw The Light / Mathilda / Will The Circle Be Unbroken |
| 1977 | LP 12" CCL 1143 (NL) | | ROCKIN' ROLLIN' CROCKETT FROM THE LONE STAR STATE - Cross Eyed Mary; Your Messing Up My Mind; I Love This Girl; Wine-O From Chicago; The Great Titanic; If Somebody Must Go; Branded; Night Rider; Honky Tonk Man; Slufoot The Bear; Steamboat Bill; Strike A Match; Soap And Water; Woman On Mind; That Old Jukebox; Man With No Face |
| 1990 | CD NEON FIRE NFCD-9002 (US) | | THE LEGEND - MR. HONKY TONK MAN - I Feel More Like Myself / Make Me Undestand / Love Thy Neighbor / Last Will And Testimony Of A Drinking Man / Honky Tonk Man / Bad Years For Losers / Sunday Morning / When I Grow Too Old / Nine Miles Of Bad Road / Daddy Poured The Wine / You Can't Get Around 'Em All / Honey I Got A Feelin' / Cajun Fever / Big Day / I Wanna Go Back / Mountain |
| 1995 | CD BEST BBR-01 (SWE) | | MR. HONKY TONK MAN SINGS MY LIL'S RUN OFF - You've Got Me Lyin' / If You'll Tell Me / Branded / Night Rider / I Love This Girl / Steamboat Bill / Deep Elm Dave / Going Down To Soldiers / Out Of Bounds Again / Break Away Billy Boy / Jesse And The Glendale Train / Trail Of Tears / My Lil's Run Off / Natural Man / Country Teaching / Love Ain't Straight / I'll Take You To The Mountain / Love Your Sins Away / Forever And A Day |
| 11/2007 | CD BEAR FAMILY BCD 16794 (GER) | | OUT OF BOUNDS - Break Away Billy Boy / Deep Elm Dave / Trail Of Tears / Jessie And The Glendale Train / If You'll Let Me / Tell Me Why / I Love This Girl / Steamboat Bill / The Ballad Of Thunder Road / Please Answer The Phone / Out Of Bounds Again / The Great Titanic / Going Down To Soldier / You've Got Me Lyin' / I'm Gonna Try Again / Where Did My Baby Go / Branded / Night Rider / Honky Tonk Man / All Grown Up / Sleufoot The Bear / Johnny Reb / I Got Stripes / That Old Jukebox / Just A Poor Man / I've Got You Worried Too / Seven Cards from Now / Polly Ann / Dunkerque / Jessie And The Glendale Train / Sugar Coated Baby / You've Got Me Lyin' / Untamed Heart / If You'll Let Me / Truddy Brown / Seven Cards From Now / Truddy Brown / Seven Cards From Now |
© Rocky Productions 24/10/2009