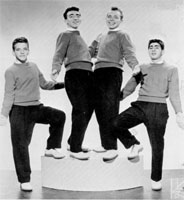 Groupe Doo Wop US originaire de Philadelphie (Massachusetts). Danny And The Juniors a été fondé en 1955 par Danny Rapp (né le 9 Mai 1941) avec des étudiants comme lui. Ils firent leurs premières armes dans les soirées et les "rallies" organisés dans les écoles. Remarqué par Artie Singer, ils enregistrèrent dès 1957 pour Singular Records. Danny And The Juniors ont constitué l'un des principaux groupes de Doo Wop blanc avec les Belmonts de Dion. Ils se sont séparés en 1964. Danny Rapp est décédé le 5 Avril 1983 à Parker (Arizona).

Danny & the Juniors shot straight to the top of the charts in early 1958 with their biggest hit ever, the gold-selling "At the Hop" (penned by the songwriting team of Dave White and John Madara), though they reached the charts again with eight more singles through 1963, notably the Top 40 charters "Rock and Roll Is Here to Stay," "Dottie," and "Twistin' U.S.A."
Danny Rapp, Frank Maffei, Joe Terranova, and Dave White Tricker (aka Dave White) were four Philadelphia high school friends — all were born in 1940 or 1941 — who formed an atypical late-'50s rock & roll dance combo, originally calling themselves the Juvenairs. Rapp — the group's leader — choreographed their dance steps and invented the routines that they performed during their sets. After playing after-school gigs and local shows as a foursome for a while, they later added saxophonist Lennie Baker to the lineup.
While still in high school in late 1957, they were working a record hop as the intermission entertainment, when a local businessman named John Madara spotted the band. Madara had an interest in rock & roll promotion and introduced them to a local songwriter and Vocals coach named Artie Singer, who also ran his own label, Singular Records.
https://en.wikipedia.org/wiki/Danny_%26_the_Juniors
Talents : Danny Rapp : Lead Tenor - Frank Maffei : Second Tenor - Joe Terranova : Baritone , Bass - Dave White Tricker : Tenor
Style musical : Doo Wop, Rock 'n' Roll

http://youtu.be/U3KjDpvmtwU
Years in activity :
| | | | | | | | | | | | |
| --- | --- | --- | --- | --- | --- | --- | --- | --- | --- | --- | --- |
| 1910 | 20 | 30 | 40 | 50 | 60 | 70 | 80 | 90 | 2000 | 10 | 20 |
DISCOGRAPHY
Singles & EP
| | | | |
| --- | --- | --- | --- |
| 1957 | SP SINGULAR S-569 (US) | . | Rock And Roll Is Here To Stay / School Boy Romance |
| 1957 | SP SINGULAR S-711 (US) | . | At The Hop / Sometimes |
| 11/1957 | SP ABC-PARAMOUNT 45-9871 (US) | . | At The Hop / Sometimes |
| 02/1958 | SP ABC-PARAMOUNT 45-9888 (US) | . | Rock And Roll Is Here To Stay / School Boy Romance |
| 05/1958 | SP ABC-PARAMOUNT 45-9926 (US) | . | Dottie / In The Meantime |
| 12/1958 | SP ABC-PARAMOUNT 45-9953 (US) | . | A Thief / Crazy Cave |
| 12/1958 | SP ABC-PARAMOUNT 45-9978 (US) | . | Sassy Fran / I Feel So Lonely |
| 1958 | EP KARUSELL KSEP 3102 (SWE) | | At The Hop / Rock And Roll Is Here To Stay / Sometimes / School Boy Romance |
| 03/1959 | SP ABC-PARAMOUNT 45-10004 (US) | . | Do You Love Me / Somehow I Can't Forget |
| 09/1959 | SP ABC-PARAMOUNT 45-10052 (US) | . | Playing Hard To Get / Of Love |
| 08/1960 | SP SWAN 4060 (US) | . | Twistin' USA / A Thousand Miles Away |
| 11/1960 | SP SWAN 4064 (US) | | Candy Cane, Sugary Plum / Oh, Holy Night |
| 02/1961 | SP SWAN 4068 (US) | . | Daydreamer / Pony Express |
| 04/1961 | SP SWAN 4072 (US) | . | Cha Cha Go Go / Mister Whisper |
| 09/1961 | SP SWAN 4082 (US) | . | The Charleston Fish / Back To The Hop |
| 09/1961 | SP SWAN 4084 (US) | . | Just Because / Your Hair's Too Long |
| 11/1961 | SP SWAN 4092 (US) | . | Twistin' All Night Long / Some Kind Of Nut |
| 03/1962 | SP SWAN 4100 (US) | . | Doin' The Continental Walk / (Do The) Mashed Potatoes |
| 07/1962 | SP SWAN 4113 (US) | . | We Got Soul / Funny |
| 12/1962 | SP GUYDEN 2076 (US) | . | Oo-La-La-Limbo / Now And Then |
| 1964 | SP MERCURY 72240 (US) | . | Let's Go Skiing / Sad girl |
| 1968 | SP LUB 252 (US) | . | Rock And Roll Is Here To Stay / Sometimes |
| 1968 | SP RONN 24 (US) | . | I Can't See Nobody / Mo' Reen |
| 1973 | SP CRUNCH 18001 (US) | . | Let The Good Time Roll / At The Hop |
| 1973 | SP ROULETTE GG-121 (US) | . | At The Hop / Rock And Roll Is Here To Stay |
| 1973 | SP EMI ELECTROLA 1C 006-93 839 (GER) | | |
| 1973 | SP GOLDIES 45 D-2411 (US) | . | At The Hop / Rock And Roll Is Here To Stay |
| 06/1976 | SP ABC ABC 4123 (UK) | | At The Hop / Rock And Roll Is Here To Stay |
| 1976 | SP MCA 101.784 (NL) | | At The Hop / Rock And Roll Is Here To Stay |
| 07/1982 | SP OLD GOLD OG 9215 (UK) | | At The Hop / Rock And Roll Is Here To Stay |
| 198? | SP MAYBELLENE ? (Picture Disc) (SWE) | | At The Hop / ? |
| 1991 | SP COLLECTABLES COL 3723 (US) | . | Sometimes (When I'm All Alone) / I Feel So Lonely |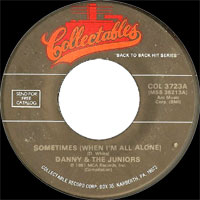 Albums
| | | | |
| --- | --- | --- | --- |
| 197? | LP 12" SINGULAR 569 (US) | | ROCK AND ROLL IS HERE TO STAY - Rock And Roll Is Here To Stay / Dottie / At The Hop / Crazy Cave / Playing Hard To Get / School Boy Romance / Twistin' U.S.A. / Pony Express / Back To The Hop / The Charleston Fish / Some Kind Of Nut / Twistin' All Night Long / Do The Mashed Potatoes / When The Saints Go Twistin' In / Mister Whisper / Tallahassee Lassie |
| 1983 | CD MCA MCAD-31060 (US) | | ROCKIN' WITH DANNY & THE JUNIORS - Rock & Roll Is Here To Stay / Dottie / Schoolboy Romance / Playing Hard To Get / Crazy Cave / At The Hop / In The Meantime / Sassy Fran / I Feel So Lonely / Somehow I Can't Forget |
| 1992 | CD ROLLERCOASTER 3005 (UK) | | BACK TO THE HOP - THE SWAN RECORDINGS 1960-1962 - Back To The Hop [overdub] / Twistin' England [overdub] / Pony Express [overdub] / Let's Stomp Again [take 3] / Doin' The Continental Walk [take 1] / Twistin' USA [overdub] / Tallahassee Lassie [overdub] / Thousand Miles Away / Your Hair's Too Long [overdub] / Funny [take 9] / Some Kind Of Nut [overdub] / Daydreamer [take 2] / Down I Go / Oh Holy Night [overdub] / Candy Cane Sugary Plum [overdub] / Cha Cha Go Go [overdub] / Cathedral Bells [take 2] / Twistin' Germany [overdub] / Twistin' Italy [overdub] / Back To The Hop / Doin' The Continental Walk / Do The Mashed Potatoes [overdub] / Just Because [take 2] / Medley: The Twist - Mother's Club Twist [take 5] / When The Saints Go Twistin' In [take 1] / Twistin' All Night Long [overdub] (with Freddy CANNON) / Together You And I / Doin' The Continental Walk [take 1] (Roy BUCHANAN, DANNY & The JUNIORS, Frank SLAY ORCHESTRA) / Doin' The Continental Walk [take 10] (Roy BUCHANAN, DANNY & The JUNIORS, Frank SLAY ORCHESTRA) / Do The Mashed Potatoes [overdub] (DANNY & The JUNIORS, Frank SLAY ORCHESTRA) / Funny [take 9] - (DANNY & The JUNIORS, Frank SLAY ORCHESTRA) / Let's Stomp Again [take 3] (DANNY & The JUNIORS, Frank SLAY ORCHESTRA) / We Got Soul [overdub] (DANNY & The JUNIORS, Frank SLAY ORCHESTRA) / Together You And I (with Joe TERRY) |
| 1994 | CD POINT CD 16280 (SWE) | | ROCKIN' WITH DANNY & THE JUNIORS - At The Hop / Sometimes / Rock And Roll Is Here To Stay / School Boy Romance / In The Meantime / Dottie / Crazy Cave / Sassy Fran / I Feel So Lonely / Somehow I Can't Forget / Playing Hard To Get / Twistin' USA / A Thousand Miles Away / Oh Holy Night / Pony Express / Daydreamer / Cha Cha Go Go / Back To The Hop / Twistin' All Night Long [with Freddy CANNON] / Some Kind Of Nut / Doin' The Continental Walk / Do The Mashed Potatoes / Funny / Just Because / Your Hair Is Too Long / Tallahassee Lassie / When The Saints Go Marching In / Candy Cane Sugary Plum / Charleston Fish / Mister Whisper |
| 04/1997 | CD COLLECTABLES 5670 (US) | | GOLDEN CLASSICS EDITION - At The Hop / Sometimes (When I'm All Alone) / Rock And Roll Is Here To Stay / School Boy Romance / Dottie / In The Meantime / Crazy Cave / A Thief / I Feel So Lonely / Sassy Fran / Do You Love Me? / Somehow I Can't Forget / Playing Hard To Get / Of Love / Back To The Hop / Pony Express / Twistin' USA / A Thousand Miles Away / Funny / Twistin' All Night Long |
| 07/2001 | CD STREET GOLD 47935 (US) | | FOR COOL GRANDKIDS EVERYWHERE - Mary Had A Little Lamb / Let's All Sing A Nursery Rhyme / Zip A Dee Doo Dah / Pony Express / Little Star / Little Skididdle / Twistin' USA / Hand Jive / Hushabye / At The Hop / Here Comes Fonzi / At The Fair / Rock And Roll Is Here To Stay / Over The Rainbow / Rock Keeps Rollin' |
| 2011 | CD NOVA 14678 (US) | | WE'RE FOREVER & EVER & EVER YOURS - Do You Tell Her That You Love Her / House On Fire / Lonely Since I Lost You / Jivin' / Sometimes / Whisper To The Wind / My Way / Angelina / Al Gorgoni / Did You Boogie (With Your Baby) / I Believe - Climb Every Mountain / The Rock Keeps Rollin' |
© Rocky Productions 23/12/2012