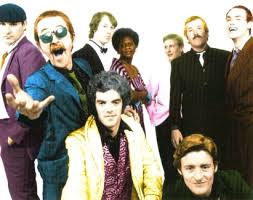 Groupe Rock 'n' Roll Britannique fondé en 1976 et comprenant Rita Ray (née Lydia Sowa le 11 Décembre 1954 au Ghana), Den Hegarty (né Denis Hegarty le 13 Septembre 1954 à Dublin), Griff Fender (né Ian Collier le 3 Juin 1954 à Portsmouth, Hampshire), Bob Fish, (né Robert Fish le 3 Juin 1949, Rochford, Essex), Horatio Hornblower (né Nigel Trubridge le 15 Janvier 1957 à Brighton, Sussex), Thump Thomson (né Iain Thomson le 11 Juin 1946 à Aberdeen, Aberdeenshire, Scotland), John Dummer (né le 19 Novembre 1944 à Surbiton, Surrey), George Currie (né le 14 Janvier 1950 à Dundee, Scotland) et Hammy Howell (né William Howell le 24 Octobre 1954 à Wimbledon, London - décédé le 13 Janvier 1999).

British Rock 'n' Roo group founded in 1976, by Den Hegarty along with Griff Fender, Rita Ray and Horatio Hornblower, all former members of the band Rocky Sharpe and the Razors. Joining the band was Thump Thompson, George Currie and John Dummer, all ex members of the John Dummer's Blues Band. The line-up was completed by Hammy Howell and ex Mickey Jupp singer Bob Fish. They built up a large following playing clubs and universities, although their break came after they appeared on the Charlie Gillet's show on BBC Radio London in October 1976. This secured the band a recording contract with Magnet Records, where they were teamed up with record producer Tommy Boyce who had previously produced The Monkees. Covering 1950s rock and roll hits they scored their first UK hit in December 1977 with a medley of "Daddy Cool" (originally a U.S. 1957 hit for The Rays) and Little Richard's 1957 hit "The Girl Can't Help It". More cover versions followed in 1978 with "Come Back My Love" (originally recorded by U.S. R&B group The Wrens in 1955), "The Boy from New York City" (originally a U.S. hit for The Ad Libs in 1965). Their next single of 1978 was an original song "It's Raining" written by band member Griff Fender (real name Ian Collier). All three of the aforementioned hits reached number 2 in the UK Singles Chart and sold a combined total of 1.25 million copies.
Following "It's Raining" in September 1978, Hegarty left the band to tend to his terminally ill father, and he was replaced by Kenny Andrews. Their final hit of 1978 was "Don't Let It Fade Away" (written by George Currie). "Get It" (written by Horatio Hornblower, under his real name Nigel Trubridge), followed in early 1979 and they also covered Gene Chandler's U.S. 1962 hit "Duke of Earl", produced by former Wizzard frontman Roy Wood. This was their last UK Top 10 hit, their only other sizeable hit coming in 1980 with a cover of The Four Seasons "Let's Hang On!". During the year, the line-up changed with Currie, Fish and Dummer leaving the band. Duncan Kerr (guitar) and Keith Gotheridge (drums), both formerly with Plummet Airlines joined, and ex-Mud guitarist Rob Davis briefly joined the band, before moving into songwriting and production work. By the end of 1980 their hits had dried up and in 1983 they began to do theatre work appearing in the theatre production of Yakety Yak.
In 1981, Hegarty became a television presenter, most notably on children's programme, Tiswas. In 1985 Fender and Ray managed and produced the UK a cappella girl group The Mint Juleps who scored two minor chart entries with "Only Love Can Break Your Heart" (originally by Neil Young) in 1986 and "Every Kinda People" (originally by Robert Palmer) in 1987.
The band is still in the Top 500 selling list according to the Guinness Book of British Hit Singles.
The band reformed in 2006 for occasional appearances, which continue to draw a strong following and consistently sell out.
https://en.wikipedia.org/wiki/Darts_(band)
Talents : Rita Ray : Vocals - Den Hegarty : Vocals - Griff Fender : Vocals - Bob Fish : Vocals - Horatio Hornblower : Saxophone - Thump Thomson : Bass Guitar - John Dummer : Drums - George Currie : Lead Guitar - Hammy Howell : Piano
Style musical : Rock 'n' Roll, Doo Wop

http://youtu.be/Z8C4vNjDaSo
Years in activity :
| | | | | | | | | | | | |
| --- | --- | --- | --- | --- | --- | --- | --- | --- | --- | --- | --- |
| 1910 | 20 | 30 | 40 | 50 | 60 | 70 | 80 | 90 | 2000 | 10 | 20 |
DISCOGRAPHY
Singles, Maxi & EP
10/1977
EP MAGNET MAG 100 (UK)
Daddy Cool - The Girl Can't Help It / Medley Excerpts: Zing Went The Strings Of My Heart / Come Back My Love / Stay Away (From Them Girls) / Sh-Boom (Life Could Be A Dream) / Shotgun
1977
EP MAGNET 006 EVC 60040 (GER)
Daddy Cool - The Girl Can't Help It / Medley Excerpts: Zing Went The Strings Of My Heart / Come Back My Love / Stay Away (From Them Girls) / Sh-Boom (Life Could Be A Dream) / Shotgun
1977
SP MAGNET MAG 110 (UK)
Come Back My Love / Naff Off
1977
SP CRYSTAL SCHALLPLATTEN 006 CRY 60 504 (GER)
Come Back My Love / Naff Off
1977
SP MAGNET 4C 006-60504 (B)
Come Back My Love / Naff Off
1977
SP POLSKIE NAGRANIA MUZA SS 717 (POL)
.

Love Bandit / At My Front Door

04/1978
SP MAGNET MAG 116 (UK)
The Boy From New York City / Bones
07/1978
SP MAGNET MAG 126 (UK)
It's Raining / Messing Shoe Blues
1978
SP MAGNET 5C 006-61448 (NL)
It's Raining / Messing Shoe Blues
1978
SP POLYDOR PD 14518 (US)
.
It's Raining / Naff Off
11/1978
SP MAGNET MAG 134 (UK)
Don't Let It Fade Away / Early In The Morning
1978
SP MAGNET 5C 006-61967 (NL)
Don't Let It Fade Away / Early In The Morning
1978
SP REFLEJO 10 C 006-060.530 (SP)

Daddy Cool - The Girl Can't Help It / Shotgun

1978
EP JUGOTON SMAG 88958 (YOU)
Daddy Cool - The Girl Can't Help It / Medley Excerpts: Zing Went The Strings Of My Heart / Come Back My Love / Stay Away (From Them Girls) / Sh-Boom (Life Could Be A Dream) / Shotgun
01/1979
SP MAGNET MAG 140 (UK)
Get It / How Many Nights
07/1979
SP MAGNET MAG 147 (UK)
Duke Of Earl / I've Got To Have My Way
1979
SP CRYSTAL SCHALLPLATTEN 006 CRY 63 006 (GER)
Duke Of Earl / I've Got To Have My Way
09/1979
SP MAGNET MAG 156 (UK)
Can't Get Enough Of Your Love / Don't Say Yes
11/1979
SP MAGNET MAG 160 (UK)
Reet Petite / Honey Bee
05/1980
SP MAGNET MAG 174 (UK)
Let's Hang On / Cairoli
08/1980
SP MAGNET MAG 179 (UK)

Peaches / D.I.Y. Heartache
11/1980
SP MAGNET MAG 184 (UK)
White Christmas / Sh-Boom (Life Could Be A Dream) / Don't Say Yes
12/1980
SP DISCOMATE DSP-209 (JAP)
White Christmas / Sh-Boom (Life Could Be A Dream)
1980
MAXI PEERLESS MX-0034 (MEX)

Duke Of Earl /

Daddy Cool - The Girl Can't Help It

/

Sh-Boom (Life Could Be A Dream)
06/1981
SP MAGNET MAG 203 (UK)
.
Jump Children, Jump / Green For Go
1981
SP DISCOMATE DSP-213 (JAP)
Daddy Cool - The Girl Can't Help It

/ Too Hot In The Kitchen

1981
SP MAGNET MAG 305 (UK)
.
Come Back My Love

/ The Boy From New York City

12/1981
SP DISCOMATE DSS-13 (JAP)

DARTS AND ABBA - White Christmas / Happy New Year

1983
SP CHOICE CUTS PIG 901 (UK)
.
The Mystery Of Ragoula / 125
07/1983
SP CHOICE CUTS PIG 902 (UK)
Lorraine / Big Fat Girls (inst.)
1983
EP CHOICE CUTS PIG 903 (UK)
YAKETY YAK - FOUR GREAT SONGS FROM THE SHOW - Destination Love / One Bad Stud / Shoppin' For Clothes / Ruby Baby
1984
Mini Album SCOOP 33 7SR 5046 (UK)
DARTS - The Boy From New York City / My True Story / Get It / Sh-Boom (Life Could Be A Dream) / Late Last Night / Don't Let It Fade Away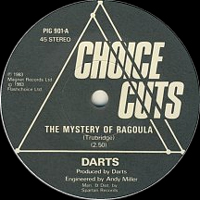 Albums
1977
LP 12" MAGNET MAG5020 (UK)
DARTS - Daddy Cool - The Girl Can't Help It / Young Blood / Too Hot In The Kitchen / Sometime Lately / Zing Went The Strings Of My Heart / Shotgun / Come Back My Love / Bells In My Heart / Sh-Boom (Life Could Be A Dream) / Stay Away (From The Girls) / I'm Mad - Fancy Man - Framed - Riot In Cell Block No. 9 - Trouble
1978
LP 12" K-TEL DLP-7981 (UK)
THE AMAZING DARTS - Daddy Cool - The Girl Can't Help It / Bells In My Heart / Sh-Boom (Life Could Be A Dream) / Late Last Night / Bones / Stay Away (From Them Girls) / My Friends Wife / Come Back My Love / Hammy's Boogie / I'm Mad - Fancy Man/Framed Riot In Cell Block No.9 - Trouble / The Boy From New York City / Who's That Knocking? / Zing Went The Strings Of My Heart / Sometime Lately / It's Raining / Shotgun / Messing Shoe Blues / Naff Off / Make It / I Gotta Go Home
1978
LP 12" MAGNET MAG5022 (UK)
EVERYONE PLAYS DARTS - The Boy From New York City / Honey Love / My Friend's Wife / It's Raining / Make It / Hammy's Boogie / Who's That Knocking? / My True Story / Late For Work / Bones / Late Last Night / I Gotta Go Home / Why I Cry
07/1979
LP 12" MAGNET MAG5030 (UK)
DART ATTACK - Duke Of Earl / Runaround / Don't Say Yes / Cuckoo / One Off The Wrists / Cool Jerk / Don't Hang Up / Honey Bee / Can't Get Enough Of Your Love / Reet Petite / Don't Mess Around With Love / Don't Look Back / This Is The Night / Goodbye Brenda
02/1980
LP 12" POLYDOR PD-1-6250 (UK)
DARTS - Get It / Don't Say Yes / Cool Jerk / Don't Look Back / Don't Let It Fade Away / Can't Get Enough Of Your Love / Duke Of Earl / Bells In My Heart / Daddy Cool-The Girl Can't Help It / It's Raining / One Off The Wrists
1981
LP 12" KAT FAMILY JW 37356 (US)
ACROSS AMERICA - Think / Reach Out, I'll Be There / Peaches / Speedo / Cover To Cover / Sad And Lonely / Let's Hang On / False Alarm / Hit And Run / Show Me - Do You Love Me
1981
LP 12" DISCOMATE DSP-8005 (JAP)
DOO-WOP DARTS - Come Back My Love / Zing Went The Strings Of My Heart / Runaround / It's Raining / Daddy Cool - The Girl Can't Help It / Sh-Boom (Life Could Be A Dream) /White Christmas / Duke Of Earl / Honey Love / The Boy From New York City / Late Last Night / Can't Get Enough Of Your Love / This Is The Night / Goodbye Brenda
1987
CD OBJECT ENTERPRISES OR0024 (UK)
20 OF THE BEST - Daddy Cool - The Girl Can't Help It / Come Back My Love / It's Raining / Can't Get Enough Of Your Love / Peaches / Don't Let It Fade Away / The Boy From New York City / let's Hang On / Duke Of Earl / Reet Petite / Get It / Sh-Boom (Life Could Be A Dream) / Zing Went The Strings Of My Heart / Sometime Lately / Shotgun / Beels In My Heart / Stay Away (From Them Girls) / Honey Bee/ Late Last Night / Don't Say Yes
02/2000
CD DELTA DISTRIBUTION 33031 (UK)
THE DARTS IN CONCERT -

This Is The Night (Intro) / Smooch With The Mooch / Dig This / Hold Me Down / Can't Teach A Fool / Get It / Let Rip With The Lip / The Chilli Song / The Mystery Of Ragoula / Give And Take / Don't Say Yes / Lunkhead / One Bad Stud / Boy From New York City / Nosey Joe / I Found Your Number / Gimme Some / Daddy Cool - Girl Can't Help It /

Gotta Go Home / Reet Petite
12/2005
CD WARNER 5101-11830-2 (UK)
THE PLATINUM COLLECTION - Daddy Cool - The Girl Can't Help It / Come Back My Love / The Boy From New York City / It's Raining / Don't Let It Fade Away / Get It / Duke Of Earl / Can't Get Enough Of Your Love / Reet Petite / Let's Hang On / Peaches / Zing Went The Strings Of My Heart / Cool Jerk / Bones / Shotgun / Stay Away (From Them Girls) / Runaround / Sh-Boom (Life Could Be A Dream) / Young Blood
10/2006
3 CD RHINO / WARNER PLATINUM 5101168862 (UK)
DOUBLE TOP - THE VERY BEST OF THE DARTS :

CD 1 : Daddy Cool - The Girl Can't Help It / Young Blood / Too Hot In The Kitchen / Sometime Lately / Zing Went The Strings Of My Heart / Shotgun / Come Back My Love / Bells In My Heart / Sh-Boom (Life Could Be A Dream) / Stay Away (From Them Girls) / I'm Mad/ Fancy Man - Framed - Riot In Cell Block No.9 - Trouble / Don't Let It Fade Away / Get It / Duke Of Earl / Can't Get Enough Of Your Love / Reet Petite / Let's Hang On / Peaches & Cream / Cool Jerk / Runaround / Messing Shoe Blues / Naff Off / White Christmas
CD 2 : The Boy From New York City / Honey Love / My Friend's Wife / It's Raining / Make It / Hammy's Boogie / Who's That Knocking / My True Story / Late For Work / Bones / Late Last Night / I Gotta Go Home / Why I Cry / Don't Say Yes / Cuckoo / One Off The Wrists / Don't Hang Up / Honey Bee / Don't Mess Around With Love / Don't Look Back / This Is The Night / Goodbye Brenda / Why I Cry

12/2006
2 CD WEA 5101186672 (UK)

Darts / Matchbox - The Platinum Colleciton :

CD 1 : DARTS : Daddy Cool - The Girl Can't Help It / Come Back My Love / The Boy From New York City / It's Raining / Don't Let It Fade Away / Get It / Duke Of Earl / Can't Get Enough Of Your Love / Reet Petite / Let's Hang On / Peaches & Cream / Zing Went The Strings Of My Heart / Cool Jerk / Bones / Shotgun / Stay Away (From Them Girls) / Runaround / Sh-Boom (Life Could Be A Dream) / Young Blood
CD 2 : Matchbox : Rockabilly Rebel / Buzz Buzz A Diddle It / Midnite Dynamos / When You Ask About Love / Babes In The Wood / Love's Made A Fool Of You / One More Saturday Night / Shocked 'n' Shattered / Marie Marie / Everybody Needs A Little Love / Rockin' At The Ritz / Love Is Going Out Of Fashion / Black Slacks / Heartaches By The Number / Hurricane / Rollin' On / Riding The Night / Hot Loving

08/2011
2 CD MUSIC CLUB DELUXE 9767517 (UK)
GET IT! THE VERY BEST OF THE DARTS :

CD 1 : Daddy Cool - The Girl Can't Help It / Come Back My Love / Duke Of Earl / Sh-Boom (Life Could Be A Dream) / Don't Let It Fade Away / Let's Hang On / The Boy From New York City / It's Raining / Get It / Don't Say Yes / Honey Love / Jump Children Jump / Why I Cry / Too Hot In The Kitchen / Bells In My Heart / My True Story / Bones / Messing Shoes / Cool Jerk / I'm Mad - Fancy Man - Framed - Riot In Cell Block No.9 [medley]
CD 2 : Reet Petite / Can't Get Enough Of Your Love / Voodoo Voodoo / Peaches / Shotgun / Zing Went The Strings Of My Heart / Stay Away (From Them Girls) / Late Last Night / Cuckoo / Hammy's Boogie / Don't Hang Up / Sometime Lately / Honey Bee / Late For Work / Young Blood / Who's That Knocking / This Is The Night / Naff Off / I Gotta Go Home / White Christmas

06/2013
2 CD 7T's / GLAM GLAMCDD 145 (UK)

Magnet Records Singles Collection :

CD 1 : Daddy Cool - The Girl Can't Help It / Medley Excerpts : Zing Went The Strings Of My Heart - Come Back My Love - Stay Away (From Them Girls) - Sh-Boom (Life Could Be A Dream) / Shotgun / Come Back My Love / Naff Off / The Boy From New York City / Bones / It's Raining / Messing Shoe Blues / Don't Let It Fade Away / Early In The Morning / Get It / How Many Nights / Duke Of Earl / I've Got To Have My Way / Can't Get Enough Of Your Love / Don't Say Yes
CD 2 : Reet Petite / Honey Bee / Let's Hang On / Cairoli / Peaches / D.I.Y. Heartache / White Christmas / Sh-Boom (Life Could Be A Dream) / Don't Say Yes [live] / Jump Children Jump / Green For Go / Voodoo Voodoo / Love Was A Secret (feat. Den H

egarty

) / Working In The Coalmine (feat. Big DEN & The RANDOM BAND) / Down In The Sewer (feat. Big DEN & The RANDOM BAND) / No Chance (feat ; Bob FISH) / Like Lovers Do (feat ; Bob FISH) / Hotel (feat ; Bob FISH)

11/2015
6 CD Edsel DARTSBOX 01 (UK)

The Complete Collection :

CD 1 : DARTS : Daddy Cool - The Girl Can't Help It / Young Blood / Too Hot In The Kitchen / Sometime Lately / Zing Went The Strings Of My Heart / Shotgun / Come Back My Love / Bells In My Heart / Sh-Boom (Life Could Be A Dream) / Stay Away (From Them Girls) / I'm Mad / Fancy Man - Framed - Riot In Cell Block No.9 - Trouble / BONUS TRACKS : Come Back My Love (single edit) / Naff Off
CD 2 : EVERYONE PLAYS DARTS : The Boy From New York City / Honey Love / My Friend's Wife / It's Raining / Make It / Hammy's Boogie / Who's That Knocking? / My True Story / Late For Work / Bones / Late Last Night / I Gotta Go Home / Why I Cry / BONUS TRACKS Bones (B-side remix) / Don't Let It Fade Away / Early In The Morning / Messing Shoe Blues / Get It / How Many Nights / When I Cry (extended version)
CD 3 : DART ATTACK : Duke Of Earl / Runaround / Don't Say Yes / Cuckoo / One Off The Wrists / Cool Jerk / Don't Hang Up / Honey Bee / Can't Get Enough Of Your Love / Reet Petite / Don't Mess Around With Love / Don't Look Back / This Is The Night / Goodbye Brenda / BONUS TRACKS : I've Got To Have My Way / White Christmas / Sing Out The Old, Bring In The New
CD 4 : FRANTIC ANTICS (THE UNRELEASED MAGNET ALBUM) : Let's Hang On / Hey Jo Girl / Reach Out / Paper Doll - Show Me / Hit And Run / Cover To Cover / I Got A Feelin' / Peaches And Cream / Third Time Lucky / Touch Me / Tight Lines / BONUS TRACKS : Cairoli / D.I.Y. Heartache / Jump Children Jump / Green For Go / Speedo / Think / False Alarm / Sad And Lonely
CD 5 : DIG THIS – RARE & UNRELEASED MAGNET RECORDINGS : Dig This / Radio In My Car / 007-69-69 / Big Girl / Back In Tokyo / Annual Country Fair / Jam Rag / Hold Back The Tears / Shula-Shoo-Shoo / Here I Stand / Locomotion / Mainliner / Just Walkin' In The Rain / One Way Love / Love Bandit / At My Front Door / Here To Stay / As Long As I'm Moving / Sweet Sweet Love / Summertime, Summertime / Tou Cash Ain't Nothing But Trash / Mama He Treats Your Daughter Mean / The Bogie Man / So Hard To Laugh
CD 6 : THE CHOICE CUTS RECORDINGS : The Mystery Of Ragoula / 125 / Pushin' A Pram / Lorraine / Big Fat Girls / Destination Love / One Bad Stud / Shoppin' For Clothes / Ruby Baby / Just Can't Teach A Fool / Del Lawrence Blues / Groovin' / The Great Collapso / Blow Away / Hold Me Down / BONUS 12 » SINGLE TRACKS : Lorraine (extended 12" version) / Big Fat Girls (extended 12" version) / Blow Away (instr.) / PREVIOUSLY UNRELEASED BONUS TRACKS : Let Me Show You / Chilli Song / Let Rip With The Lip / Man Smart Woman Smarter

06/2019
4 CD 7T's / GLAM GLAMBOX 172 (UK)

The Albums 1977/81 :

CD 1 :

Daddy Cool - the Girl Can't Help It / Young Blood / Too Hot in the Kitchen / Sometime Lately / Zing Went the Strings of My Heart / Shotgun / Come Back My Love / Bells in My Heart / Sh-Boom (Life Could Be a Dream) / Stay Away (From Them Girls)

/ I'm Mad /

Fancy Man - Framed - Riot in Cell Block No.9 - Trouble / 12. Come Back My Love

(single version) / Naff Off
CD 2 : The

Boy from New York City / Honey Love

/ My Friend's Wife / It's Raining / Make It / Hammy's Boogie / Who's That Knocking / My True Story / Late For Work / Bones / Late Last Night / I Gotta Go Home / Why I Cry / Bones (single version) / It's Raining (single version) / Messing Shoe Blues / Don't Let It Fade Away / Early In The Morning / Why I Cry (extended version)
CD 3 : Duke Of Earl / Runaround / Don't Say Yes / Cuckoo / One Off The Writsts / Cool Jerk / Don't Hang Up / Honey Bee / Can't Get Enough Of Your Love / Reet Petite / Don't Mess Around With Love / Don't Look Back / This Is The Night / Goodbye Brenda / Get It / How Many Nights / I've Got To Have My Way / Sing Out The Old Bring In The New
CD 4 : Think / Reach Out, I'll Be There / Peaches & Cream / Speedo / Cover To Cover / Sad And Lonely / Let's Hang On / False Alarm / Hit And Run / Show Me - Do You Love Me / Cairoli / D.I.Y. Heartache / White Christmas / Sh-Boom (B-side version) / Don't Say Yes (live) / Jump Children Jump / Green For Go / Show Us Your Shoes / Hey Jo Girl / Feelin' / Third Time Lucky / Touch Me / Tight Lines
© Rocky Productions 9/09/2019