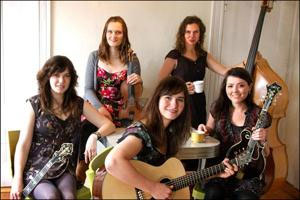 Groupe Bluegrass US formé en 2009 à Boston (Massachusetts) et comprenant Kimber Ludiker, Celia Woodsmith, Shelby Means, Jenni Lyn et Courtney Hartman.

Playing a dexterous, eclectic spin on bluegrass -- one that was as informed by contemporary singer/songwriters as it was on tradition -- Della Mae made a splash in the early years of the 2010s. This World Oft Can Be, their 2013 album for Rounder, brought the band to an audience outside of bluegrass festivals, earning a Grammy nomination for Best Bluegrass Album in 2014. Despite this success, the group released just one more record -- an eponymous 2015 album -- before taking a long hiatus. After a five-year break, the group returned in 2019 with The Butcher Shoppe EP.
Fiddler Kimber Ludiker formed Della Mae in Boston, Massachusetts in 2009 with mandolinist Jenni Lyn Gardner, guitarist/banjoist Courtney Hartman, bassist Amanda Kowalski, and vocalist Grace Van't Hof. All five musicians were veteran roots and bluegrass players -- among the acts they supported were Willie Nelson, Del McCoury Band, and Leon Russell -- so they were positioned to enter this circuit upon their formation, which they did. An EP called Acoustic arrived in 2010, followed by the self-released I Built This Heart in 2011. That year, Celia Woodsmith joined the band as the lead vocalist, just after Van't Hof departed. Kowalski left in 2012, replaced by Shelby Means, and this lineup recorded This World Oft Can Be, their debut for Rounder.
This World Oft Can Be turned out to be a pivotal album for Della Mae, earning them a wider audience along with a Grammy nomination for Best Bluegrass Album in 2014. Della Mae toured the album heavily, while also making online appearances. Means left prior to the group recording of 2015's eponymous album with Jacquire King.
Following the conclusion of their 2015 album in May 2016, Della Mae decided to take a break from touring. Over the next couple of years, the individual members pursued their own projects, deciding to reconvene -- this time without Hartman -- in 2018.
Accompanied by bassist Zoe Guigueno, Della Mae released "Bourbon Hound," their first new song in three years, in December 2018, followed by The Butcher Shoppe EP in March 2019. During the next year, the core trio of Ludiker, Woodsmith, and Gardner worked with producer Dan Knobler on their fourth album, expanding their sound with electric guitars and a prominent rhythm section. The resulting Headlight appeared in January 2020.
Talents : Kimber Ludiker : Fiddle - Celia Woodsmith : Vocals, Guitar - Shelby Means : Bass - Jenni Lyn : Guitar - Courtney Hartman : Guitar, Vocals, Banjo
Style musical : Bluegrass

http://youtu.be/pfyfw8jon14
Years in activity :
| | | | | | | | | | | |
| --- | --- | --- | --- | --- | --- | --- | --- | --- | --- | --- |
| 1910 | 20 | 30 | 40 | 50 | 60 | 70 | 80 | 90 | 2000 | 10 |
DISCOGRAPHY
EP
2010
CD DELLA MAE
ACOUSTIC - EP -

Bowling Green / Head Over Heels / Each Night I Try / The Blues Have Got Me Down / In The Pines / Unwanted Love / Fist City

03/2019
CD ROUNDER 1166100493 (US)

The Butcher Shoppe EP - Bourbon Hound / No-See-Um Stomp / Sleep With One Eye Open / Sixteen Tons / Bluebird Blackbird / Whipping Post
Albums
2011
CD NOT ON LABEL ? (US)

I Built This Heart - Jamie Dear / Sweet Verona / Aberdeen / Polk County / My Heart's Own Love / The Most / Bowling Green / Aged Pine / Down To You / From The Bottle / Blessed Hands / Ballad Of A Lonely Woman

05/2013
CD ROUNDER 1166191352 (US)
THIS WORLD OFT CAN BE -

Letter From Down The Road - And Other Things / Maybeline / Paper Prince / Empire / Hounds / Ain't No Ash Will Burn / Heaven's Gate / Turtle Dove / Pine Tree / Like Bones / This World Oft Can Be / Some Roads Lead On

05/2015
CD ROUNDER 11661-36378-02 (US)

Della Mae -

Boston Town / Rude Awakening / Can't Go Back / For The Sake Of My Heart / Good Blood / To Ohio / Shambles / Take One Day / Long Shadow / No Expectations / High Away Gone
01/2020
CD ROUNDER 610077 (US)

Headlight - Headlight / Change / The Long Game / I Like It When You're Home / The Odds Of Getting Even / Wild One / It's About Time / Waiting For You / Peg Monster / First Song Dancer / Working / I Can't Pretend
© Rocky Productions 18/01/2020