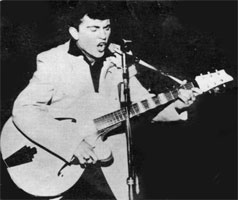 Chanteur Rock 'n' Roll Britannique né Terence Williams, le 20 Décembre 1938 à Londres.

British Rock 'n' Roll Singer. Terry Dene (born Terence Williams) was one of the most promising rock & rollers of pre-Beatles England. With a recording contract with Decca UK and a regular spot on BBC-TV's first pop television show, Six 5 Special, Dene seemed to be on the verge of stardom. His first three singles reached the British Top 20. Dene's potential for success was severely damaged, however, by a series of self-imposed mishaps. Arrested for public drunkenness and vandalism in 1958, Dene was cited by the British media as an example of the "evil" of rock & roll. His mental health was considered to have plummeted after being drafted into the British national service. Discharged on psychological grounds after two months, he found his career in ruins. Although he appeared in a film, The Golden Disc, and joined Larry Parnes' stable of stars, he was unable to recapture the momentum and faded from the pop scene.
Turning to religion, Dene became a street-singing evangelist, recording three albums of gospel music. He spent the early '70s residing in Sweden. Dene has unsuccessfully attempted several comebacks. In 1974, he released a book and album, I Thought Terry Dene Was Dead, and began to perform with a rock band, the Dene Aces, featuring Brian Gregg, composer of the classic rock tune "Shakin' All Over," in the 1980s. He released an album, The Real Terry Dene, in 1997. A native of London, Dene was heavily influenced by the early recordings of Elvis Presley and Gene Vincent. Performing at the 2i's Coffee Bar, the London club that helped to launch the careers of Tommy Steele, Cliff Richard, and Adam Faith, he caught the attention of British record producer Jack Good, who helped him to obtain a contract with Decca UK. Although he wrote very few songs, Dene was a master interpreter, scoring with covers of Marty Robbins' "A White Sport Coat (And a Pink Carnation)" and "The Stairway of Love" and Sal Mineo's "Start Movin'." Dene was briefly married to British songstress Edna Savage.
https://en.wikipedia.org/wiki/Terry_Dene
Talents : Vocals, Guitar
Style musical : Rock 'n' Roll, Rockabilly, Pop

http://youtu.be/_Ve5ZQXubOM
| | |
| --- | --- |
| A WHITE SPORTS COAT (1957) | |
Years in activity :
| | | | | | | | | | | | |
| --- | --- | --- | --- | --- | --- | --- | --- | --- | --- | --- | --- |
| 1910 | 20 | 30 | 40 | 50 | 60 | 70 | 80 | 90 | 2000 | 10 | 20 |
DISCOGRAPHY
Singles
05/1957
SP DECCA F10895 (UK)
.
A White Sport Coat

/ The Man In The Phone Booth

1957
SP DECCA F10914 (UK)
.

Start Movin' / Green Corn

09/1957
SP DECCA F10938 (UK)
.

Come And Get It / Teenage Dream

11/1957
SP DECCA F10964 (UK)
.
Lucky, Lucky Bobby / Baby She's Gone
1957
EP DECCA SDE 7072 (SWE)

Lucky Lucky Bobby / Green Corn / Start Movin´ / The Man In The Phone Booth

01/1958
SP DECCA F10977 (UK)
.

The Golden Age / C'min And Be Loved

05/1958
SP DECCA F11016 (UK)
.
Stairway Of Love

/ Lover Lover!

06/1958
SP DECCA F11037 (UK)
.

Seven Steps To Love / Can I Walk You Home

10/1958
SP DECCA F11076 (UK)
.
Who Baby Who

/ Pretty Little Pearly

1958
EP DECCA DFE 6426 (F)

Lucky, Lucky Bobby /

Green Corn / Start Movin' /

The Man In The Phone Booth

1958
EP DECCA DFE 6459 (UK)

THE GOLDEN DISC - C'min And Be Loved / Charm / The Golden Age / Candy Floss

1958
EP DECCA DFE 6507 (UK)

TERRY DENE No. 1 - Lover Lover / Market Place / Lucky Lucky Bobby / This Is The Night

1958
EP DECCA SDE 7119 (SWE)

Can I Walk You Home / Seven Steps To Love / Lover, Lover / Stairway Of Love

1958
SP DECCA SDE 7142 (SWE)
LONDON ROCK - Tommy

Steele

: Put A Ring On Her Finger / Come On, Let's Go / Terry

Dene

: Who, Baby Who / Pretty Little Pearly
01/1959
SP DECCA F11100 (UK)
.

I've Got A Good Thing Going / Bimbombey

05/1959
SP DECCA F11136 (UK)
.

There's No Fool Like A Young Fool / I've Come Of Age

08/1959
SP DECCA F11154 (UK)
.

Thank You Pretty Baby / A Boy Without A Girl

07/1960
SP ORIOLE CB 1562 (UK)
.

Geraldine / Love Me Or Leave Me

01/1961
SP ORIOLE CB 1594 (UK)
.

Like A Baby / Next Stop Paradise

1963
SP ARAL PS 107 (UK)

The Feminine Look / Fever

1966
EP HERALD ELR 1071 (UK)
TERRY DENE NOW - One Day / Down From His Glory / Just Call / Genesis (instr.)
1982
EP 10" LOGO GO 412 (UK)

LEARNING HOW TO ROCK AND ROLL - Learning How To Rock And Roll / Paralysed / Rockin' Robin / Lorna (The Girl In The Long Black Dress)

1988
SP CHARM C 45001 (UK)
.

Jingle Bell Rock / Peace In The Valley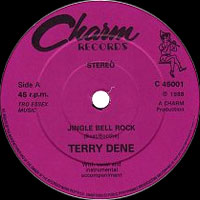 Albums
| | | | |
| --- | --- | --- | --- |
| 1972 | LP 12" PILGRIM JLPS 175 (UK) | | IF THAT ISN'T LOVE - His Hand In Mine / For Me To Live Is Christ / Where Could I Go / This Little Light Of Mine / One Day With The Lord / That Old Time Religion / If That Isn't Love / Day By Day / Amazing Grace / It Will Be Worth It All / It Is No Secret / He The Pearly Gates Will Open |
| 1973 | LP 12" PILGRIM JLPS 188 (UK) | | TERRY DENE ...CALL TO THE WIND - Poor Boy / Across The Bridge / Can It Be True? / I Need Your Love, Lord / I Wish We'd All Been Ready / I Want Jesus To Walk With Me / Burdens Are Lifted At Calvery / I Call To The Wind / His Name Is Wonderful / There Is A Green Hill / Just Call / Jesus |
| 1974 | LP 12" DECCA SPA 368 (UK) | | I THOUGHT TERRY DENE WAS DEAD - A White Sport Coat / Green Corn (Along Came Charlie) / The Golden Age / Who, Baby Who / Come And Get It / Pretty Little Pearly / Stairway Of Love / Market Place / Baby, She's Gone / Seven Steps To Love / Can I Walk You Home / Lucky Lucky Bobby |
| 1983 | LP 12" SILVERTOWN STLP 2001 (UK) | | SAVE THE LAST DANCE FOR ME - Learning How To Rock And Roll / A Mess Of Blues / Paralysed / One Night (With You) / Shake Rattle And Roll / Rockin' Robin / Save The Last Dance For Me / Rip It Up / Lorna (The Girl In The Long Black Dress) / Move It |
| 1985 | LP 12" JAN JAN 33-8024 (SWE) | | LONDON ROCK - C'Min And Be Loved / Pretty Little Pearly / This Is The Night / Who Baby Who / Baby She's Gone / Green Corn (Come Along Charlie) / Market Place / There's No Fool Like A Young Fool / Come And Get It / Start Movin' / Stairway Of Love / Candy Floss / The Golden Age / Lucky Lucky Bobby / Thank You Pretty Baby / I've Got A Good Think Going |
| 1988 | LP 12" CHARM CLP 001 (UK) | | THE TERRY DENE STORY VOL. 1 - A White Sport Coat / Start Movin' / C'Min And Be Loved / Bimbombey / Come And Get It / Lover Lover / This Is The Night / Baby She's Gone / Stairway Of Love / Pretty Little Pearly / Charm / Teenage Dream / The Man In The Phone Booth / The Golden Age / Seven Steps To Love / Now And Always / Careless Hands / I've Come Of Age / A Boy Without A Girl / Thank You Pretty Baby |
| 1997 | LP 10" ROLLERCOSTER 2018 (UK) | | GOOD ROCKIN' TONIGHT - That's All Right / Good Rockin' Tonight / Lock And Chain / Blue Suede Shoes / Mystery Train / Baby She's Gone / My Babe / Market Place / My Baby Left Me / Fever / The Feminine Look / I'm Left, You're Right, She's Gone |
| 02/2003 | CD ROLLERCOSTER PXNCD ROLL 3015 (UK) | | THE REAL TERRY DENE - TERRY DENE AND THE DENE ACES - Pick A Bale Of Cotton / Come On Train / That's All Right / Good Rockin Tonight / Lock And Chain / Blue Suede Shoes / Mystery Train / Baby She's Gone / Market Place / My Baby Left Me / Pretty Little Pearly / Shakin' All Over / Lawdy Miss Clawdy / Move It / I'm Left You're Right She's Gone / Learning How To Rock 'n' Roll / C'min And Be Loved / A White Sport Coat / Blue Moon Of Kentucky / All Shook Up / Heartbreak Hotel / Love Me Tender / Poor Boy / Like A Baby / Shake Rattle And Roll / Whole Lotta Shakin' Goin On / Medley : Rip It Up - The Dene Aces : Off 'n'On |
| 11/2004 | CD VOCALION CDLK 4260 (UK) | | DECCA SINGLES COLLECTION - A White Sport Coat (And A Pink Carnation) / The Man In The 'Phone Booth / Green Corn / Start Movin' / Teenage Dream/ Come And Get It / Lucky, Lucky Bobby / Baby, She's Gone / The Golden Age / C'min And Be Loved / The Stairway Of Love / Lover, Lover / Seven Steps Of Love / Can I Walk You Home? / Pretty Little Pearly / Who, Baby, Who? / I've Got A Good Thing Going / Bimbombey / There's No Fool Like A Young Fool / I've Come Of Age / A Boy Without A Girl / Thank You Pretty Baby / Charm / Candy Floss / Market Place / This Is The Night |
| 0/2008 | CD DECCA ? (UK) | | THE ORIGINAL CUTS - Baby She's Gone / Stairway Of Love / A White Sport Coat / Market Place / C'min And Be Loved / Pretty Little Pearly / This Is The Night / Who Baby Who / Can I Walk You Home / Candy Floss / The Golden Age / Lucky Lucky Bobby / Thank You Pretty Baby / I've Got A Good Thing Going / Seven Steps To Love / Green Corn / Come And Get It / Start Movin' / There's No Fool Like A Young Fool |
© Rocky Productions 11/02/2013