Chanteur Rock 'n' Roll Britannique né Richard Graham Sarstedt, le 29 Mars 1940 à Delhi (Inde).

Eden Kane was one of England's pre-Beatles teen idols, part of the same wave of youthful pop/rockers that produced John Leyton, Adam Faith, et al. His main impact on music was confined to the early '60s, although he was popular enough to have enjoyed 40 years in the music business. He was born Richard Graham Sarstedt in New Delhi, India, on March 29, 1941 (some sources say 1942) to Albert and Coral Sarstedt -- both of his parents were civil servants. The family moved to Kurseong near Darjeeling, in the shadow of Mt. Everest, where they took over management of a tea plantation. The family lived in India until 1954, when Albert and Coral decided it was time to move to England -- Albert made preparations for the transition but passed away before the family actually arrived in England.
In England at the time, skiffle music was just taking off, and in another year or so rock & roll's first impact would be felt. Richard Sarstedt was old enough to consider career choices, including architecture, but instead he chose music. He discovered, to his delight, that he was a natural guitarist, and his voice and good looks made him a potential serious frontman for a band. He'd been inspired initially by Bill Haley, and later formed his own skiffle group -- called the Fabulous 5 -- which included his younger siblings Peter and Clive. He also got a small acting role in the movie Drinks All Round (1960). In 1961, Sarstedt entered a contest in Chelsea and not only beat the competition but picked up a management contract with Michael Barclay and Phillip Waddilove, as well as a chance to do a sponsored recording -- courtesy of Cadbury's Chocolate -- called "Hot Chocolate Crazy," an advertising jingle. That song was enough to get Decca Records interested in signing Sarstedt, who thereafter picked up the more distinctive stage name Eden Kane. The first name was a Biblical reference, and an attempt to emulate the appeal of Adam Faith, while the last name came from Citizen Kane, the favorite movie of his co-manager, Michael Barclay.
He hit the number one spot with his debut Decca release, "Well I Ask You," in 1961. This was followed by a series of hit singles: "Get Lost," which reached number ten; "Forget Me Not," which peaked at number three; and "I Don't Know Why," which topped out at number seven. Kane spent an astonishing 74 weeks on the charts between 1961 and 1963, and he and his band, the Downbeats (Roger Retting, Ben Steed, Roger St. Clair, and Bugs Waddell), were booked on tours alongside such stars of the era as Cliff Richard, Billy Fury, Joe Brown, Helen Shapiro, Marty Wilde, and John Leyton.
But his fifth Decca single, "House to Let," failed to chart, and four subsequent releases also disappeared from view very quickly. By 1963, he'd been dropped by Decca. Kane subsequently signed to Fontana Records, where his first two singles also stiffed. Finally, in 1964, "Boys Cry" reached number eight. Kane's days at the top of the charts ended with the advent of the Merseybeat boom in 1963. During the transition period, from mid-1963 into 1964, however, he made numerous appearances on television in tandem with the likes of the Beatles, the Rolling Stones, et al. Despite his continued exposure on television and the chart success of "Boys Cry," by the end of 1964 his music was considered part of the past. He still saw enthusiastic audiences on a tour of Australia, however, and was never without work, even if the chart placements were over by 1965, along with any regular opportunities to record.
Kane later moved to America and married journalist Charlene Groman (the sister of actress Stefanie Powers), whom he had first met while passing through the United States in the mid-'60s. He has remained active in the entertainment business in the States, as a producer, and has occasionally returned to England for oldies package tours with such veteran performers as Marty Wilde and Joe Brown. Younger brother Peter Sarstedt emerged as a star in his own right in 1969, working in more of a folk-based pop vein, and his other younger brother Clive worked with Joe Meek for a time in the 1960s and enjoyed a hit single in England in the 1970s. The three Sarstedt brothers also recorded together during the 1970s.
https://en.wikipedia.org/wiki/Eden_Kane

http://www.edenkane.com/
Talents : Vocals, Guitar
Style musical : Teen Idol, Rock 'n' Roll, Pop

https://youtu.be/hLooZvwUWog
Years in activity :
| | | | | | | | | | | |
| --- | --- | --- | --- | --- | --- | --- | --- | --- | --- | --- |
| 1910 | 20 | 30 | 40 | 50 | 60 | 70 | 80 | 90 | 2000 | 10 |
DISCOGRAPHY
Singles & EP
08/1960
SP PYE 7N 15284 (UK)
.
You Make Love So Well / Hot Chocolate Crazy
11/1960
SP VOGUE 45-PV. 15101 (F)
.
You Make Love So Well / Hot Chocolate Crazy
05/1961
SP DECCA 45-F.11353 (UK)
.
Well I Ask You / Before I Lose My Mind
1961
SP DECCA 45-F.11353 (DK)
Well I Ask You / Before I Lose My Mind
08/1961
SP DECCA 45-F 11381 (UK)
.
Get Lost / I'm Telling You
1961
SP DECCA 45-F.11381 (DK)
Get Lost / I'm Telling You
01/1962
SP DECCA 45-F.11418 (UK)
.
Forget Me Not / A New Kind Of Lovin'
04/1962
EP DECCA DFE 6696 (UK)

Well I Ask You -

Get Lost / I'm Telling You / Well I Ask You / Before I Lose My Mind
05/1962
SP DECCA F 11460 (UK)
.
I Don't Know Why / Music For Strings
09/1962
SP DECCA F 11504 (UK)
.
House To Let / I Told You
10/1962
EP DECCA DFE 8503 (UK)

Eden Kane Hits -

Well I Ask You / Get Lost / Forget Me Not / I Don't Know Why
01/1963
SP DECCA F 11568 (UK)
.
Sounds Funny To Me / Someone Wants To Know
05/1963
SP FONTANA TF 398 (UK)
Tomorrow Night / I Won't Believe Them
09/1963
SP FONTANA TF 413 (UK)
.
Like I Love You / Come Back
01/1964
SP FONTANA TF 438 (UK)
.
Boys Cry / Don't Come Crying To Me
03/1964
EP FONTANA TE 17424 (UK)

It's Eden -

Boys Cry / Like I Love You / Tomorrow Night / Don't Come Crying To Me
04/1964
SP FONTANA TF 462 (UK)
.
Rain, Rain, Go Away / Guess Who It Is
11/1964
SP FONTANA TF 508 (UK)
.
Hangin' Around / Gonna Do Something About You
1964
EP DECCA DFE 8567 (UK)

Six Great New Swingers -

Romance / Something Tells Me / Another Spring / My Time Of Evening / Ten Out Of Ten / That's For Me
1964
EP FONTANA 465.241 (F)

Boys Cry / Like I Love You / Rain, Rain, Go Away / Tomorrow Night

06/1965
SP FONTANA TF 582 (UK)
.
If You Want This Love / Have I Done Something Wrong?
02/1966
SP DECCA F 12342 (UK)
.
Magic Town / The Whole World Was Crying (Eden

Kane

& The

Dambeats

)
1966
EP PHILIPS PE-38 (AUS)

Boys Cry -

Boys Cry / Like I Love You / Tomorrow Night / Don't Come Crying To Me
05/1969
SP FONTANA TF 1023 (UK)
Boys Cry / Don't Come Crying To Me
1969 ?
SP FONTANA YF 278 701 (NL)
Boys Cry

/ Don't Come Crying To Me

04/1970
SP BELL BLL 1102 (UK)
.
Reason To Believe / I Played It Like A Fool
06/1978
SP DECCA F 13765 (UK)
.
Well I Ask You / Forget Me Not
01/1980
SP Monarch

MON 07 (UK)
.
I Think I Died And Went To Heaven / Pulling Me Thru The Bad Times
03/1982
SP DECCA F 13765 (UK)
.
Well I Ask You / Forget Me Not
10/1983
SP OLD GOLD OG 9359 (UK)
Well, I Ask You? / Forget Me Not
01/1985
SP OLD GOLD OG 9473 (UK)
.
Boys Cry (Eden KANE) / Pamela Pamela (Wayne

Fontana

)
1985
EP DECCA 882 068-7 (AUS)

Boys Cry -

Boys Cry / Magic Town / I Don't Know Why / Get Lost
1987
SP TELDEC / DECCA 6.14906 (GER)

Big Hits 1955-65 -

Halfway To Paradise (Billy FURY) / Well I Ask You (Eden

Kane

)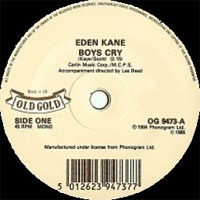 Albums
1962
LP 12" ACE OF CLUBS ACL 1133 (UK)

Eden Kane -

House To Let / Kiss Me Quick / Well I Ask You / Before I Lose My Mind / I'm Telling You / Music For Strings / Forget Me Not / My Little Sue / Get Lost / I Told You / A New Kind Of Lovin' / I Don't Know Why
1964
LP 12" Wing WL.1218 (UK)

Smoke Gets In Your Eyes -

Gonna Send You Back To Georgia / I Know A Man / Sticks And Stones / Smoke Gets In Your Eyes / Shoppin' Around / Rain, Rain, Go away / I (Who Have Nothing) / On Broadway / I Should Care / Charade / Guess Who It Is ? / The Last Leaf
1964
LP 12" FONTANA TL5211 (UK)

It's Eden -

Gonna Send You Back To Georgia / I Know A Man / Sticks And Stones / Smoke Gets In Your Eyes / Shoppin' Around / Rain Rain Go Away / I (Who Have Nothing) / On Broadway / I Should Care / Charade / Guess Who It It / The Last Leaf
1970
LP 12" Evolution 2022 (UK)

Another Day Passes By - Richard Sarstedt - Go Back In Time / Rain / Another Day / Open A Tin / Charlie / Elizabeth Bay / Time, Love, Hope, Life / I Am No Longer / Fast Women And Slow Horses / Found My Love Today / Jack And Jill

1991
LP 12" Star-Club 33-8044 (SW)

It's Eden -

Well I Ask You / Get Lost / I'm Telling You / Forget Me Not / I Don't Know Why / House To Let / I Told You / Kiss Me Quick / My Little Sue / Sounds Funny To Me / Tomorrow Night / I Won't Believe Them / Like I Love You / Come Back / Boys Cry / Don't Come Crying To Me / Rain Rain Go Away / Shoppin' Around / The Last Leaf / Hanging Around
1994
CD Marginal BARCD 115 (B)

It's Eden -

Forget Me Not / Get Lost / A New Kind Of Lovin' / I Don't Know Why / House To Let / Kiss Me Quick / Well I Ask You / I'm Telling You / Someone Wants To Know / I Know A Man / Shoppin' Around / On Broadway / Charade / Guess Who It Is / The Last Leaf / If You Want This Love / Boys Cry / Hanging Around / Sounds Funny To Me / You Make Love So Well / Tomorrow Night / Music For Strings
1995
CD Deram ‎820 966-2 (UK)

Well I Ask You -

Well I Ask You / Before I Lose My Mind / Get Lost (In My Arms) / I'm Telling You / Forget Me Not / A New Kind Of Lovin' / I Don't Know Why I Just Do / Music For Strings / House To Let / I Told You / My Little Sue / Kiss Me Quick / Sounds Funny To Me / Someone Wants To Know / Tomorrow Night / I Won't Believe Them / Like I Love You / Comeback / Boys Cry (When No One Can See Them) / Don't Come Crying To Me / Romance / Something Tells Me / Another Spring / My Time Of Evening / Ten Out Of Ten / That's For Me / Rain, Rain, Go Away / Guess Who It Is? / Hangin' Around / Gonna Do Something About You / If You Want This Love / Have I Done Something Wrong
1996
CD Prestige CDSGP0241 (UK)

All The Hits Plus More... The Best OF Eden Kane -

Well I Ask You / Have You Fallen Out Of Love / Boys Cry / You & Me & The Night / The Most Beautiful Girl In The World / Get Lost / I Don't Know Why / Are You Lonesome Tonight / Forget Me Not / We Could Have Had It All / Lovin' You / Pullin' Me Thru The Bad Times / Sailing Ships / Diana / I Think I Died And Went To Heaven / Lonely Weekend
05/1999
CD Pegasus Flight 081 (UK)
VERY BEST OF EDEN KANE - Boys Cry / Forget Me Not / Well I Ask You / I Don't Know Why) / Get Lost / Have You Fallen Out Of Love / You And Me And The Night / The Most Beautiful Girl / Diana / Lonely Weekend / We Could Have Had It All / Sailing Ships / Died And Went To Heaven / Pulling Me Through The Bad Times / Loving You / Are You Lonesome Tonight
1999
CD Eden Kane CD ‎CD888 (UK)

Y2Kane -

If The House Is A Rockin' / Y2K (Ole Ole) / All Together Now / Dream Lover / Why Me / Giving Water To A Drowning Man / Past The Point Of Rescue / Fast Women / Well...All Right / Nadine / Take Me Back / Jump Jive / Kansas City
2001
CD Eden Kane CD ‎CD818 (UK)

Eden Rock -

Such A Night / I'm Ready / Mess Of Blues / Boys Cry / Shakin' All Over / You Never Can Tell / Forget Me Not / Well I Ask You / The Real Thing / Get Lost / I Don't Know Why
10/2004
CD Mastersong 487 (UK)
BOYS CRY - Well I Ask You / Have You Fallen Out Of Love / Boys Cry (When No One Can See Them) / You And Me And The Night / The Most Beautiful Girl / Get Lost (In My Arms) / I Don't Know Why / Are You Lonesome Tonight / Forget Me Not / We Could Have Had It All / Loving You / Pulling Me Through The Bad Times / Sailing Ships / Diana / Died And Went To Heaven / Lonely Weekend
2012
CD

Not On Label

‎0406 (US)

Signs Of Love -

A Little Bit Of R & R / Go Back In Time / Forget Me Not / Boys Cry / Get Lost / If You Want This Love / Rain / Elizabeth Bay / I Am No Longer / Well I Ask You / Another Day / Music For Strings / Romance / My Time Of Evening / Before I Lose My Mind / Sounds Funny To Me / Tomorrow Night / Jack And Jill
2014
CD

Not On Label

‎2014 (UK)

Fifty Three - Rock Show Medley 2014 / Glory Glory / Genuine Romanoff / Found My Love Today / You're Just An Image / Shopping Around / Hot Chocolate Crazy / Boys Cry / Well I Ask You / Get Lost / Forget Me Not / Something Tells Me / That's For Me / Another Spring / Hanging Around / Mess Of The Blues / A Little Bit Of Rock & Roll

02/2017
2 CD RPM RETRO 986 (UK)

Well I Ask You - The Complete 60s Recordings :

CD 1 : You Make Love So Well / Hot Chocolate Crazy / Well I Ask You / Before I Lose My Mind / Get Lost / I'm Telling You / Forget Me Not / A New Kind Of Lovin' / I Don't Know Why / Music For Strings / House To Let / I Told You / Sounds Funny To Me / Someone Wants To Know / Kiss Me Quick / My Little Sue / Romance / Something Tells Me / Another Spring / My Time Of Evening / Ten Out Of Ten / That's For Me / Tomorrow Night / I Won't Believe Them / Like I Love You / Come Back / Boys Cry
CD 2 : Don't Come Crying To Me / Rain, Rain, Go Away / Guess Who It Is? / Hangin' Around / Gonna Do Something About You / If You Want This Love / Have I Done Something Wrong? / Gonna Send You Back To Georgia / I Know A Man / Sticks And Stones / Smoke Gets In Your Eyes / Shoppin' Around / I (Who Have Nothing) / On Broadway / I Should Care / Charade / The Last Leaf / Magic Town / The Whole World Was Crying (with The

Dambeats

) / Gotta Get Through To You / A Million Ants / My Whole World Is Tumbling Down / In The Day Of My Youth / Time, Love, Hope, Life / It Doesn't Matter Anymore / Reason To Believe / I Played It Like A Fool / I Think I Died And Went To Heaven / Pulling Me Thru The Bad Times
© Rocky Productions 2/04/2017