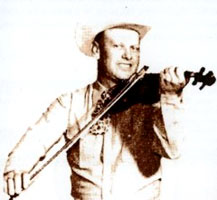 Leader, fiddler et chanteur Western Swing US né le 22 Mars 1918 à Hazel (Texas). Hoyle Nix a enregistré chez Talent, Star Talent, Queen, Caprock, Bo-Kay, Winston, Stampede et Oil Patch Records. Il est décédé le 21 Août 1985 à Big Spring (Texas).

Hoyle Nix, West Texas fiddler, bandleader, and exponent of the Bob Wills sound, was born to Jonah Lafayette Nix and Myrtle May (Brooks) Nix on March 22, 1918, in Azel, Texas. The family moved to Big Spring when Hoyle was one year old. His father was a fiddler and his mother a guitarist, and the couple often performed together at community gatherings. Nix was six years old when he learned his first fiddle tune. In addition to his parents' influence, the music of Bob Wills was also very important to his style. According to Nix, Wills was the finest fiddler he ever heard.
Nix and his brother Ben formed the West Texas Cowboys in 1946 and patterned the band after Wills's Texas Playboys. In 1954 the Nix brothers built a small dance hall on the Snyder highway just outside of Big Spring and named it the Stampede. Nix had already established a dance circuit in the area and was making regular appearances in other towns, including Abilene, Lubbock, Midland, Odessa, and San Angelo. The West Texas Cowboys cut their first recordings in 1949 for the Dallas-based Star Talent label. The initial Star Talent release, Nix's "Big Ball's in Cowtown," a folk-derived rewrite, proved to be an enduring standard. He continued to record for small Texas record companies—Queen, Caprock, Bo-Kay, and Winston—in the 1950s and early 1960s. In 1968 Nix started his own label, Stampede, named after the dance hall.
During the late 1950s, the West Texas Cowboys grew to its largest size with nine members. The band at this time included former Texas Playboys Eldon Shamblin, Millard Kelso, and Louis Tierney. Nix had first shared a stage with Bob Wills in 1952 in Colorado City, Texas, and their two bands soon began touring together, splitting the playing time at each dance. After Wills disbanded the Texas Playboys in the early 1960s, he continued to appear with Nix on a fairly regular basis until his first stroke in 1969. The respect that Wills had for Nix was evidenced when he invited Nix and his son Jody to participate in what turned out to be Wills's final recording session, For the Last Time, in 1973.
Nix's last recordings were made in 1977 and released on Oil Patch. He was inducted into the Nebraska Country Music Hall of Fame in 1984, the Colorado Country Music Hall of Fame in 1985, the Texas Western Swing Hall of Fame in 1991, and the Western Swing Hall of Fame in 1991. He died after a short illness on August 21, 1985, in Big Spring, Texas.
Nix married five times and had four children, Larry (1940), Jody (1952), Hoylene (1957), and Robin (1959). Larry joined his father's band in 1957 and played bass. When Jody signed on in 1960 as drummer and fiddler, the two siblings became the rhythm section of the West Texas Cowboys, a position they held for the next twenty-five years. Jody Nix took over leadership of the band as his father wanted, and with the younger Nix carrying on the show, Texans were assured of dancing to the music of a Nix fiddle well into the twenty-first century.
Talents : Leader, Fiddler, Vocals
Style musical : Western Swing
Years in activity :
| | | | | | | | | | | |
| --- | --- | --- | --- | --- | --- | --- | --- | --- | --- | --- |
| 1910 | 20 | 30 | 40 | 50 | 60 | 70 | 80 | 90 | 2000 | 10 |
DISCOGRAPHY
78 t. & Singles
1949
78 t. & SP TALENT 709 (US)

Hoyle Nix & His West Texas Cowboys - I'm All Alone / A Big Balls In Cowtown

1949
78 t. & SP STAR TALENT 750 (US)

Hoyle Nix & His West Texas Cowboys - Darling Why Are You So Mean To Me / Comin' Down The Pecos

1950
78 t. & SP STAR TALENT 755 (US)

Hoyle Nix & His West Texas Cowboys - You're Throwing Life Away / Hoyle's Fox Trot

1950
78 t. & SP STAR TALENT 763 (US)

Hoyle Nix & His West Texas Cowboys - May You Never Break A Heart Like Mine / River Bottom

1950
78 t. & SP STAR TALENT 772 (US)

Hoyle Nix & His West Texas Cowboys - Life Is Blinded Through These Tears / Blue Flame

06/1955
78 t. & SP QUEEN Q-147 (US)

Hoyle Nix & His West Texas Cowboys - Invitation / Medley

09/1955
78 t. & SP QUEEN Q-148 (US)

Hoyle Nix & His West Texas Cowboys - Choose The Want You Want / San Antonio Rose

09/1955
78 t. & SP QUEEN Q-149 (US)
Hoyle

Nix

& His

West Texas Cowboys

- Real Rockin' Daddy / Another You
09/1955
78 t. & SP QUEEN Q-149 (US)
Real Rockin' Daddy (Jay-Bob H

owdy

with Hoyle

Nix

& His West Texas Cowboys) / Another You (Deonne

Dome

with Hoyle

Nix

& His

West Texas Cowboys

)
07/1956
78 t. & SP QUEEN Q-157 (US)

Hoyle Nix & His West Texas Cowboys - Texas Girl / Little Betty Brown

1958
SP CAPROCK 45-103 (US)

Hoyle Nix & His West Texas Cowboys - My Wasted Love / Kelly Waltz

09/1958
SP CAPROCK 45-105 (US)

Hoyle Nix & His West Texas Cowboys - My Mary / Coming Down From Denver

03/1959
SP CAPROCK 45-109 (US)
Hoyle

Nix

& His

West Texas Cowboys

- Summit Ridge Drive (instr.) / Big Balls In Cowtown
1959
SP BO-KAY K-107 (US)

Hoyle Nix & His West Texas Cowboys - The Kind Of Love I Can't Forget / The Lady In Red

1959
SP BO-KAY K-108 (US)
Hoyle

Nix

& His

West Texas Cowboys

- Ida Red / La Golondrina Waltz
1960
SP BO-KAY K-110 (US)

Hoyle Nix & His West Texas Cowboys - Please Don't Bother Me / I Don't Lov'a Nobody

06/1961
SP WINSTON 1057-45 (US)

Hoyle Nix & His West Texas Cowboys - Sugar In The Coffee / My Love Song To You

10/1961
SP WINSTON 1059-45 (US)

Hoyle Nix & His West Texas Cowboys - Corn Flower Waltz / She's Really Gone

1968
SP STAMPEDE 1001 (US)

Hoyle Nix & His West Texas Cowboys - War Eagle / I'm All Alone

1968
SP STAMPEDE 1002 (US)

Hoyle Nix & His West Texas Cowboys - Texas Drummer Boy / The Keys In The Mail Box

1968
SP STAMPEDE 1003 (US)

Hoyle Nix & His West Texas Cowboys - Cotton-Eyed Joe / The Picture On The Wall

1968
SP STAMPEDE 1004 (US)

Hoyle Nix & His West Texas Cowboys - Cowboy Limited / Great Big Tater In The Sandy Land

1977
SP Oil Patch 2001 (US)

Hoyle Nix & His West Texas Cowboys - Big Balls In Cowtown / Lilly Dale

1977
SP Oil Patch 2002 (US)

Hoyle Nix & His West Texas Cowboys - Hoppin' Lucy / My First Love Afir

1977
SP Oil Patch 2003 (US)

Hoyle Nix & His West Texas Cowboys - Grayeagle / Storm Within My Heart

1977
SP Oil Patch 2004 (US)

Hoyle Nix & His West Texas Cowboys - Sally Johnson / Lost Along The Way
Albums
| | | | |
| --- | --- | --- | --- |
| 1977 | LP 12" Oil Patch LP 75-80 (US) | | Hoyle Nix & His West Texas Cowboys - San Antonio Rose / Stampede Blues / Gray Eagle / My First Love Affair / Oklahoma Hills / Billy In The Low Ground / Storm In My Heart / Hopping Lucy / Lilly Dale / Lady In Red / Down In Mexico / Lost Along The Way |
| 06/2014 | CD BACM CD D 453 (UK) | | Hoyle Nix And His West Texas Cowboys - I'm All Alone / A Big Ball's In Cowtown / Darling Why Are You So Mean To Me / Comin' Down The Pecos (instr.) / You're Throwing Life Away / Hoyle's Fox Trot (instr.) / May You Never Break A Heart Like You Broke Mine / River Bottom (instr.) / Life Is Blinded Through These Tears / Blue Flame (instr.) / Invitation / Medley (instr.) / Choose The One You Want / San Antonio Rose (instr.) / Real Rockin' Daddy / Another You / Texas Girl / Little Betty Brown (instr.) / My Wasted Love / Kelly Waltz (instr.) / My Mary / Coming Down From Denver (instr.) / Big Balls In Cowtown (second version) / Summit Ridge Drive (instr.) / The Kind Of Love I Can't Forget / The Lady In Red (instr.) / Ida Red / La Goldrina Waltz (instr.) |
© Rocky Productions 12/07/2016