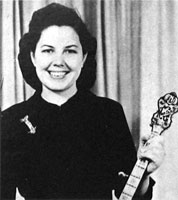 Chanteuse Country US née Lois Laverne Williamson, le 9 Juillet 1923 à Mc Veigh, Pike County (Kentucky). Molly O'Day a débuté en 1939 se produisant sur les stations radios des Etats du Sud avant d'enregistrer pour Columbia Records en Décembre 1946, en compagnie de ses "Cumberland Mountain Boys". A cause d'une tuberculose, elle préféra se retirer de la Country Music et se réfugia dans la musique religieuse. Molly O'Day est décédée le 5 Décembre 1987.

A pioneering vocalist whose soulful, gut-wrenching performances helped redefine the role of the female country solo artist, Molly O'Day's career was relatively brief, but her lasting influence has proven massive. Born Lois LaVerne Williamson on July 9, 1923, to a coal mining family living in a remote Appalachian community in eastern Kentucky, she spent her childhood enamored of cowgirl singers like Patsy Montana, Lulu Belle Wiseman, Texas Ruby Owens, and Lily May Ledford and eventually began singing and playing guitar in a string band with her brothers Cecil ("Skeets") on fiddle and Joe ("Duke") on banjo. In 1939, Skeets began playing on a radio station in Charleston, WV, and his sister soon followed, adopting the stage name "Mountain Fern." A year later, now under the name "Dixie Lee Williamson," she joined guitarist Lynn Davis' band the Forty Niners, and in 1941, she and Davis married.
Over the next five years, the Forty Niners extensively toured the South, building a substantial fan base along the way. By the time the group settled in for an extended stay in Louisville, KY, in 1946, the name "Molly O'Day" was firmly entrenched. While Davis and O'Day's duos were popular with audiences, it was her deeply felt solo performances of inspirational songs which had the biggest impact and which led writer/publisher Fred Rose to sign the singer to Columbia Records. There, O'Day performed a number of songs written by a young Hank Williams, whom she had already known from their days on the radio circuit; in fact, it was Williams who taught O'Day her best-loved song, "Tramp on the Street," one of eight tunes she cut during her first studio session in late 1946. Backed by Davis, her brother Skeets, bassist Mac Wiseman, and George "Speedy" Krise on the Dobro, the recordings gave a further boost to O'Day's surging popularity, but already she was having trouble coping with her success.
O'Day and Davis spent much of 1947 out of music, but in December of that year she returned to the studio, where she recorded her crowd-pleaser "Matthew Twenty-Four." She and Davis spent much of the next several years on the road, where she began performing religious material almost exclusively; in mid-1949, she cut another session, recording songs like "Teardrops Falling in the Snow," "Poor Ellen Smith," and Williams' "On the Evening Train." In the latter half of the year, O'Day suffered a nervous breakdown and was hospitalized; although she did record again in 1950 and 1951, she largely turned her back on show business afterward, instead focusing on performing in churches. In 1954, Davis became an ordained minister, and in the decades following, the couple preached throughout the coal mining communities of West Virginia. O'Day did record for a few small gospel labels in the 1960s, and in 1973 she and Davis began hosting a daily gospel program on a West Virginia radio station. She died of cancer December 5, 1987.
https://en.wikipedia.org/wiki/Molly_O'Day_(singer)
Talents : Vocals, Guitar
Style musical : Traditional Country, Honky Tonk
Years in activity :
| | | | | | | | | | | | |
| --- | --- | --- | --- | --- | --- | --- | --- | --- | --- | --- | --- |
| 1910 | 20 | 30 | 40 | 50 | 60 | 70 | 80 | 90 | 2000 | 10 | 20 |
DISCOGRAPHY
78 t., Singles & EP
| | | | |
| --- | --- | --- | --- |
| 07/1947 | 78 t. COLUMBIA 37559 (US) | . | Molly O'DAY & The CUMBERLAND MOUNTAIN FOLKS - Put My Rubber Doll Away / The Tramp On The Street |
| 10/1947 | 78 t. COLUMBIA 37938 (US) | . | Molly O'DAY & The CUMBERLAND MOUNTAIN FOLKS - The Drunken Driver / Six More Miles |
| 11/1947 | 78 t. COLUMBIA 37981 (US) | . | Molly O'DAY & The CUMBERLAND MOUNTAIN FOLKS - The Tear Stained Letter / When God Comes And Gather His Jewels |
| 03/1948 | 78 t. COLUMBIA 38138 (US) | . | Molly O'DAY & The CUMBERLAND MOUNTAIN FOLKS - I Don't Care If Tomorrow Never Comes / I'll Never See Sunshine Again |
| 04/1948 | 78 t. COLUMBIA 20187 (US) | . | Molly O'DAY & The CUMBERLAND MOUNTAIN FOLKS - Put My Rubber Doll Away / The Tramp On The Street |
| 04/1947 | 78 t. COLUMBIA 20376 (US) | . | Molly O'DAY & The CUMBERLAND MOUNTAIN FOLKS - The Drunken Driver / Six More Miles |
| 04/1948 | 78 t. COLUMBIA 20389 (US) | . | Molly O'DAY & The CUMBERLAND MOUNTAIN FOLKS - The Tear Stained Letter / When God Comes And Gather His Jewels |
| 04/1948 | 78 t. COLUMBIA 20413 (US) | . | Molly O'DAY & The CUMBERLAND MOUNTAIN FOLKS - I Don't Care If Tomorrow Never Comes / I'll Never See Sunshine Again |
| 05/1948 | 78 t. COLUMBIA 20441 (US) | . | Molly O'DAY & The CUMBERLAND MOUNTAIN FOLKS - Don't Forget The Family Prayer / A Hero's Death |
| 07/1948 | 78 t. COLUMBIA 20463 (US) | . | Molly O'DAY & The CUMBERLAND MOUNTAIN FOLKS - Too Late-Too Late / Why Do You Weep? |
| 09/1948 | 78 t. COLUMBIA 20494 (US) | . | Molly O'DAY & The CUMBERLAND MOUNTAIN FOLKS - At The First Fall Of Snow / I Heard My Mother Weeping |
| 11/1948 | 78 t. COLUMBIA 20514 (US) | . | Molly O'DAY & The CUMBERLAND MOUNTAIN FOLKS - Singing Waterfall / Beneath That Lonely Mound Of Clay |
| 01/1949 | 78 t. COLUMBIA 20534 (US) | . | Molly O'DAY & The CUMBERLAND MOUNTAIN FOLKS - The Black Sheep Returned To The Fold / Matthew Twenty-Four |
| 05/1949 | 78 t. COLUMBIA 20584 (US) | . | Molly O'DAY & The CUMBERLAND MOUNTAIN FOLKS - Coming Down From God / Teardrops Falling In The Snow |
| 07/1949 | 78 t. COLUMBIA 20601 (US) | . | Molly O'DAY & The CUMBERLAND MOUNTAIN FOLKS - Evening Train / Fifteen Years Ago Today |
| 10/1949 | 78 t. COLUMBIA 20629 (US) | . | Molly O'DAY & The CUMBERLAND MOUNTAIN FOLKS - Poor Ellen Smith / This Is The End |
| 01/1950 | 78 t. COLUMBIA 20657 (US) | . | Molly O'DAY & The CUMBERLAND MOUNTAIN FOLKS - With You In Mind / Mother's Gone But Not Forgotten |
| 01/1950 | 33 t. COLUMBIA 2-451 (US) | . | Molly O'DAY & The CUMBERLAND MOUNTAIN FOLKS - With You In Mind / Mother's Gone But Not Forgotten |
| 09/1950 | 78 t. COLUMBIA 20732 (US) | . | Molly O'DAY & The CUMBERLAND MOUNTAIN FOLKS - Heaven's Radio / Don't Sell Daddy Any More Whiskey |
| 09/1950 | 33 t. COLUMBIA 2-740 (US) | . | Molly O'DAY & The CUMBERLAND MOUNTAIN FOLKS - Heaven's Radio / Don't Sell Daddy Any More Whiskey |
| 11/1950 | 78 t. COLUMBIA 20745 (US) | . | Molly O'DAY & The CUMBERLAND MOUNTAIN FOLKS - When My Time Comes To Go / If You See My Savior |
| 09/1951 | 78 t. COLUMBIA 20864 (US) | . | Molly O'DAY & Lynn DAVIS - Higher In My Prayers / It's Different Now |
| 12/1951 | 78 t. COLUMBIA 20890 (US) | . | Molly O'DAY & The CUMBERLAND MOUNTAIN FOLKS - Traveling The Highway Home / When We See The Redeemer's Face |
| 05/1952 | SP COLUMBIA 4-20937 (US) | . | Molly O'DAY & The CUMBERLAND MOUNTAIN FOLKS - It's All Coming True / When The Angels Rolled The Stone Away |
| 08/1954 | SP COLUMBIA 4-52013 (US) | . | Molly O'DAY & The CUMBERLAND MOUNTAIN FOLKS - The Tramp On The Street / Don't Sell Daddy Any More Whiskey |
| 195? | SP COLUMBIA 4-54007 (US) | . | Molly O'DAY & The CUMBERLAND MOUNTAIN FOLKS - Matthew Twenty-Four / The Black Sheep Returned To The Fold |
| 1962 | EP COLUMBIA B 2826 (US) | | Molly O'DAY & The CUMBERLAND MOUNTAIN FOLKS - The Tramp On The Street / The Black Sheep Returned To The Fold / ? / ? |
| 1962 | SP REM 45-310 (US) | . | Living The Right Life Now / I'd Like To Talk It Over With Him |
| 1962 | EP REM EP 502 (US) | | I'm Going Home On The Morning Train / Oh What A Day / King Jesus Will Roll All Burdens Away / When My Time Comes To Go / Traveling The Highway Home / Coming Down From God All |
| | |
| --- | --- |
| | |
Albums
1962
LP 12" REM LP-1001 (US)

Molly O' DAY SINGS AGAIN -

12 SACRED SONGS - Living The Right Life Now / I'd Like To Talk It Over With Him / When The Angels Rolled The Stone Away / Traveling The Highway Home / Coming Down From God / I'm Going Home On The Morning Train / I'll Face Nobody's Record But Mine / I Have But One Goal / He Has Called Me By My Name / King Jesus Will Roll All My Burdens Away / I'm Going To Walk Right In / When My Time Comes To Go
06/1963
LP 12" HARMONY HL-7299 (US)

THE UNFORGETTABLE MOLLY O' DAY -

Molly O'DAY & The CUMBERLAND MOUNTAIN FOLKS - Teardrops Falling In The Snow / Singing Waterfall / Drunken River / When God Comes To Gather His Jewels / Hero's Death / Too Late-Too Late / This Is The End / I Don't Care If Tomorrow Never Comes / I Heard My Mother Weeping / Put My Rubber Doll Away
1966
LP 12" STARDAY SLP-367 (US)
THE LIVING LEGEND OF COUNTRY MUSIC - Molly O'DAY & The CUMBERLAND MOUNTAIN FOLKS - Coming Down From God / He Has Called Me By My Name / I Have But One Goal / I'd Like To Talk It Over With Him / I'll Face Nobody's Record But Mine / I'm Going Home On The Morning Train / I'm Going To Walk Right In / King Jesus Will Roll All Burdens Away / Living The Right Life Now / Traveling The Highway Home / When My Time Comes To Go / When The Angels Rolled The Stone Away
1967
LP 12" QUEEN CITY 619 (US)
THE HEART AND SOUL OF MOLLY O'DAY - I'll Shout And Shine / When I Inherit My Mansion / When Judgement Reaches Home / It Won't Be Long / Snow Covered Mound / Blind Child / Good Man Of The House Is Coming Home / Just As The Sun Went Down / Crossing Over The River / Thank God For My Christian Home / He Was Waiting At The Altar / Sinner Man Where You Gonna Hide
1974
LP 12" OLD HOMESTEAD OHCS-101 (US)

| | |
| --- | --- |
| | A SACRED COLLECTION - Molly O'DAY & The CUMBERLAND MOUNTAIN FOLKS - At The First Fall Of Snow / Coming Down From God / Don't Sell Daddy Anymore Whiskey / Hero's Death / Higher In My Prayers (with Lynn DAVIS) / I Heard My Mother Weeping / If You See My Savior / Matthew Twenty-Four / Mother's Gone But Not Forgotten / Something / Teardrops Falling In The Snow / Tramp On The Street / Traveling The Highway Home (with Lynn DAVIS) / Waiting For The Boys / When My Time Comes To Go / When We See The Redeemer's Face (with Lynn DAVIS) |

06/1982
LP 12" OLD HOMESTEAD OHCS-140 (US)

RADIO FAVORITES -

Molly O'DAY & The CUMBERLAND MOUNTAIN FOLKS - Beneath That Lonely Mound Of Clay / Black Sheep Returned / Don't Forget The Family Prayer / Drunken Driver / Evening Train / Fifteen Years Ago Today / Goodnight Darling / I Wish I Were A Single Girl Again / I'll Never See Sunshine Again / It's All Coming True / It's Different Now / Mule Skinner Blues / Six More Miles / Tear Stained Letter / Too Late To Worry / When The Angels Rolled The Stone Away / With You On My Mind / Why Do You Weep Dear Willow
1984
LP 12" OLD HOMESTEAD OHCS-312 (US)
THE SOUL OF MOLLY DAY - VOL. 1 - Molly O'DAY & The CUMBERLAND MOUNTAIN FOLKS - I'm Going Home On The Morning Train / King Jesus Will Roll All Burden Away / Living The Right Life Now / Traveling The Highway Home / I Have But One Goal / When The Angels Rolled The Stone Away / When My Time Comes To Go / I'd Like To Talk It Over With Him / I'll Face Nobody's Record But Mine / He Has Called Me By My Name / I'm Going To Walk Right In / What A Day
1984
LP 12" OLD HOMESTEAD OHCS-313 (US)
THE SOUL OF MOLLY DAY - VOL. 2 - Molly O'DAY & The CUMBERLAND MOUNTAIN FOLKS - When Judgement Reaches Home / I'll Shout And Shine / When I Inherit My Mansion / It Won't Be Long / Good Man Of The House Is Coming Back / Just As The Sun Went Down / Snow Covered Mound / Blind Child / Crossing Over The River / Thank God For My Christian Home / He Was Waiting At The Altar / Sinner Man Where You Gonna Hide
198?
LP 12" MASTERTONE QCA 80313 (US)

THE HEART AND SOUL OF MOLLY O'DAY - I'll Shout And Shine / When I Inherit My Mansion / When Judgement Reaches Home / It Won't Be Long / Snow Covered Mound / Blind Child / Good Man Of The House Is Coming Home / Just As The Sun Went Down / Crossing Over The River / Thank God For My Christian Home / He Was Waiting At The Altar / Sinner Man Where You Gonna Hide

198?
LP 12" PINE MOUNTAIN PMR 267 (US)
THE LIVING LEGEND OF COUNTRY MUSIC - Molly O'DAY & The CUMBERLAND MOUNTAIN FOLKS - Living The Right Life Now / I'd Like To Talk It Over With Him / When The Angels Rolled The Stone Away / Traveling The Highway Home / Coming Down From God / I'm Going Home On The Morning Train / I'll Face Nobody's Record But Mine / I Have But One Goal / He Has Called Me By My Name / King Jesus Will Roll All My Burdens Away / I'm Going To Walk Right In / When My Time Comes To Go
1990
CD OLD HOMESTEAD OHCS-196 (US)
IN MEMORY - Molly O'DAY & Lynn DAVIS & The CUMBERLAND MOUNTAIN FOLKS - Poor Ellen Smith / A Hero's Death / Put My Rubber Doll Away / Coming Down From God / Heaven's Radio / When God Comes To Gather His Jewels / Singing Waterfall / Too Late, Too Late / I Don't Care If Tomorrow Never Comes / This Is The End / Don't Forget Family Prayer / Jesus Said / Tramp On The Street / Oh Broken Heart / Take Up Thy Cross / Take Your Burdens To The Lord / Deeper Then The Stains Have Gone
1992
2 CD BEAR FAMILY BCD 15565 (GER)

MOLLY O' DAY & THE CUMBERLAND MOUNTAIN FOLKS :

CD 1 : Tramp On The Street / When God Comes And Gather His Jewels / The Black Sheep Returned To The Fold / Put My Rubber Doll Away / The Drunken Driver / Tear Stained Letter / Lonely Mound Of Clay / Six More Miles / Singing Waterfall / At The First Fall Of Snow / Matthew Twenty-Four / I Don't Care If Tomorrow Never Comes / A Hero's Death / I'll Never See Sunshine Again / Too Late - Too Late / Why Do You Weep Dear Willow / Don't Forget The Family Prayer / I Heard My Mother Weeping
CD 2 : Mother's Gone But Not Forgotten / The Evening Train / This Is the End / Fifteen Years Ago / Poor Ellen Smith / Coming Down From God / Teardrops Falling In The Snow / With You On My Mind / If You See My Saviour / Heaven's Radio / When My Time Comes To Go / Don't Sell Daddy Anymore Whiskey / Higher in My Prayers / Travelling The Highway Home / It's Different Now / When The Angels Rolled The Stone Away / It's All Coming True / When We See Our Redeemer's Face

2008
CD GUSTO GT7-0876-2 (US)
LIVING LEGEND OF COUNTRY MUSIC - Molly O'DAY & The CUMBERLAND MOUNTAIN FOLKS - Living The Right Life Now / I'd Like To Talk It Over With Him / When The Angels Rolled The Stone Away / Traveling The Highway Home / Coming Down From God / I'm Going Home On The Morning Train / I'll Face Nobody's Record But Mine / I Have But One Goal / He Has Called Me By My Name / King Jesus Will Roll All My Burdens Away / I'm Going To Walk Right In / When My Time Comes To Go / I'm Going Home On The Mignight Train
© Rocky Productions 28/12/2011