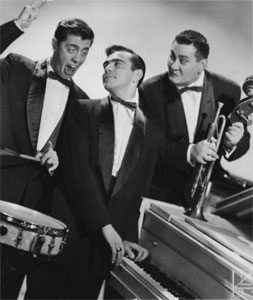 Groupe Rock 'n' Roll US formé en 1956 à Waterbury (Connecticut). Les Playmates étaient composés de Chic Hetti "Carl Cicchett", Donny Conn "Donald Claps" et Morey Car. Ils se sont séparés en 1964

The Playmates — best known for "Beep Beep," one of several Top 40 hits — were one of the first rock & roll groups signed to the New York-based Roulette Records, formed and co-owned by music industry leaders Morris Levy, Joe Kolsky, and George Goldner. Originally known as the Nitwits (probably a better name for them in the long run), the Playmates had been performing in the area around Waterbury, CT, for five years before signing to Roulette in 1958. The label had already scored a few rock & roll hits by the time they signed the group; unfortunately, the Playmates' specialty was not rock & roll, but novelty music.
Despite the oft-corny lyrical content of their upbeat pop fare, they earned two hits right away with "Jo Ann" and "Beep Beep," the latter with a chorus that featured the group repeating a phrase of car beeps ("beep beep, beep beep, this car goes beep, beep beep"). Despite its silliness, "Beep Beep" — written by group members Carl Cicchetti and Donald Claps — climbed to number four in the nation in December 1958 and earned the Playmates the right to record an album, At Play With the Playmates, which followed soon after.
In 1959, they scored again with "What Is Love?" (number 15) and followed suit the next year with "Wait for Me" (number 37). The group subsequently recorded three additional albums for the label: Cuttin' Capers, Wait for Me, and Broadway Showstoppers. Another album, The Playmates Visit West of the Indies, was issued on an early- to mid-'60s budget reissue label called Forum Records, which was a division of Roulette Records. The group disbanded in 1964.
Talents : Chic Hetti "Carl Cicchett" : Lead & Pianist - Donny Conn "Donald Claps" : Vocal & Drummer - Morey Car : Vocal & Bass
Style musical : Rock 'n' Roll, Doo Wop, Pop, Comedy
| | |
| --- | --- |
| Jo-Ann (1957) | |
Years in activity :
| | | | | | | | | | |
| --- | --- | --- | --- | --- | --- | --- | --- | --- | --- |
| 1910 | 20 | 30 | 40 | 50 | 60 | 70 | 80 | 90 | 2000 |
DISCOGRAPHY
78 t., Singles et EP
03/1957
78 t. & SP ROULETTE R-4003 (US)
.
Pretty Woman / Barefoot Girl
09/1957
SP ROULETTE R-4022 (US)
.
Darling It's Wonderful / Island Girl
09/1957
SP ROULETTE R-4022 (US)
.
Darling It's Wonderful / Magic Shoes
12/1957
SP ROULETTE R-4037 (US)
.
Jo-Ann / You Can't Stop Me From Dreaming
03/1958
SP ROULETTE R-4056 (US)
.
Let's Be Lovers / Give Me Another Chance
04/1958
SP ROULETTE R-4072 (US)
.
Don't Go Home / Can't You Get Through Your Head
08/1958
SP ROULETTE R-4100 (US)
.
The Day I Died / While The Record Goes Around
10/1958
SP ROULETTE R-4115 (US)
.
Beep Beep / Your Love
1958
EP VERSAILLES 90 S 258 (F)
Beep Beep / You Love / Jo Ann / You Can't Stop Me From Dreaming
1958
EP SONET SXP 3032 (DK)
Don't Go Home / Can't You Get Through Your Head / Let's Be Lovers / Give Me Another Chance
1958
EP SONET SXP 3046 (DK)

At Play With The Playmates -

The Day I Died / Beep Beep / La La La Lovable / Substitute For Love
02/1959
SP ROULETTE R-4136 (US)
.
Star Love / The Thing-A-Ma-Jig
06/1959
SP ROULETTE R-4160 (US)
.
What Is Love / I Am
10/1959
SP ROULETTE R-4200 (US)
.
First Love / A Ciu-E
11/1959
SP ROULETTE R-4211 (US)
.
On The Beach / The Song Everybody's Singing
1959
EP VERSAILLES 90 S 276 (F)
What Is Love / The Day I Died / Star Love / Can't You Get It Trough Your Head
1959
SP SONET T 7076 (DK)
What Is Love / I Am
02/1960
SP ROULETTE R-4227 (US)
.
Second Chance / These Things I Offer You
05/1960
SP ROULETTE R-4252 (US)
.
Parade Of Pretty Girls / Our Wedding Day
09/1960
SP ROULETTE R-4276 (US)
.
Wait For Me / Eyes Of An Angel
1960
SP SONET T 7091 (DK)
On The Beach (PLAYMATES) / Waltzing Mathilda (Jimmie

Rodgers

)
01/1961
SP ROULETTE R-4322 (US)
.
Little Miss Stuck Up / Real Life
06/1961
SP ROULETTE R-4370 (US)
.
Tell Me What She Said / Cowboys Never Cry
09/1961
SP ROULETTE R-4393 (US)
.
Wimoweh / One Little Kiss
1961
EP RICORDI REP 1109 (F)
Wait For Me / Eyes Of An Angel / Real Life / Little Miss Stuck-Up
03/1962
SP ROULETTE R-4417 (US)
.
A Rose And A Star / Bachelor Flat
06/1962
SP ROULETTE R-4432 (US)
.
Keep Hands In Your Pockets / The Cop On The Beat
12/1962
SP ROULETTE R-4464 (US)
.
What A Funny Way To Shoe It / Pettycoats Fly
03/1963
SP ABC-PARAMOUNT 45-10422 (US)
.
"A" My Name Is Alice / Just A Little Bit
06/1963
SP ABC-PARAMOUNT 45-10468 (US)
.
She Never Looked Better / But Not Through Tears
10/1963
SP ABC-PARAMOUNT 45-10492 (US)
.
I Cross My Fingers / I'll Never Get Over You
1963
EP VEGA / ABC-PARAMOUNT ABC 45 90922 (F)
CREW CUTS : Hip-Huggers / You're A Star, Donna, Donna / PLAYMATES : I'll Never Get Over You / I Cross My Fingers
02/1964
SP ABC-PARAMOUNT 45-10522 (US)
.
The Guy Behind The Wheel / The Only Guy Left On The Corner
1964
SP Oldies 45

OL 161 (US)
.
Beep Beep / Your Love
12/1964
SP Colpix CP 760 (US)
.
Fiddler On The Roof / A Piece Of The Sky
02/1965
SP Colpix CP 769 (US)
.
One By One The Roses Died (Motive D'Amore) / Spanish Perfume (And A Yellow Rose)
07/1965
SP CONGRESS CG-245 (US)
.
The Ballad Of Stanley The Lifeguard / Should I Ask Someone Else To Tell Her
196?
EP ROULETTE EPR 321 (SA)
What Is Love / I Am / First Love / A-Ciu-E (Ah-Che-Way)
11/1971
SP BELL 45-149 (US)
.
Dayeynu (That Would Be Enough For Me) / Foundation Of Love
197?
SP ROULETTE

Golden Goodies Hits Series

GG-47 (US)
.
Beep Beep / What Is Love
197?
SP ROULETTE

Golden Goodies Hits Series

GG-75 (US)
.
Jo-Ann / Wait For Me
1994
SP COLLECTABLES COL 0248 (US)
.
Jo-Ann / Don't Go Home
1994
SP COLLECTABLES COL 0249 (US)
.
Beep Beep / Let's Be Lovers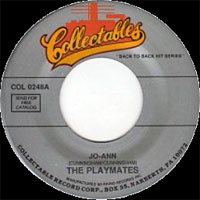 Albums
1957
LP 12" ROULETTE R-25001 (US)

Calypso With The Playmates -

Goombay / Tonight My Heart She Is Crying / Island Girl / Evolution / Old Donkey-O / Sing Bahama Mama / Pretty Woman / Similau / Women Drivers / The Trouble With Man / Barefoot Girl / Lot Of Money, Lot Of Woman
1958
LP 12" ROULETTE R-25043 (US)
AT PLAY WITH THE PLAYMATES - Jo-Ann / Your Love / Darling It's Wonderful / Substitute For Love / Magic Shoes / When The Record Goes Around / Beep Beep / The Day I Died / Give Me Another Chance / Lovable / Intimate / Don't Go Home
1958
LP 12" ROULETTE R-25068 (US)
CUTTIN' CAPERS - Let's Have A Party / The Macaroni Song / Worry / Our Friend / The Lady Or The Tiger / The Thing-A-Ma-Jig / What A Dream I Had / Women Drivers / Egypt / Modern Science / Bag Of Sand
1959
LP 12" ROULETTE R-25084 (mono) / SR-25084 (stereo) (US)
BROADWAY SHOW STOPPERS - Get Me to the Church On Time / Hernando's Hideaway / You're Just In Love / Jubilation T. Cornpone / Once In Love With Amy / There Is Nothin' Like A Dame / Luck Be A Lady / Seventy-Six Trombones / Heart / Standin' On the Corner / I Whistle A Happy Tune / You Can Fly! You Can Fly! You Can Fly!
1960
LP 12" FORUM F-16001 (mono) / SF-16001 (stereo) (US)
THE PLAYMATES VISIT WEST OF THE INDIES - Goombay / Tonight My Heart She is Crying / Island Girl / Evolution / Old Donkey-O / Sing Bahama Mama / Pretty Woman / Similau / Women Drivers / The Trouble With Man / Barefoot Girl / Lot Of Money, Lot Of Woman
1961
LP 12" ROULETTE SR-25139 (US)
WAIT FOR ME

and other outstanding hits

- Wait For Me / Parade Of Pretty Girls / A Ciu-E / It's Amour / The Song Everybody's Singing / I Am / What Is Love / These Things I Offer You / First Love / Second Chance / Eyes Of An Angel / On The Beach
1979
LP 12" ROULETTE 200 626 (GER)

The Story Of Rock And Roll - THE PLAYMATES -

Jo-Ann / Magic Shoes / Don't Go Home / The Day I Died / Your Love / Darling, It's Wonderful / Beep Beep / What Is Love / Give Me Another Chance / Substitute For Love / La La La Lovable / While The Record Goes Around
11/1991
CD COLLECTABLES COL-CD-5418 (US)
GOLDEN CLASSICS - Jo Ann / Let's Be Lovers / Don't Go Home / The Day I Died / While The Record Goes Around And Around / Beep Beep / Your Love / Star Love / What Is Love? / First Love / Wait For Me / Little Miss Stuck Up
10/2005
CD COLLECTABLES 9943 (US)
BEEP BEEP - Beep Beep / Darling It's Wonderful / Jo Ann / What Is Love? / Don't Go Home / Little Miss Stuck Up / Barefoot Girl / Wimoweh / Wait For Me / Star Love
© Rocky Productions 27/03/2017