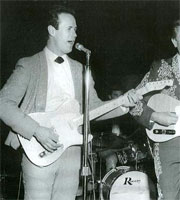 Guitariste et chanteur né Donald Eugene Ulrich le 15 Août 1941 à Olympia (Washington). Il fut le guitariste leader des Buck Owens' Buckaroos. Don Rich est décédé le 17 Juillet 1974 à Morro Bay (Californie).

b. Donald Eugene Ulrich, 15 August 1941, Olympia, Washington, USA, d. 17 July 1974, near Morro Bay, California, USA. A child prodigy, Rich was appearing on radio at the age of five and at eight he was playing guitar and fiddle and appearing on radio with a local dance band. He studied lead guitar, which won him a talent contest and a trip to Hollywood. In 1956 he was playing lead guitar for a band, prompting him to make some appearances playing fiddle with Buck Owens' Buckaroos on television shows in Tacoma, Washington. He had thoughts of becoming a music teacher, and for two years he studied music at Tacoma College and supported himself by playing in local clubs. However, in 1960, his teaching career was dropped when he became a full-time member of the Owens show. Playing fiddle and lead guitar and singing tenor Vocals, he remained with Owens until his untimely death 14 years later.
During those years, as the acknowledged leader of the band, he was very much the talent and driving force behind the well-known Buck Owens sound. His fine Vocals complemented those of Owens and undoubtedly led to the success of many of Owens' hits such as 'Together Again,' 'I've Got a Tiger by the Tail' and 'Cryin' Time.' He also wrote songs that became major hits for Owens including with 'Before You Go' (1965) and 'Waitin' in Your Welfare Line' (1966), which both made number 1. In 1965, he played on the Buckaroos number 1 instrumental hit 'Buckaroo' and in 1967 on 'Chicken Pickin'.' In 1968 and 1969, the Buckaroos, featuring Don Rich, gained chart entries with 'I'm Coming Back Home to Stay,' 'I'm Going Back Home Where I Belong' and 'Anywhere USA.' In 1969 and 1970 'Nobody But You' and 'The Night They Drove Old Dixie Down' charted, listed this time as Don Rich & the Buckaroos. In 1970, when he recorded a duet album with Buck's son, Buddy Alan, the title track 'Cowboy Convention' became a Top 20 hit. The following year the duo also charted with 'I'm on the Road to Memphis.' In 1967 and 1968, Rich led the Buckaroos to the CMA Instrumental Group of the Year award and in 1974, he was named Instrumentalist of the Year.
On 17 July 1974, Rich set off on his favourite motorcycle for a fishing trip but died following an accident near Morro Bay, California. Owens was distraught at the loss of a man who had been his right arm for 14 years, and always maintained that Rich, had he so desired, could have become a major star in his own right -- instead, he was always happy to remain with Owens. Rich played on numerous recordings with Owens and also recorded on albums with the band minus Owens, but only recorded one solo album plus the duet release with Buddy Alan.
https://en.wikipedia.org/wiki/Don_Rich
Talents : Guitar, Fiddle, Vocals, Songwriter
Style musical : Bakersfield Sound, Honky Tonk, Contemporary Country
| | |
| --- | --- |
| LAY A LITTLE LIGHT ON ME (1969) | |
Years in activity :
| | | | | | | | | | | | |
| --- | --- | --- | --- | --- | --- | --- | --- | --- | --- | --- | --- |
| 1910 | 20 | 30 | 40 | 50 | 60 | 70 | 80 | 90 | 2000 | 10 | 20 |
Singles
Albums
01/1971
LP 12" CAPITOL ST-643 (US)
THAT FIDDLIN' MAN - Don RICH & THE BUCKAROOS - Orange Blossom Special / Pretty Girl Hoe Down / Louisiana Waltz / Down On The Bayou / Saturday Night / Georgia Peach / Cajun Fiddle / Dublin Waltz / Catfish Capers / Tumwater Breakdown
1971
LP 12" CAPITOL ST-769 (US)
WE'RE REAL GOOD FRIENDS - Buddy ALAN & Don RICH
11/2000
CD SUNDAZED SC 11091 (US)

COUNTRY PICKIN' - THE DON RICH ANTHOLOGY - Don RICH & The BUCKAROOS - Buckaroo / Orange Blossom Special / I'm Layin' It On The Line / The Happy Go Lucky Guitar / Cajun Fiddle / Out Of My Mind / Round Hole Guitar / Tumwater Breakdown / Chicken Pickin' / Love's Gonna Come A Knockin' / Buckersfield Breakdown / I'll Be Swingin' Too / Sad Is The Lonely / Pretty Girl / Chaparral / I'm Coming Back Home To Stay / Spanish Moonlight / Saturday Night / I'm Goin' Back Home Where I Belong / Aw Heck / Georgia Peach / Tim-Buck-Too / Pickin-Nickin' / Country Pickin'

01/2013
CD OMNIVORE 101299 (US)
DON RICH SINGS GEORGE JONES - The Race Is On / A Girl I Used To Know / The Window Up Above / White Lightning / She Thinks I Still Care / Love Bug / You Comb Her Hair / Your Heart Turned Left (And I Was On The Right) / Walk Through This World With Me / Too Much Water / The Race Is On (Buck OWENS) / Four-O-Thirty Three (Buck OWENS) / Root Beer (Buck OWENS) / Too Much Water (Buck OWENS)
07/2013
CD OMNIVORE OVCD 66 (US)
THAT FIDDLIN' MAN - Don RICH & The BUCKAROOS - Orange Blossom Special / Pretty Girl Hoe Down / Louisiana Waltz / Down On The Bayou / Saturday Night / Georgia Peache / Cajun Fiddle / Dublin Waltz / Catfish Capers / Tumwater Breakdown / A Maiden's Prayer / Going Home To The Bayou / Buckersfield Breakdown / The Way That I Love You / Bile 'Em Cabbage Down / Faded Love / Fishin' Reel / Kern County Breakdown / Greensleeves / Fiddle Polka
12/2016
CD OMNIVORE 816651013890 (US)

Guitar Pickin' Man -

Don RICH & The BUCKAROOS - Guitar Pickin' Man (Hee Haw version) / Chaparral / Wham Bam / Bossa Nova Buckaroo Style / Out Of My Mind / I'm a-Comin' Back Home To You / Chicken Pickin' / Down At The Corner Bar / Hello California / Meanwhile Back At The Ranch / Take Care Of You for Me In Kansas City / Aw Heck / Number One Heel / You Bring Out The Best In Me / Happy Son Of A Gun / Ensenada / One More Time / Sally Was A Good Old Girl
© Rocky Productions 17/12/2016