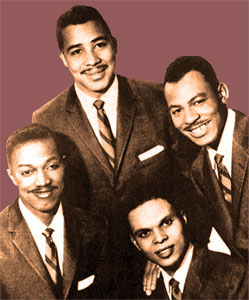 Groupe Doo Wop US originaire d'Englewood (New Jersey). Les Rivieras étaient composés de Homer Dunn, Charles Cook, Andy Jones et Ronald Allen.

The careers of Englewood, NJ, natives Homer Dunn, Andy Jones, Ronald Allen, and Charles Cook hadn't reached first base when they met manager of a group named the Avons, who christened them the Four Arts because they favored pop songs. After Warren Lanier rediscovered the quartet, he renamed them the El Rivieras, though they remained unrecorded until Jones met William Fix, the manager of the Ames Brothers. Fix arranged an audition with Marvin Cane and George Paxton, the owners of Coed Records, and the El Rivieras were off and running. They dropped the "El," and debuted as the Rivieras with "I Count Every Star," which entered the pop charts at number 73 in 1958.
Good management kept them working, taking them as far west as Chicago. Their biggest hit, "Moonlight Serenade," reached number 47 in 1959. "Our Love" generated no action, but their fourth release, "Since I Made You Cry," dented the pop charts at number 93 in 1960. Four subsequent releases -- "Moonlight Cocktails," "My Friend," "Stay in My Heart," and "El Dorado" -- went unnoticed. However, "Moonlight Cocktails" along with "Moonlight Serenade" became popular selections on beach-music compilation albums. Coed released two LPs by the group, My Silent Love and Scarlet Hour, but after the label folded in 1961, the Rivieras soon faded into the moonlight. In 1992, Relic released the compilation Moonlight Cocktails on CD.
Talents : Homer Dunn : Leader - Charles Cook : Tenor - Andy Jones : Bariton - Ronald Allen : Basse
Style musical : Doo Wop, Rhythm 'n' Blues
| | |
| --- | --- |
| Count Every Star (1958) | |
Years in activity :
| | | | | | | | | | | |
| --- | --- | --- | --- | --- | --- | --- | --- | --- | --- | --- |
| 1910 | 20 | 30 | 40 | 50 | 60 | 70 | 80 | 90 | 2000 | 10 |
DISCOGRAPHY
Singles & EP
07/1958
SP COED CO-503 (US)
.
Count Every Star / True Love Is Hard To Find
01/1959
SP COED CO-508 (US)
.
Moonlight Serenade / Neither Rain Nor Snow
05/1959
SP COED CO-513 (US)
.
True Love Is Hard To Find / Our Love
06/1959
SP COED CO-513 (US)
.
Our Love / Midnight Flyer
12/1959
SP COED CO-522 (US)
.
Since I Made You Cry / 11th Hour Melody
1959
EP VERSAILLES 90 S 251 (F)
Sixteen Candles

(

CRESTS) /

Beside You (

CRESTS) / Count Every Star (RIVIERAS & CRESTS) /

Pretty Little Angel

(RIVIERAS & CRESTS)
1959
SP VERSAILLES 45. S. 608 (F)
.
Sixteen Candles (CRESTS) / Count Every Star (RIVIERAS)
05/1960
SP COED CO-529 (US)
.
Moonlight Cocktails / Blessing Of Love
10/1960
SP COED CO-538 (US)
.
My Friend / Great Big Eyes
12/1960
SP COED CO-542 (US)
.
Stay In My Heart / Easy To Remember
1961
EP LA VOIX DE SON MAÎTRE EMF 292 (F)

Refrigerator / El Dorado / Stay In My Heart / Easy To Remember

04/1964
SP COED CO-592 (US)
.
Moonlight Cocktails / Midnight Flyer
1968
SP ERIC 127 (US)
.
Moonlight Serenade / Moonlight Cocktail
1987
SP Original Sound Oldies But Goodies 4571 (US)
.
La La La La La (

Blendells

) / Count Every Star (RIVIERAS)
198?
SP LOST-NITE 162 (US)
.
Moonlight Cocktails / Blessing Of Love
198?
SP LOST-NITE 164 (US)
.
Count Every Star / True Love Is Hard To Find
198?
SP LOST-NITE 167 (US)
.
Moonlight Serenade / Neither Rain Nor Snow
198?
SP LOST-NITE 169 (US)
.
Our Love / True Love Is Hard To Find
198?
SP LOST-NITE 170 (US)
.
Stay In My Heart / Easy To Remember
198?
SP LOST-NITE 172 (US)
.
11th Hour Melody / Since I Made You Cry
19??
SP COLLECTABLES 1131 (US)
.
Moonlight Serenade / Neither Rain Nor Snow
19??
SP COLLECTABLES 1134 (US)
.
Moonlight Cocktails / Blessing Of Love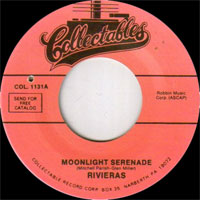 Albums
196?
LP 12" POST POST-2000 (US)
THE RIVIERAS SING -

Moonlight Cocktails / Eleventh Hour Melody / Count Every Star / Easy To Remember / Midnight Rider / Moonlight Serenade / Our Love / Stay In My Heart / Blessing Of Love / True Love Is Hard To Find / Neither Rain Nor Snow / Serenade In Blue

07/1992
CD COLLECTABLES COL-CD-5086 (US)

Moonlight Cocktails -

Moonlight Serenade / Easy To Remember / El Dorado / Moonlight Cocktails / My Silent Love / Since I Made You Cry / Count Every Star / Stay In My Heart / Serenade In Blue / Our Love / Blessing Of Love / Great Big Eyes / Neither Rain Nor Snow / True Love Is Hard To Find / 11th Hour Melody / My Friend / Midnight Flyer / Refrigerator

1992 ?
CD RELIC 5092 (US)

The Best Of The Rivieras - Moonlight Serenade / Easy To Remember / El Dorado / Moonlight Cocktails / My Silent Love / Since I Made You Cry / Count Every Star / Stay In My Heart / Serenade In Blue / Our Love / Blessing Of Love / Great Big Eyes /Neither Rain Nor Snow / True Love Is Hard To Find / 11th Hour Melody

04/1994
CD RELIC CD 7025 (US)
MOONLIGHT COCKTAILS -

Moonlight Serenade / Easy To Remember / El Dorado / Moonlight Cocktails / My Silent Love / Since I Made You Cry / Count Every Star / Stay In My Heart / Serenade In Blue / Our Love / Blessing Of Love / Great Big Eyes / Neither Rain Nor Snow / True Love Is Hard To Find / 11th Hour Melody / My Friend / Midnight Flyer / Refrigerator

08/2009
CD COLLECTABLES COLCD 1402 (US)

THE CRESTS MEET THE RIVIERAS - Sixteen Candles (CRESTS) / The Angels Listened In (CRESTS) / Trouble In Paradise (CRESTS) / Step By Step (CRESTS) / Pretty Little Angel (CRESTS) / Moonlight Cocktails (RIVIERAS) / Easy To Remember (RIVIERAS) / Moonlight Serenade (RIVIERAS) / Our Love (RIVIERAS) / Count Every Star (RIVIERAS)
© Rocky Productions22/09/2016