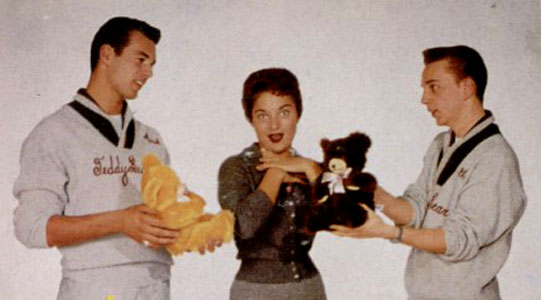 Trio Rock 'n' Roll US formé en 1958 à Los Angeles (Californie), composé de Carol Connors, Marshall Leib, Phil Spector;

Long before Phil Spector was single-handedly constructing his "Wall of Sound" with stacked-up, single-track-mono teen symphonies, he too was a struggling vocalist and musician looking for a break. That break came in 1958 as songwriter, guitarist, and backup singer for the short-lived L.A-based trio, the Teddy Bears, who landed a left-field number one hit with Spector's first recorded composition, the elegiac and sepulchral ballad "To Know Him Is to Love Him," a tribute to his deceased father (who had committed suicide in 1949, during Spector's childhood).
As a teenager, Spector was a loner. With little to interest him while taking classes at Fairfax High School, he was drawn to studying music, and soon excelled on the guitar, piano, drums, bass, and French horn. He also began writing and recording original songs in the R&B genre. He may have been only 17 years old, but he was already becoming a magnetic presence on the L.A. music scene and had already attracted his own disciples, including future Warner Bros. Honcho Russ Titelman and future Mother of Invention/Magic Band member Elliot Ingber.
Spector soon joined a group of would-be-musicians/producers/baloney throwers hanging around recording studios to learn as much as they could. Like Kim Fowley, Gary Paxton, Herb Alpert, Lou Adler, and others, he learned how to make records by visiting places like Gold Star studios, a recording studio on Vine Street and Santa Monica Blvd., which had opened in 1950. Owners/recording engineers Stan Ross and Dave Gold taught Spector how to record drums, how to arrange, how to mix records — virtually everything they knew. At one of these studios, he met Jerry Leiber and Mike Stoller, two songwriters that were already beginning to have much success producing singles for the Robins. Stoller had also been a student at Fairfax High and Leiber worked as a packing clerk at Norty's Record Shop on Fairfax Avenue, in the heart of L.A.'s Jewish district, just down the street from the high school campus.
After graduating in the Spring of 1958, Spector booked his first session at the Gold Star. Studio time cost 15 dollars an hour, plus an additional six bucks for a reel of blank tape, and Spector figured that 40 dollars out to cover the expenses. He borrowed the money from his mother, Bertha, an ardent supporter of her son's endeavors. Next, Spector turned to Marshall Leib, then a 19-year-old student at Los Angeles City College, majoring in business and law. Leib had some experience in the music business, having previously formed the Moondogs with some of his classmates. Another student at LACC, Harvey Goldstein, contributed ten dollars after being promised he could sing bass. Annette Kleinbard, who was then a 16-year-old student at Fairfax High, donated the final ten dollars. A native of new Brunswick, NJ, Kleinbard had a strong emotive soprano voice (she had sang in the glee club). She quickly agreed to help pay for the session if she too could be included in the group. Spector agreed and he finally had his 40 dollars.
The first two-hour session at Gold Star was devoted to the recording of Spector's "Don't You Worry My Little Pet." Spector played all the instruments on the single and acted as his own producer. After the mix-down, with his group's demo in hand, Spector approached his neighbor Lew Bedell, co-owner of Era Records (with Herb Newsome). The two had just started Dore Records, with the intention of recording rock & roll. They liked what they heard and offered Spector a four-record deal with royalties of a cent and one-half per sold copy. In the office they came up with the name the Teddy Bears, after the hit song by Elvis Presley.
At the third recording session, with Goldstein absent, a drummer was added to help with the instrumental backing. The replacement drummer was Sandy Nelson, who would go on to have his own successful career. Near the end of the session, Spector coaxed Kleinbard and Leib to try another song he'd written, called "To Know Him Is to Love Him," a plaintive, repetitive ballad song ("to know, know, know him, is to love, love, love him") which Spector had written after he'd taken a trip back to the Bronx and visited his father's graveside. The title came from an epitaph on his father's gravestone, in fact.
Dore mailed 500 copies of the single to radio stations in early August 1958. With no initial reaction forthcoming, Goldstein and Leib returned to college. In September, a DJ in Fargo, ND, flipped the single over and played "To Know Him Is to Love Him" and soon an order came into Dore offices from a distributor in Minneapolis requesting 18,000 copies. Within a week, the song was on the national music charts. The Teddy Bears were invited to appear on American Bandstand on October 29. There was a slight problem as there was no invitation for Harvey Goldstein, who had been dropped from the group at Spector's insistence because he couldn't sing the song's bass part. (Goldstein later sued Dore and the Teddy Bears, eventually settling out-of-court for a share of the royalties the group would earn over the next ten years).
"To Know Him Is to Love Him" went on to become the number one pop song in the nation, selling more than a million copies before Christmas of 1958. They appeared on The Perry Como Show on January 3, 1959. By mid-January, the group was leaving Dore after a dispute about royalties and signed to Lew Chudd's Imperial Records, who released the group's next single that month. However, Spector soon discovered that Chudd would no longer let him be in charge of record production, nor was he allowed to use Gold Star Studios or allowed to "stack" Vocals. The Teddy Bears recorded only two more singles and the remaining filler for one album, The Teddy Bears Sing, before they left Imperial. They then moved over to Trey Records, owned by Lee Hazlewood and Lester Sill. Sill had already formed Spark Records with co-owners Leiber & Stoller. Unfortunately, because of legalities, the group couldn't use the Teddy Bears name, so the two Trey singles were issued as The Spectors Three. Unfortunately, neither sold and Spector dismissed the other two and disbanded the group.
Kleinbard was involved in an auto accident in September of 1959, but recovered and attempted a solo singing career. She had a number of recording contracts, but enjoyed success as a songwriter. She was a co-writer of "The Nights the Lights Went out in Georgia," which earned a gold record for Vicki Lawrence in 1973 and a country hit for Reba McEntire in 1992. She also co-wrote "Hey Little Cobra" for the Ripchords and "Gonna Fly Now," the theme from the first Rocky motion picture starring Sylvester Stallone. She helped write theme songs for Sophie's Choice and Mr. Mom and over the years she has been nominated for two Academy Awards and four Emmys.
Leib, meanwhile, became one of the Hollywood Argyles (on tour only) and played guitar on a couple of Duane Eddy sessions. He also was musical supervisor for a few low budget films in the '70s. He and Kleinbard worked together on the score for the film Tulips.
After the Teddy Bears broke up, Phil Spector moved back to New York, where he worked with Leiber and Stoller in 1960. With Leiber, he co-wrote "Spanish Harlem," a massive hit for ex-Drifter Ben E. King. Spector also played guitar on the Drifters' "On Broadway." Spector quickly became a staff producer for Dune Records and produced Ray Peterson's "Corinna, Corinna," another Top Ten hit. He then became a freelance producer and A&R for Atlantic, produced hits for Gene Pitney and in late 1961, co-founded the Philles label with partner Sill, and was immediately successful, producing and writing hits for the Crystals, the Ronettes, Bob B. Soxx and the Blue Jeans, the Righteous Brothers, Ike and Tina Turner, John Lennon, George Harrison, and dozens more. Spector was inducted into the Rock & Roll Hall of Fame as a "non-performer" in 1989. He is truly one of the legends of modern pop music.
Style musical : Rock 'n' Roll, Doo Wop, Pop

http://www.youtube.com/watch?v=DCnUsInBQws
| | |
| --- | --- |
| TO KNOW HIM IS TO LOVE HIM (1958) | |
Years in activity :
| | | | | | | | | | |
| --- | --- | --- | --- | --- | --- | --- | --- | --- | --- |
| 1910 | 20 | 30 | 40 | 50 | 60 | 70 | 80 | 90 | 2000 |
DISCOGRAPHY
Singles & EP
09/1958
SP DORE 503 (US)
.
To Know Him Is To Love Him / Don't You Worry My Little Pet
01/1959
SP IMPERIAL X5562 (US)
.
Oh Why / I Don't Need You Anymore
03/1959
SP IMPERIAL X5581 (US)
.

If You Only Knew (The Love I Have For You) / You Said Goodbye

05/1959
SP DORE 520 (US)
.
Wonderful Loveable You / Till You'll Be Mine
1959
SP IMPERIAL X5594 (US)
.
Don't Go Away / Seven Lonely Days
1959
EP POLYDOR 27 705 (F)
02/1959
SP LONDON

LED-108 (JAP)

1959
EP POLYDOR 27 726 (F)
Long Ago And Far Away / If I Give My Heart To You / My Foolish Heart / Unchained Melody
1968
SP Era Golden Era Series HTE-5009 (US)
.
10/1972
SP Era Back To Back Hits Series 008 (US)

Walk Right In (MOMENTS) / To Know Him Is To Love Him (TEDDY BEARS)

1977
SP Sinus 120-3134 (B)

To Know Him, To Love Him (TEDDY BEARS) / Giant Walk (RONNY & The JERRYCANS)

1978
SP Janus Records Gold ‎1jg 748 (US)
.

To Know Him Is To Love Him (TEDDY BEARS) / Another Sleepless Night (Jimmy CLANTON)

1978
SP SURPRISE JTU 791 (B)

Golden 45's - 25 - To Know Him Is To Love Him (TEDDY BEARS) / Chapel Of Love (DIXIE CUPS)

1979
SP Lightning LIG 9015 (UK) (picture disc)

To Know Him Is To Love Him (Teddy Bears) / Endless Sleep (Jody Reynolds)

1979
SP Old Gold OG 9015 (UK)
To Know Him Is To Love Him (

Teddy Bears

) / Endless Sleep (Jody

Reynolds

)
1986
SP ERIC 299 (US)
.

Mission Bell (Donnie BROOKS) / To Know Him Is To Love Him (TEDDY BEARS)

19??
SP COLLECTABLES COL 3103 (US)

Rhythm Of The Rain (CASCADES) / To Know Him Is To Love Him (TEDDY BEARS)
Album
01/1959
LP 12" IMPERIAL LP-9067 (mono) / LP-12010 (stereo) (US)
THE TEDDY BEARS SING ! - Oh Why / Unchained Melody / My Foolish Heart / You Said Goodbye / True Love / Little Things Mean A Lot / I Don't Need You Anymore / Tammy / Long Ago And Far Away / If I Give My Heart To You / Seven Lonely Days
1986
LP 12" Alligator 56.0075 (S)

Historia Del Rock & Roll – Nº5 - The Teddy Bears ‎– Oh Why - Por Qué?.. - Oh Why / Unchained Melody / My Foolish Heart / Little Things Mean A Lot / I Don't Need You Anymore / Don't Go Away / You Said Goodbye / True Love / Tammy / Long Ago And Far Away / If I Give My Heart To You / Seven Lonely Days / To Know Him Is To Love Him

1990
CD Request BGCD 20490 (EUR)

My Boyfriend's Back - The Angels - The Teddy Bears - The ANGELS : My Boyfriend's Back / Wow Wow Wee (He's The Boy For Me) / Snowflakes And Teardrops / He's The Kissin' Kind / The Hurdy Gurdy Man / Dream Boy / Has Anyone Seen My Boyfriend / The Guy With The Black Eye / (You Can't Take) My Boyfriend's Woody / Little Beatle Boy / I Want To Hold Your Hand / I Adore Him / Why Don't The Boy Leave Me Alone / World Without Love / Love Me Now / Thank You And Goodnight / The TEDDY BEARS : Oh Why / Unchained Melody / My Foolish Heart / You Said Goodbye / True Love / Little Things Mean A Lot / I Don't Need You Anymore / Tammy / Long Ago And Far Away / Don't Go Away / If I Give My Heart To You / Seven Lonely Days

2003
CD Dore ‎503 (GER)

To Know Him Is To Love Him... THE TEDDY BEARS SING! - To Know Him Is To Love Him / Don't Worry My Little Pet / Wonderful, Lovable You / Say You'll Be Mine / Oh Why / I Don't Need You Anymore / If You Only Knew / You Said Goodbye / Don't Go Away / Seven Lonely Days / If I Give My Heart To You / My Foolish Heart / Little Things Mean A Lot / Long Ago And Far Away / Tammy / Unchained Melody / True Love / To Know Him Is To Love Him (live)

2010
CD Jasmine JASCD 582 (CZ)

Phil Spector & The Teddy Bears ‎- Building The Wall Of Sound - THE TEDDY BEARS : To Know Him Is To Love Him / Don't You Worry My Little Pet / I Don't Need You Anymore / Oh Why / If Only You Knew (The Love I Have For You) / You Said Goodbye / Don't Go Away / Seven Lonely Days / Wonderful Lovable You / Til Your Mine / THE TEDDY BEARS SING ! 1959 : Unchained Melody / My Foolish Heart / True Love / Little Things Mean A Lot / Tammy / Long Ago And Far Away / If I Give My Heart To You / PHIL HARVEY : Bumbershoot / Willy Boy / SPECTOR'S THREE : I Really Do / I Know Why / Mr. Robin / My Heart Stood Still

????
LP 12" Trey 20207 (DK)

| | |
| --- | --- |
| | My Little Pet - Don't You Worry My Little Pet / To Know Him, Is To Love Him / Till You'll Be Mine / Wonderful Loveable You / Oh Why / Unchained Melody / My Foolish Heart / You Said Goodbye / Seven Lonely Days / I Don't Need You Anymore / Tammy / Long Ago And Far Away / Don't Go Away / If I Give My Heart To You / True Love / Little Things Mean A Lot |
© Rocky Productions 1/06/2019