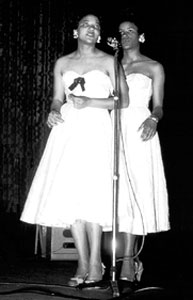 Duo Doo Wop US formé en 1955 à Los Angeles (Californie), composé de Betty et Rosie Collins.

"Eddie My Love," a sweet ballad by the Teen Queens, clawed its way to number 14 on the pop charts on March 31, 1956. This occurred despite pop covers by the Chordettes, and the Fontaine Sisters -- all three cracked the pop Top 20 the same year. The Teen Queens were Betty and Rosie Collins, sisters of Aaron Collins, who sang with the Cadets and the Jacks. The Jacks successfully covered the Feathers' "Why Don't You Write Me," in 1955; as the Cadets they covered the Jayhawks' "Stranded in the Jungle." So perhaps the Teen Queens' cover problem was musical payback. The songwriter credits are attributed to Aaron Collins, Maxwell Davis (arranger), and Sam Ling; Ling was a pseudonym for Modern/RPM/Flair Records' owner the Bihari Brothers. Assuredly the writers enjoyed the cover versions, all the airplay meant more Broadcast Music Incorporated (BMI) performance money, and the covers meant more mechanical income for the writers.
RPM Records followed the hit with "Baby Mine" which didn't do as well. Nor did "Billy Boy," "Red Top," "Rock Everybody," or "I Miss You." By 1958 they left RPM to sign a one record deal with RCA Records, who released the unsuccessful "Dear Tommy." The Teen Queens' contract with Antler Records yielded two singles: "There Is Nothing on Your Mind," an answer to "There's Something on Your Mind," and "I Heard Violins," which became the flop that broke the camel's back. In 1961, the Teen Queens called it quits, and never recorded again.
http://www.colorradio.com/teen-queens.html
Style musical : Doo Wop, Girls Group, Rhythm 'n' Blues
Years in activity :
| | | | | | | | | | | |
| --- | --- | --- | --- | --- | --- | --- | --- | --- | --- | --- |
| 1910 | 20 | 30 | 40 | 50 | 60 | 70 | 80 | 90 | 2000 | 10 |
DISCOGRAPHY
78 t. & Singles
02/1956
78 t. RPM 453 (US)
.
Eddie My Love / Just Goofed
02/1956
SP RPM 45X453 (US)
.
Eddie My Love / Just Goofed
04/1956
78 t. RPM 460 (US)
.
Baby Mine / So All Alone
04/1956
SP RPM 45X460 (US)
.

Baby Mine / So All Alone

06/1956
78 t. RPM 464 (US)
.
Billy Boy / Until The Day I Die
06/1956
SP RPM 45X464 (US)
.

Billy Boy / Until The Day I Die

08/1956
78 t. RPM 470 (US)
.
Red Top / Love Sweet Love
08/1956
SP RPM 45X470 (US)
.

Red Top / Love Sweet Love

1956
78 t. RPM 480 (US)
.
My First Love / ?
1956
SP RPM 45X480 (US)
.

My First Love / ?

11/1956
78 t. RPM 484 (US)
.
Rock Everybody / My Heart's Desire
11/1956
SP RPM 45X484 (US)
.

Rock Everybody / My Heart's Desire

08/1957
78 t. RPM 500 (US)
.
I Miss You / Two Loves And Two Lives
08/1957
SP RPM 45X500 (US)
.

I Miss You / Two Loves And Two Lives

03/1958
SP RCA VICTOR 47-7206 (US)
.

Dear Tommy / You Good Boy, You Get Cookie

10/1958
SP RCA VICTOR 47-7396 (US)
.

First Crush / Movie Star

1959
SP ANTLER 45-4014 (US)
.

There's Nothing On Your Mind (part 1) / There's Nothing On Your Mind (part 2)

1959
SP ANTLER 45-4015 (US)
.

I'm A Fool / Politician

05/1960
SP M.J.C. 105 (US)
.

Humdingers - Hum Dinger / Wiggly Feeling

08/1960
SP ANTLER 45-4016 (US)

Donny / Donny (instr.)

08/1960
SP KENT 45x348 (US)
.
1961
SP ANTLER 45-4017 (US)
.

I Heard Violins / Magoo Can See

10/1962
SP PRESS 2805 (US)
.

Betty & Rose - Doodle Doo Doo / That Twistin Feeling

01/1964
SP OLDIES 45 (US)
.

Eddie My Love / Billy Boy

1968 ?
SP MODERN OLDIES

45XMX14 (US)

.
197?
SP TRIP TRS-125 (US)
.

Angel Baby (Rosie & The ORIGINALS) / Eddie My Love (TEEN QUEENS)

19??
SP ANGEL 2 (US)
.

All My Love Belongs To You (TEENQUEENS) / Snacky Poo (DEL-MARS)

19??
SP COLLECTABLES

COL 3022 (US)

.
Eddie My Love

(TEEN QUEENS) /

Stranded In The Jungle (CADETS)
19??
SP COLLECTABLES

COL 3934 (US)

.

Eddie My Love (TEEN QUEENS) / Oop Shoop (Shirley GUNTER & The QUEENS)
Unissued Track
Albums
1957
LP 12" CROWN CLP-5022 (US)
EDDIE MY LOVE -

Eddie My Love / Red Top / All My Love Belongs To You / Billy Boy / Zig Zag / Until The Day I Die / Love Sweet Love / Just Goofed / Rock Everybody / Baby Mine / So All Alone / Teen Age Idol

1963
LP 12" CROWN CLP-5373 (US)
THE TEEN QUEENS - Eddie My Love / So All Alone / Rock Everybody / Baby Mine / Let's Kiss / Billy Boy / Just Goofed / Teenage Idol / Zig Zag / Riding
1964
LP 12" KENT KLP 2024 (US)

Eddie My Love - Eddie My Love / So All Alone / Rock Everybody / Baby Mine / Let's Kiss / My Heart's Desire / Billy Boy / Just Goofed / Teen Age Idol / Zig Zag / Riding / I Ain't Gonna Tell

1973 ?
LP 12" United US 7795 (US)

Rock 'N' Roll Hits Of The 50's - Eddie My Love / So All Alone / Rock Everybody / Baby Mine / Let's Kiss / Billy Boy / Just Goofed / Teen Age Idol / Zig Zag / Riding

1986
LP 12" ACE CH186 (UK)
THE TEEN QUEENS - Rock Everybody / Red Top / Eddie My Love / Zig Zag / All My Love / Baby Mine / Riding The Boogie / Just Goofed / Love Sweet Love / So All Alone / My Heart Desire / Teenage Doll / Lets Make Up / Billy Boy
09/1995
CDACE CDCHD 581 (UK)

Eddie My Love - Eddie My Love / Red Top / All My Love / Billy Boy / Zig Zag / Until The Day I Die / Love Sweet Love / Just Goofed / Rock Everybody / Baby Mine / So All Alone / Teenage Idol / Let's Kiss / Riding / No Other / Rock Everybody (altenate previously unissued take) / Two Loves And Two Lives / I Miss You / My Heart's Desire / No Other (altenate previously unissued take) / Oklahoma City promotional spot / Royal Crown Hairdressing Commercial
© Rocky Productions 3/06/2019