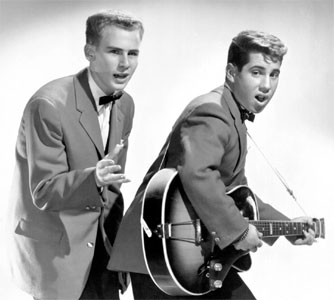 Duo Rock 'n' Roll US, Tom & Jerry, Tom Graph et Jerry Landis (vrai nom Art Garfunkel and Paul Simon) ont enregistrť chez Big (57-58), Hunt (58), King (58), Bell (59), ABC-Paramount (62) et Ember Records (63). Ils seront connus plus tard sous le nom de "Simon & Garfunkel".

Tom & Jerry were actually the duo of Paul Simon & Art Garfunkel, who worked under that name when they began recording in the late '50s. It's a period that they downplay when discussing their careers, preferring to pick up the story after they had begun performing folk and folk-rock in the mid-'60s. Long before that, though, the pair were high-school buddies, and when they were both 16, they made their recording debut on Big (which was anything but) with "Hey Schoolgirl." The peppy pop/rocker, performed in the style of the Everly Brothers, was actually a substantial hit, reaching number 49 on the charts.
Tom & Jerry (i.e. Paul and Art) recorded a few more singles for Big without any success, all in a lightweight teen rock style. Most often they sounded like a juvenile Everly Brothers, but echoes of Elvis, teen idols, and doo-wop could also be heard. The material (most of which was original) wasn't that strong, but echoes of the future could be clearly heard in their close harmonies and occasional hastily strummed acoustic guitars. The pair were understandably angry when Pickwick Records released an album of Tom & Jerry recordings as a Simon & Garfunkel LP in the mid-'60s, shortly after "Sounds of Silence" had reinvented the duo as folk-rock stars. The recordings aren't remotely comparable to the Simon & Garfunkel classics, but they certainly hold historical interest, and a few of the cuts really aren't bad, in a catchy, innocuous late-'50s way. The tracks have also surfaced on some obscure (and possibly unauthorized) reissues.
Style musical : Rock 'n' Roll, Doo Wop
| | |
| --- | --- |
| Hey, Schoolgirl (1957) | |
Years in activity :
| | | | | | | | | | |
| --- | --- | --- | --- | --- | --- | --- | --- | --- | --- |
| 1910 | 20 | 30 | 40 | 50 | 60 | 70 | 80 | 90 | 2000 |
DISCOGRAPHY
Singles
11/1957
SP BIG 613 (US)
Hey, Schoolgirl / Dancin' Wild
03/1958
SP BIG 616 (US)
.
Our Song / Two Teen-Agers
05/1958
SP BIG 618 (US)
.
That's My Story / (Pretty Baby) Don't Say Goodbye
06/1958
SP HUNT 319 (US)
.
That's My Story / (Pretty Baby) Don't Say Goodbye
12/1958
SP KING 45-5167 (US)
.
Hey, Schoolgirl / Dancin' Wild
1959
SP BELL 120 (US)

| | |
| --- | --- |
| | I'm Gonna Get Married (Ronnie LAWRENCE) / Baby Talk (TOM & JERRY) |

10/1962
SP ABC-PARAMOUNT 45-10363 (US)
.
Surrender, Please Surrender / Fightin' Mad
07/1963
SP EMBER E-1094 (US)
.
I'm Lonesome / Looking At You
Unissued Tracks
| | | |
| --- | --- | --- |
| 19?? | Unissued - (Domino CD 1014 (#5)) | Back Seat Driver |
| 19?? | Unissued - (Domino CD 1014 (#17)) | Bingo |
| 19?? | Unissued - (Domino CD 1014 (#18)) | Dreams Can Come True |
| 19?? | Unissued - (Domino CD 1013 (#12) / Domino CD 1014 (#3)) | Lighthouse Point |
| 19?? | Unissued - (Domino CD 1013 (#15) / Domino CD 1014 (#16)) | Sleep Sleepy Baby |
| 19?? | Unissued - (Domino CD 1014 (#4)) | That Forever Kind Of Love |
Need Information
| | | |
| --- | --- | --- |
| 19?? | Need info - (Domino CD 1013 (#17)) | Aeroplane Of Silver Steel |
| 19?? | Need info - (Domino CD 1013 (#14)) | A Charmed Life |
| 19?? | Need info - (Domino CD 1013 (#16)) | Forever And After |
| 19?? | Need info - (Domino CD 1014 (#10)) | Loneliness |
| 19?? | Need info - (Domino CD 1013 (#11) / Pickwick LP 3059 (#10)) | Simon Says |
| 19?? | Need info - (Domino CD 1013 (#13)) | Up And Down The Stairs |
| 19?? | Need info - (Domino CD 1013 (#22)) | Wow Cha Cha |
Albums
1972 ?
LP 12" Offshore OFF 725 (US)

Simon and Garfunkel - The Tom & Jerry Sessions - Hey! Schoolgirl / Our Song / That's My Story / Teenage Fool / Tiajuana Blues / Dancin' Wild / Don't Say Goodbye / Two Teenagers / True Or False / Simon Says

1986
LP 12" BIG 600 (US)
EARLY TOM & JERRY - TICO & The TRIUMPS : Cry, Little Boy, Cry / Motorcycle / Express Train / Wild Flowers / Noise / Cards Of Love / Jerry LANDIS : The Lone Teen Ranger / TOM & JERRY : Hey, Schoolgirl / Our Song / Dancin' Wild / (Pretty Baby) Don't Say Goodbye / Two Teen-Agers / True TAYLOR : True Or False / TICO & The TRIUMPS : Cry, Little Boy, Cry / TOM & JERRY : Fightin' Mad / Baby Talk
1993
CD Dee Jay Jamboree DJ55001 (GER)

Early Simon & Garfunkel - TOM & JERRY : Hey, Schoolgirl / Dancin' Wild / True Or False / Teen Age Fool / Our Song / Two Teen-Agers / ( Pretty Baby) Don't Say Goodbye / That's My Story / Baby Talk / Jerry LANDIS : Anna Belle / Ask Me Why / I'm Lonely / I Wish I Weren't In Love / TICO & The TRIUMPS : Motorcycle / I Don't Believe Them / Wild Flowers / Express Train / TICO : Get Up And Do The Wobble / Cry, Little Boy, Cry / Jerry LANDIS : The Lone Teen Ranger / Lisa / TICO : Noise / Cards Of Love / TOM & JERRY : Fightin' Mad / Surrender, Please Surrender / Looking At You / I'm Lonesome

1993
CD Domino 1013 (US)

TOM & JERRY -VOL. 1 -

TOM & JERRY : Baby Talk / Our Song / That's My Story / True TAYLOR : Teen Age Fool / TOM & JERRY : Two Teen-Agers / TICO & The TRIUMPS : Get Up And Do The Wobble / Cry, Little Boy, Cry / Jerry LANDIS : The Lone Teen Ranger / TICO & The TRIUMPS : Express Train / Wild Flowers / TOM & JERRY : Simon Says / Lighthouse Point / Up And Down The Stairs / A Charmed Life / Sleep Sleepy Baby / Forever And After / Aeroplane Of Silver Steel / I'd Like To Be (The Lipstick On Your Lips) / Just A Boy / Private World / Forgive Me / Wow Cha Cha
1993
CD Domino 1014 (US)

TOM & JERRY - THEIR Greatest Hits Vol. 2 -

Looking At You / Hey, Schoolgirl / Lighthouse Point / That Forever Kind Of Love / Back Seat Driver / True Or False / Fightin' Mad / Anna Belle / Surrender, Please Surrender / Loneliness / I'm Lonely / Dancin' Wild / (Pretty Baby) Don't Say Goodbye / Motorcycle / Noise / Sleep Sleepy Baby / Bingo / Dreams Can Come True / Lisa / Cards Of Love / I Don't Believe Them / Tia-Juana Blues
2002
CD Superior SU 29024 (GER)

Paul Simon & Art Garfunkel - Tom & Jerry - Dream Alone / Beat Love / Beat Love (with harmony) / Just A Boy / Play Me A Sad Song / It Means A Lot To Them / Flame / Shy / The Lone Teen Ranger / Hey Schoolgirl / Our Song / That's My Story / Teenage Fool / Tia-Juana Blues / Dancin' Wild / Don't Say Goodbye / Two Teenagers / True Or False / Simon Says

2011
CD MAGIC MAM 113 (F)

Paul Simon & Art Garfunkel - Tom & Jerry - ARTIE GARR - JERRY LANDIS - TRUE TAYLOR -

Tom & JERRY :

Hey Schoolgirl / Danciní Wild / Our Song / Two Teenagers / Thatís My Story / Donít Say Goodbye / Baby Talk / Iím Lonesome / Fightin' Mad / Surrender Please Surrender / Looking At You /

Bonus Tracks :

Artie GARR : Dream Alone / Beat Love / Private World / I Love You (Oh Yes I Do) / Forgive Me / A Soldier And A Song (Light Your Way) / Jerry LANDIS : Just A Boy / Shy / Tick Tock / Just To Be With You / True TAYLOR : Teenage Fool / True Or False
2012
CD Hallmark 710272 (UK)

TOM & JERRY Meet TICO & The TRIUMPS - TOM & JERRY : Hey Schoolgirl / Dancin' Wild / That's My Story / True Or False / Our Song / Two Teen-Agers / Don't Say Goodbye / Teenage Fool / Baby Talk / Fightin' Mad / TICO & The TRIUMPS : Motorcycle / I Don't Believe Them / Wild Flower / Express Train / Get Up And Do The Wobble / Cry Little Boy Cry / The Lone Teen Ranger / Lisa / Noise / Cards Of Love

04/2014
LP 12" Mr. Suit SUITABLE1323 (EUR)

Paul Simon & Art Garfunkel As "Tom & Jerry" ‎- Singles And Rarities 1958-1962 - Hey Schoolgirl / Dancin' Wild / Our Song / Two Teenagers / That's My Story / Don't Say Goodbye / Baby Talk / I'm Lonesome / Fightin' Mad / Surrender Please Surrender / Looking At You / Dream Alone / Beat Love / Private World / I Love You So (Oh Yes I Do) / Forgive Me / A Soldier And A Song / Just A Boy / Shy / Tick Tock

2016
LP 12" Dol ‎DOS664H (EUR)

Paul Simon & Art Garfunkel As "Tom & Jerry" ‎- Singles And Rarities 1958-1962 -

Hey Schoolgirl / Dancin' Wild / Our Song / Two Teenagers / That's My Story / Don't Say Goodbye / Baby Talk / I'm Lonesome / Fightin' Mad / Surrender Please Surrender / Looking At You / Dream Alone / Beat Love / Private World / I Love You So (Oh Yes I Do) / Forgive Me / A Soldier And A Song / Just A Boy / Shy / Tick Tock
04/2017
CD Hoodoo 263570 (EUR)

Paul Simon & Art Garfunkel ‎- The Early Years - TOM & JERRY : Hey, Schoolgirl / Two Teenagers / Dancin' Wild / Our Song / Baby Talk / That's My Story / Don't Say Goodbye / True TAYLOR : True Or False / Teenage Fool / Jerry LANDIS : Anna Belle / Loneliness / Just A Boy / Shy / The Lone Teen Ranger / The Lipstick On Your Collar / Play Me A Sad Song / It Means A Lot To Them / I Wish I Weren't In Love / I'm Lonely / Paul SIMON, Lou SIMON & The ACE TRUMPETS : (Uncle Simon's) Tia-Juana Blues / Artie GARR : Beat Love / Dream Alone / Private World / Forgive Me / The MYSICS : All Through The Night / I Begin (To Think Of You) / TICO & The TRIUMPS : Motorcycle / Wild Flower / I Don't Believe Them
© Rocky Productions 28/04/2021